Geometry Global Bucharest, parte a celui mai mare grup de activare de brand, lanseaza noua campanie promotionala a Visa Europe prin care incurajeaza romanii sa plateasca taxele si impozitele locale cu cardul.
"Platesti usor taxele si impozitul cu Visa. Castigi usor impozitul inapoi." este mesajul sub care Visa incurajeaza clientii sa plateasca impozitul cu cardul. Iar daca "timpul" castigat nu este un motiv suficient de puternic pentru a folosi varianta electronica, detinatorii cardurilor Visa au sansa de a castiga 381 de premii in perioada campaniei. In plus, persoana care va efectua tranzactia declarata castigatoare va primi echivalentul a 10 impozite (10 ani) calculate la valoarea curenta.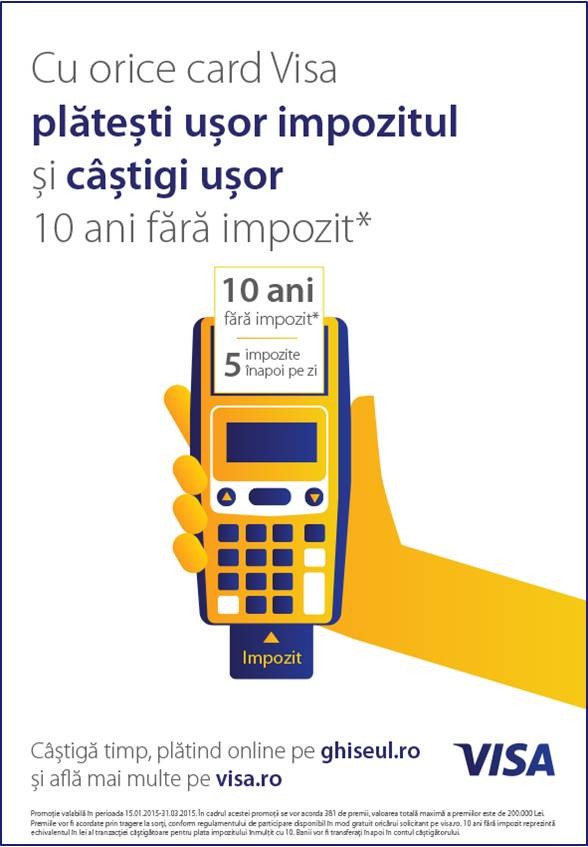 Toti posesorii de carduri Visa care isi achita taxele si impozitele locale cu cardul in perioada 15 ianuarie - 31 martie 2015 vor participa in mod automat la o campanie promotionala derulata sub sloganul "Cu orice card Visa platesti usor impozitele si castigi usor 5 impozite inapoi pe zi sau 10 ani fara impozit". Astfel, participantii pot castiga zilnic, prin tragere la sorti, unul dintre cele 5 premii pe zi din perioada campaniei sau chiar premiul cel mare.
Madalin Nitis (Marketing and Communications Manager pentru Romania, Croatia si Slovenia, Visa Europe) declara: "Plata impozitelor folosind orice card Visa este acum posibila la principalele administratii financiare si primarii din Romania. In afara de beneficiile oricarei plati cu cardul Visa: comision zero, confort si siguranta, Visa a vrut sa ofere beneficii suplimentare celor care platesc impozitele si taxele, atat la administratiile locale cat si online: economie de timp si premii in bani. Mesajul de comunicare isi propune sa informeze populatia in legatura cu locurile unde se pot plati usor taxele si impozitele cu cardul si, de asemenea, despre modul de a castiga usor impozitul inapoi sau zece ani fara impozit pentru platile cu cardul Visa." 
Agentia de comunicare a fost selectata in urma unui pitch la care au fost invitate mai multe agentii, echipa Geometry Global fiind responsabila pentru strategia, creatia si implementarea campaniei.
Mihaela Bourceanu (Client Service Director Geometry Global): "Campania «Platesti usor taxele si impozitul cu Visa. Castigi usor impozitul inapoi.» are la baza 3 beneficii principale: comision zero, siguranta si rapiditate (evitarea drumului la ATM). Perioada campaniei a fost aleasa strategic, in conditiile in care contribuabilii isi platesc in mod traditional taxele si impozitele pana la finele lunii martie, pentru a beneficia de reducerea de 10% oferita de autoritati si a avea cat mai mult timp la dispozitie pentru a-si pune in practica planurile pentru restul anului. Visa Europe este un client ce aduce un plus de valoare portofoliului agentiei, o echipa de care ne-am indragostit si cu care ne dorim o relatie de lunga durata – online si offline."
Campania se desfasoara in perioada 15.01 - 31.03.2015 fiind comunicata in urmatoarele medii: presa scrisa, online, televiziune, radio, outdoor, indoor si social media. Totodata, campania include si activitati promotionale de BTL. In cadrul promotiilor se vor acorda 381 de premii, plafonul maxim fiind de 200.000 lei. Premiile vor fi acordate prin tragere la sorti conform regulamentului disponibil pe visa.ro, iar marele premiu "10 ani fara impozit" reprezinta echivalentul in lei al tranzactiei castigatoare pentru plata impozitului inmultit cu 10. Banii sunt transferati inapoi in contul castigatorului.
Mai multe detalii despre campanie, precum si lista primariilor care accepta plata cu cardul, pot fi accesate pe visa.ro.
Echipa Geometry Global:
Mihaela Bourceanu (Client Service Director), Patricia Arbanas (Account Director), Mihai Fetcu (Creative Director), Alina Buzatu (Head of Strategy), Cristina Ungureanu (Communication Planner), Aura Alboiu (Group Creative Director), Laurentiu Dumbrava (Senior Art Director), Alina Varlanuta (Copywriter), Andreea Bagita (Senior Copywriter), Patricia Suliman (Senior Art Director), Ada Iftodi (Account Manager), Madalina Gogu (Account Executive), Dorina Sandu (Senior DTP).
Echipa Visa Europe:
Madalin Nitis (Marketing and Communications Manager pentru Romania, Croatia si Slovenia), Ioana Vieru (Marketing Specialist pentru Romania).