EximBank si agentia The Mansion Advertising au dezvoltat in luna aprilie a anului 2016 o campanie de imagine adresata intreprinderilor mici si mijlocii. 
Sloganul campaniei "Credem in visuri implinite. Mai ales in ale tale" ilustreaza faptul ca toate lucrurile au fost mici inainte de a fi mari, iar EximBank are solutii pentru afaceri cu viziune si pe termen lung si ofera produse special create pentru sustinerea dezvoltarii IMM-urilor si a mediului de afaceri romanesc.
"Am decis sa dezvoltam aceasta campanie de imagine din dorinta de a puncta inca o data faptul ca EximBank a parcurs un proces continuu de adaptare la mediul economic local si de diversificare a ofertei astfel ca, astazi, este o institutie financiara complexa ce se adreseaza oricarui tip de societate comerciala, fie ca este IMM, companie mare, deruleaza tranzactii internationale, ori se adreseaza numai pietei interne. Sau, asa cum spune si campania, EximBank sustine visurile indraznete si poate, impreuna cu creatorii lor, sa le transpuna in realitate", a spus Oana Nuta (managerul Departamentului Marketing si Imagine Corporativa al EximBank).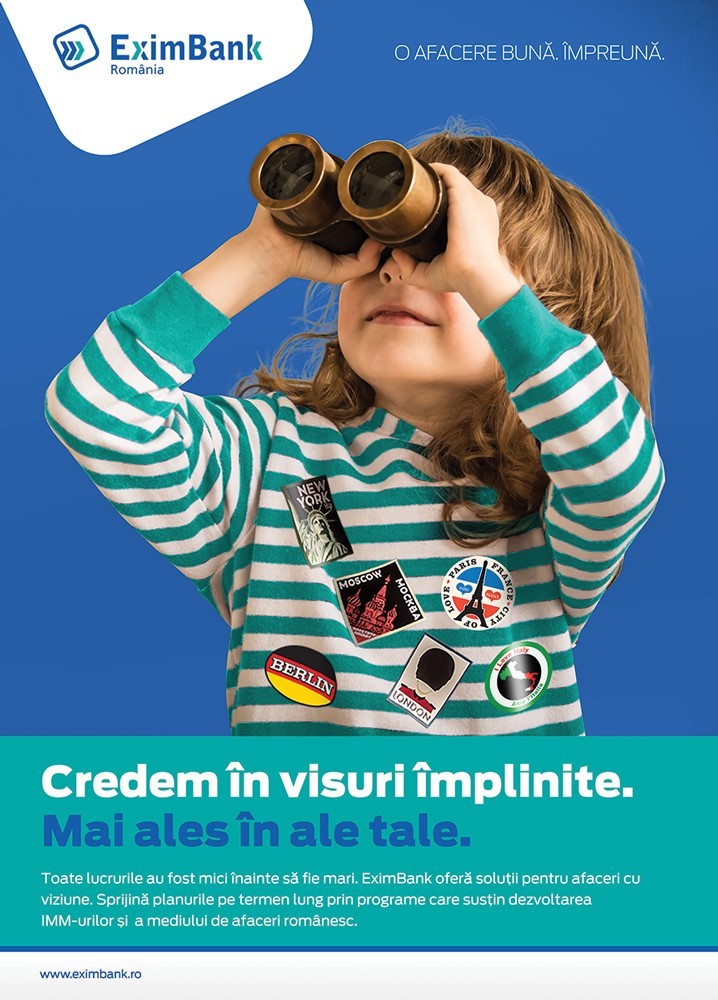 Directia creativa a campaniei a urmat un scenariu familiar antreprenorilor: oamenii renunta la visurile marete si la a-si creste afacerile de suflet in special din cauze financiare. De aceea, EximBank incurajeaza antreprenorii romanii sa investeasca in visurile lor, sprijinindu-i prin programele de finantare special dezvoltate pentru IMM-uri, astfel incat afacerile acestora sa capete amploarea visata.
"De cele mai multe ori, oamenii renunta la visurile lor pentru ca sunt descurajati de eforturile pe care trebuie sa le investeasca. Prin campania de imagine <<Visul implinit>> dezvoltata pentru EximBank ne-am dorit sa aducem in atentia antreprenorilor ca au un partener de nadejde care le oferta incredere si sustinere din punct de vedere financiar", adauga Mihai Paiu (Managing Partner The Mansion Advertising).
Executia vizualului s-a axat pe ideea de orientare spre viziune, simbolizand visurile si aspiratiile antreprenorilor romani – copilul care priveste viitorul cu incredere este imaginea afacerii mici care creste cu ajutorul programelor special create de EximBank pentru IMM-uri.
Campania de imagine prezinta declinari in print (postere si roll-up-uri) si digital (bannere online).
Echipele implicate:
EximBank: Miruna Lebedencu (Specialist Relatii Publice – Departament Marketing si Imagine Corporativa)
The Mansion Advertising: Ramona Ibanescu (Account Manager), Simona Popescu (Account Executive), George Preoteasa (Creative Director), Claudiu Campeanu (Senior Art Director), Madalina Donciu (Copywriter).