Din 10 septembrie, Bucureștiul va fi mai vizual decât oricând. Începe Bucharest Photofest, cel mai intens festival de fotografie din România!
Lansat sub sloganul Let's get visual! și cu un conținut deosebit, Bucharest Photofest îsi propune să aducă în oraș, sub ochii noștri, frumusețea în manifestările ei artistice și să ne implice într-o poveste culturală din care toți să ieșim mai bogați.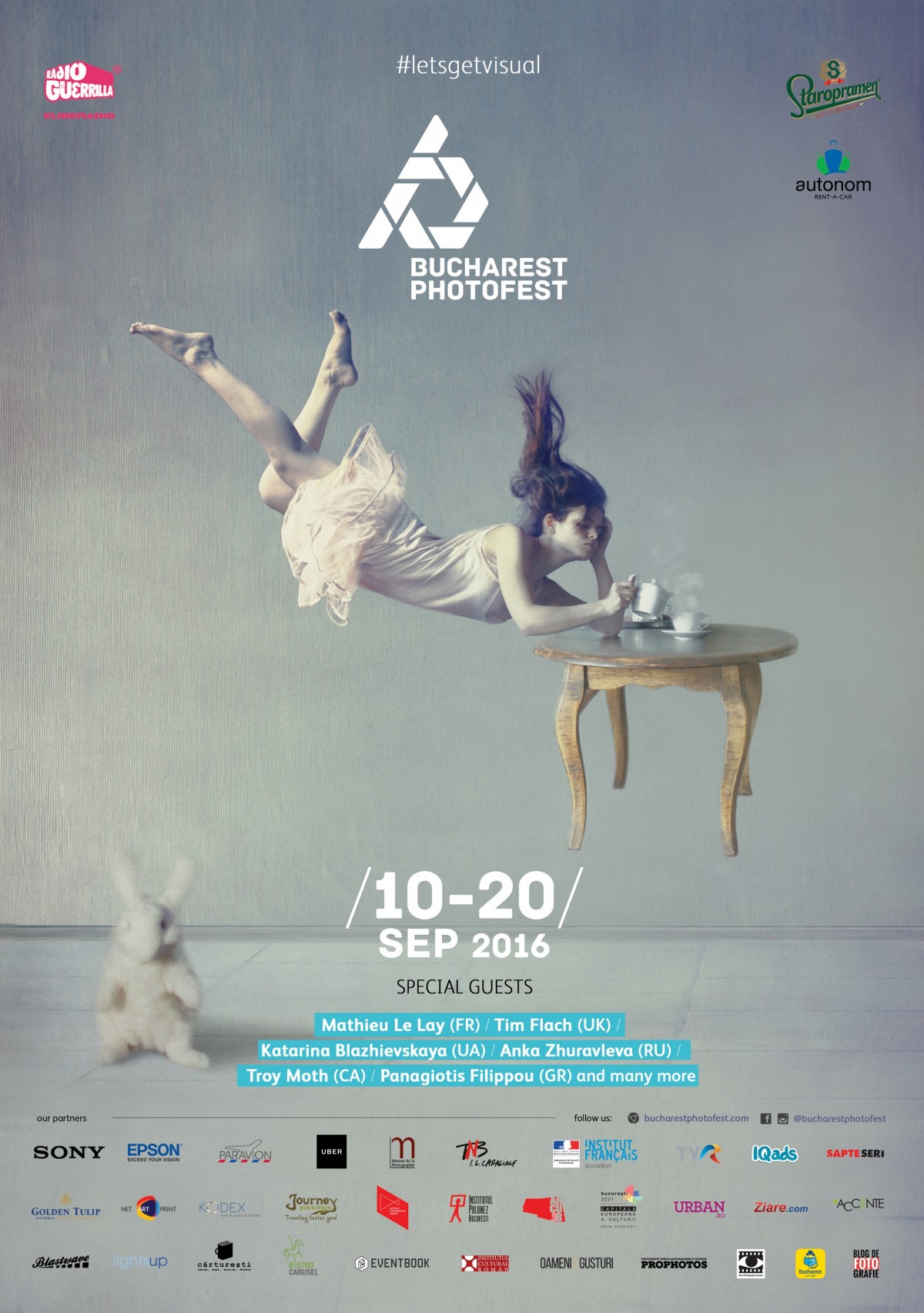 Cele aproape 30 de evenimente - expoziții, proiecții de filme, dezbateri, workshopuri și prezentări de portofoliu - vor crea o atmosferă specială de efervescență cultural-vizuală din care nu avem cum să nu facem parte, fie că suntem profesioniști sau iubitori de fotografie.
Ediția de anul acest evidențiază artiștii și cultura din Maroc și Franța iar temele sunt fotografia comercială și fotografia fine art.
Împreună, ne vom bucura de prezența unor artişti de anvergură internaţională: Mathieu Le Lay (FR), Tim Flach (UK), Katarina Blazhievskaya (UA), Anka Zhuravleva (RU), Troy Moth (CA), Panagiotis Filippou (GR), Marius Budu (Danemarca) și nu numai, care își vor expune lucrările și-și vor împărtăși poveștile în mijlocul publicului din România. 
Sony World Photography Awards, cea mai mare competiție foto din lume, expoziții dedicate culturii marocane, expoziția celei mai importante competiții de fotografie din Ukraina, proiecțiile oficiale ale filmelor HUMAN (regia Yann Arthus-Bertrand), La Quête d'Inspiration sau avanpremiera mondială a documentarului Siwa & Ora, iată numai câteva dintre momentele acestei povești vizuale intense care se va încheia oficial pe 20 septembrie, dar ale cărei ecouri vor dura mult timp.
Fiindcă Bucharest Photofest nu e o săptămână, nu e doar despre fotografie, ci este un festival total al bucuriei vizuale!
"Bucharest Photofest e una dintre poveștile care pot fi spuse despre fotografie. Dar ne dorim s-o povestim atât de frumos, încât să nu rămână doar o întâmplare, ci s-o purtați cu voi până la ediția de anul viitor.", a declarat Ionuț Trandafirescu, directorul Festivalului Internațional de fotografie Bucharest Photofest.
Bucharest Photofest e despre vizual. Despre expunere la mai mult frumos decât de obicei. Despre reacție și schimbare a modului de a vedea. Bucharest Photofest e despre atmosferă. Despre întâlniri așteptate și neașteptate, despre efuziune și efervescență. Despre profesioniști și iubitori de fotografie care au ce să-și spună. Let's get visual and stay tuned!
Organizator: Grupul Filos
Locurile de desfăşurare: Teatrul Național București, Institutul Francez, Cinema Elvira Popescu, Journey Pub and More, Cărturești, Bistro Carusel.
Parteneri: Staropramen, Sony, Epson, Paravion, Golden Tulip Victoria, Net Art Print, Kodex, Lights Up, Journey Pub and More, Carturești, Bistro Carusel, Blastwave, Eventbook.ro.
Parteneri de mobilitate: Autonom Rent-a-Car, UBER
Parteneri culturali: Institutul Francez, Institutul Cultural Român, ArCuB, Institutul Polonez, Maison de la Photographie Marrakech, Muzeul Național al Fotografiei Riga, Școala de Fotografie Kiev
Parteneri media: Televiziunea Română, Oameni&Gusturi, IQads, Șapte Seri, Blog de fotografie, Bucharest City App, Accente, Ziare.com, Profotos.ru, Urban.ro.