In premiera, publicul poate vota materialul preferat dintre cele nominalizate cele mai bune materiale din presa romaneasca inscrise anul acesta la Premiile Superscrieri.
Autorul celui mai apreciat material va castiga un premiu special – Superscrierea Cititorilor – de 500 de euro, oferiti de Fundatia Friends For Friends din vanzarea cartii "Superscrieri: drumul generatiei noastre". Puteti vota completand acest chestionar online, pana pe 9 noiembrie.
Nominalizatii Premiilor Superscrieri, editia a VI-a si publicatiile in care au semnat materialele inscrise in competitie
REPORTAJ: Ana Maria Ciobanu & Oana Sandu, Redactia DOR (Decat o Revista), Andrei Craciun & Daniel Vrabioiu (Dela0.ro), Ioana Moldovan (EurActiv.ro), Laura Stefanut, Sorina Vasile & Vlad Ursulean & Tiberiu-Mihail Cimpoeru (Casa Jurnalistului)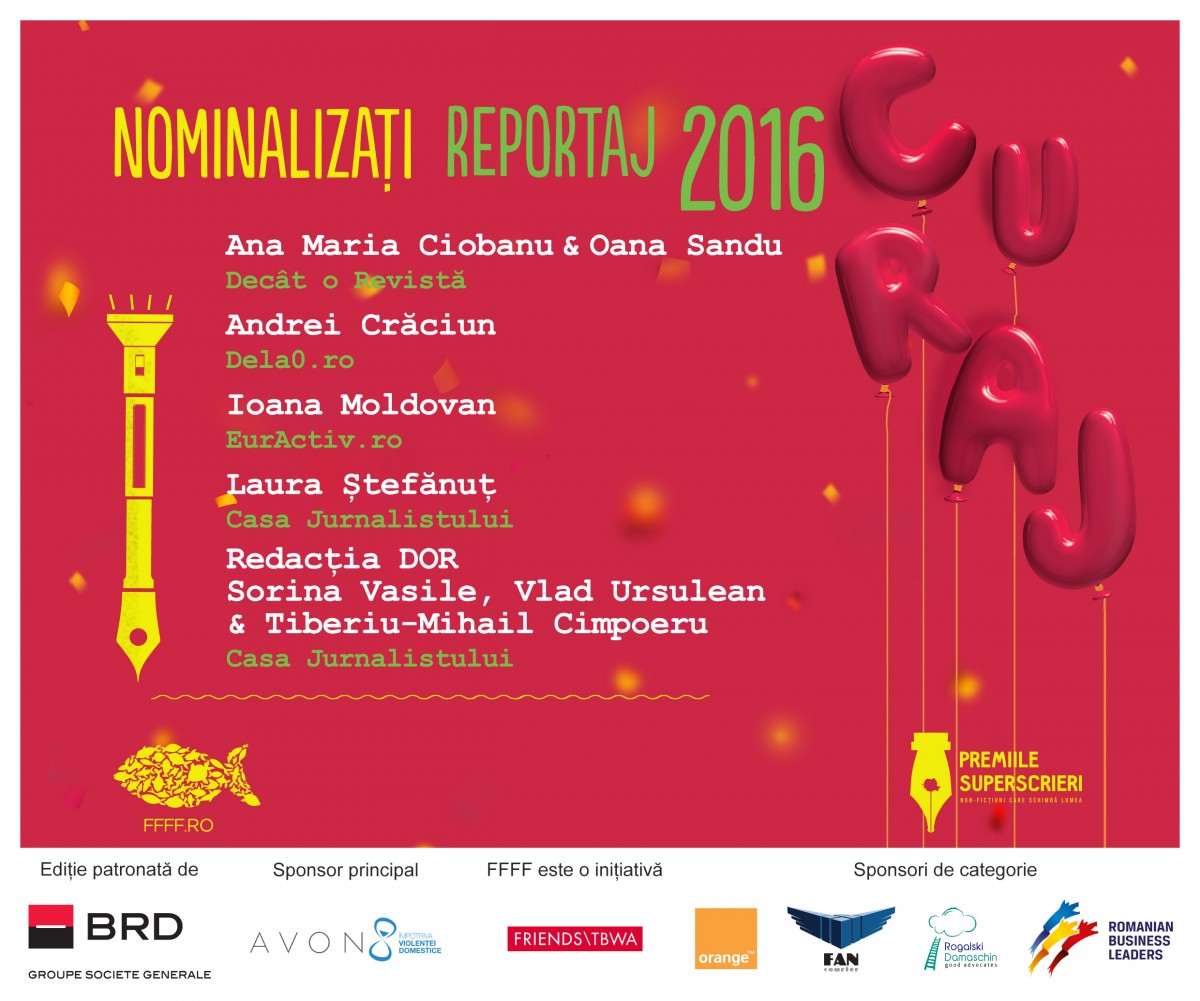 PORTRET: Andreea Pocotila (VICE Romania), Andreea Giuclea, Ani Sandu (Decat o Revista), Bojan Voicu (Pressone.ro), Timea Hont (Casa Jurnalistului)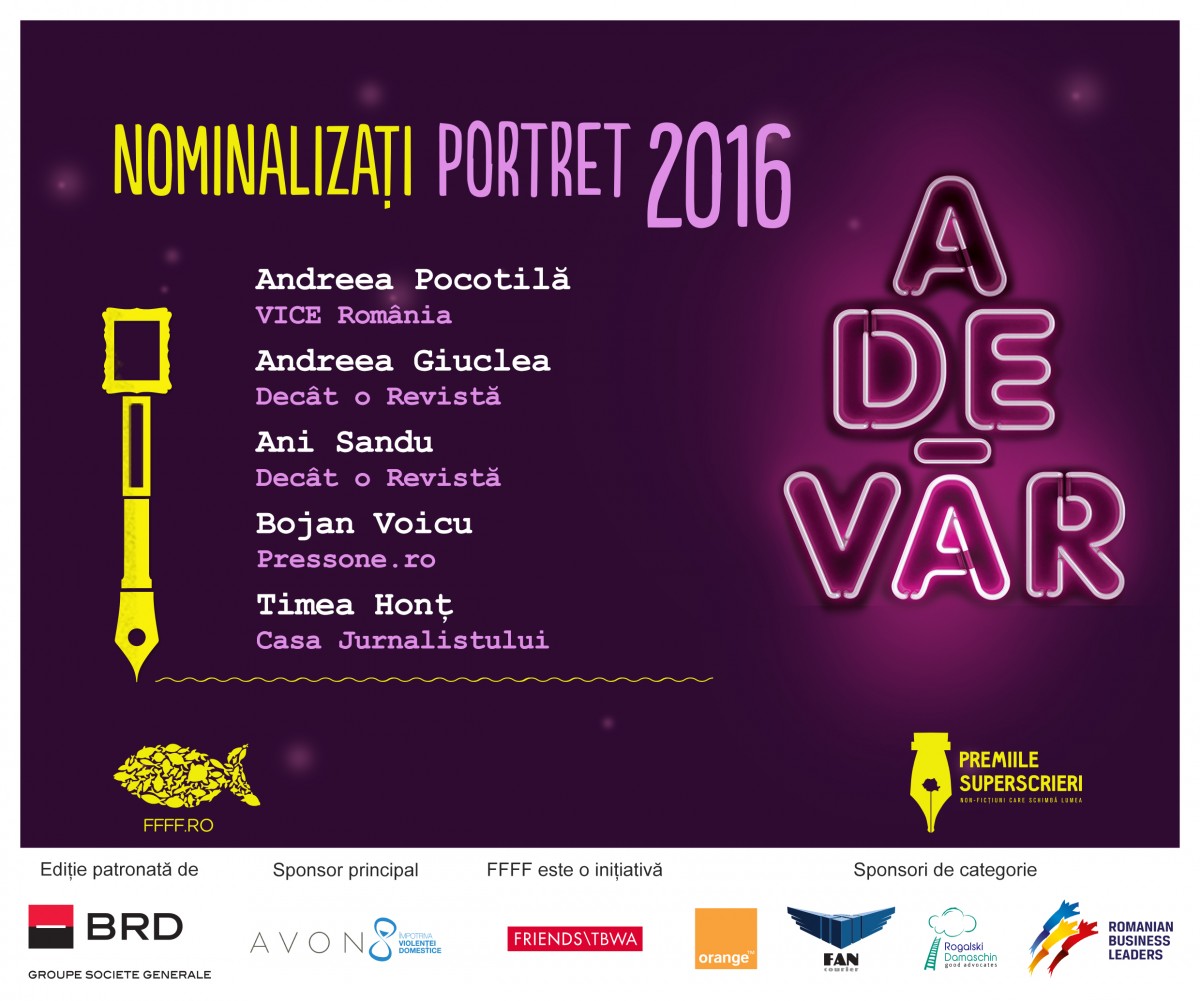 OPINIE: New Media & Blogging: Andrei Luca Popescu (Gandul.info), Bianca-Olivia Nita (Dilema Veche), Razvan Baltaretu, Vlad Levente Viski (Adevarul)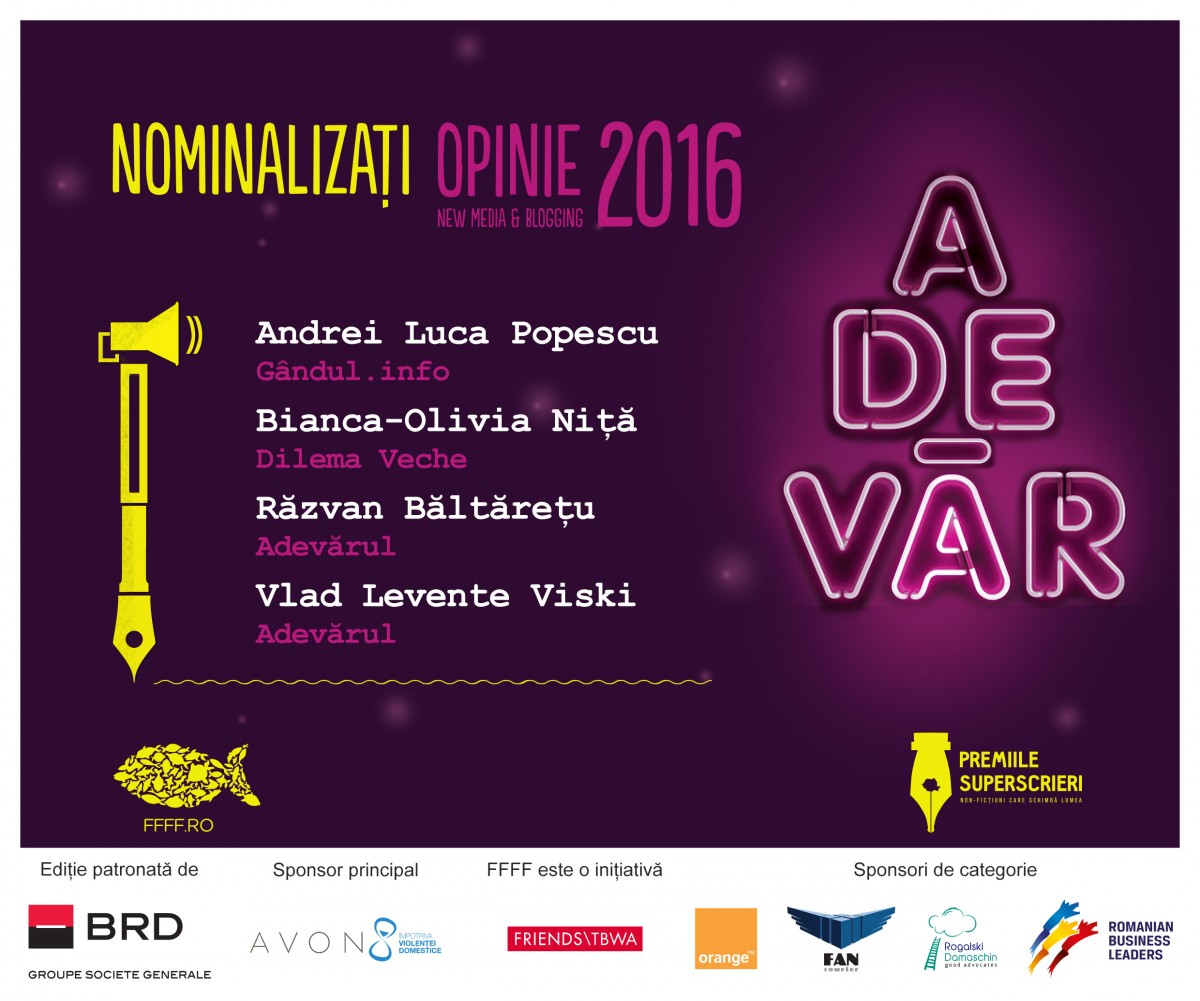 INVESTIGATIE: Nicolae Cuschevici (RISE Moldova), Ovidiu Vanghele & Ana Poenariu (Centrul de Investigatii Media & RISE Project), Roxana Garaiman (Pressone.ro), echipa RISE Project, echipa RISE Moldova/Chisinau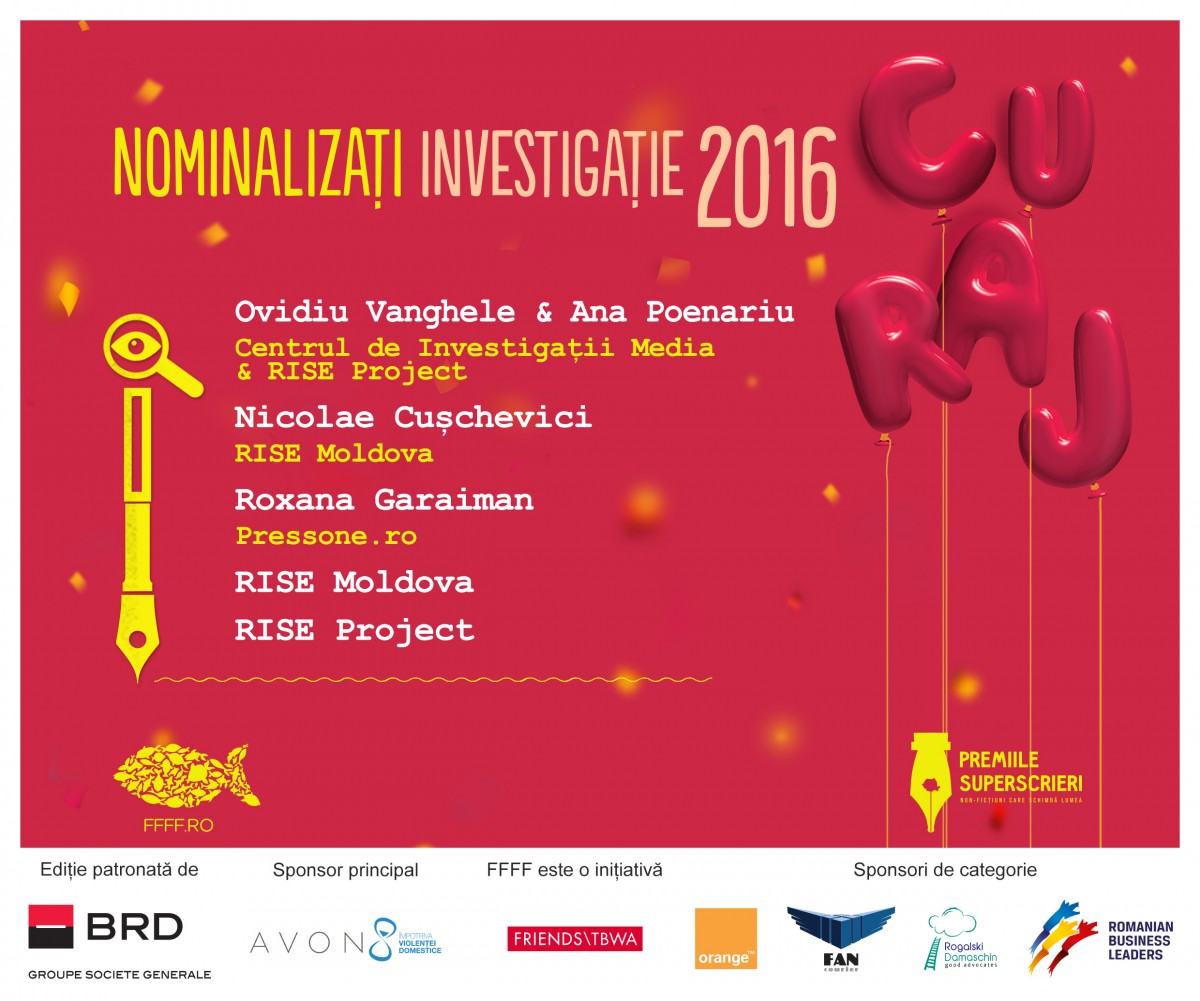 TV & VIDEO-JURNALISM: Alex Varninschi (Digi 24, Prima TV si Adevarul), Alex Nedea (emisiunea In premiera/Antena 3), Cosmin Bumbut & Elena Stancu (Docuart), Romana Puiulet (RISE Project).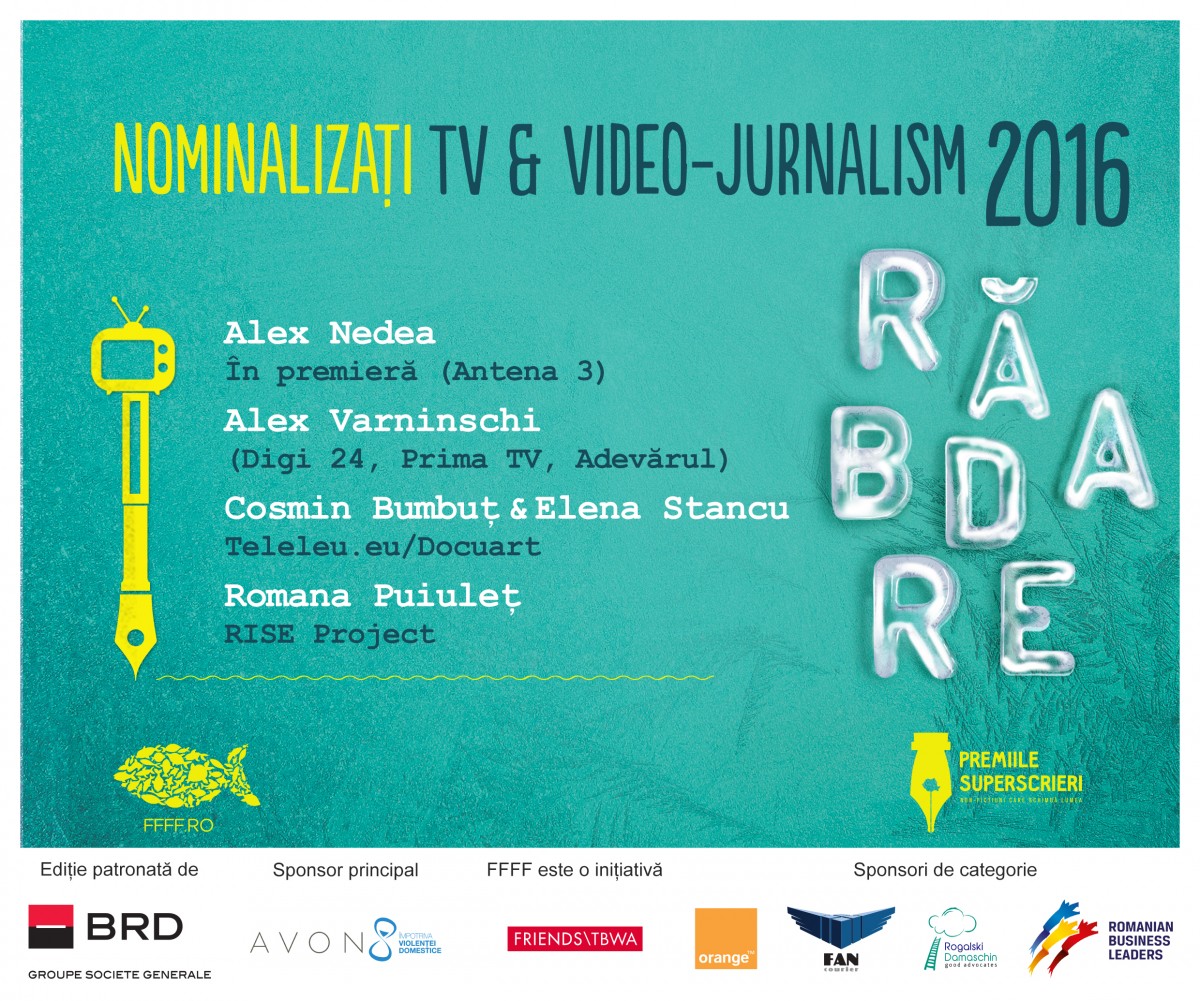 Cele 27 de materiale nominalizate pot fi accesate pe site-ul FFFF.ro. Castigatorii finali se vor anunta pe 16 noiembrie, in cadrul Galei de Premiere, la Teatrul Odeon.
Pentru prima oara in juriul Premiilor Superscrieri, jurnalistul Florin Negrutiu (co-fondator Republica.ro) descrie "redactia Superscrieri":
"Am visat multa vreme sa fac cea mai tare redactie de ziaristi din Romania. Am cautat oameni talentati, cu onestitate, gramatica si entuziasm, pe care sa-i strang laolalta. Voi, la Superscrieri, reusiti sa faceti an de an cate o super-redactie. Daca oamenii astia tineri s-ar cunoaste mai bine, ar lucra impreuna, iar povestile lor ar ajunge la publicul larg, jurnalismul adevarat si-ar lua revansa in fata imposturii si a falsilor maestri".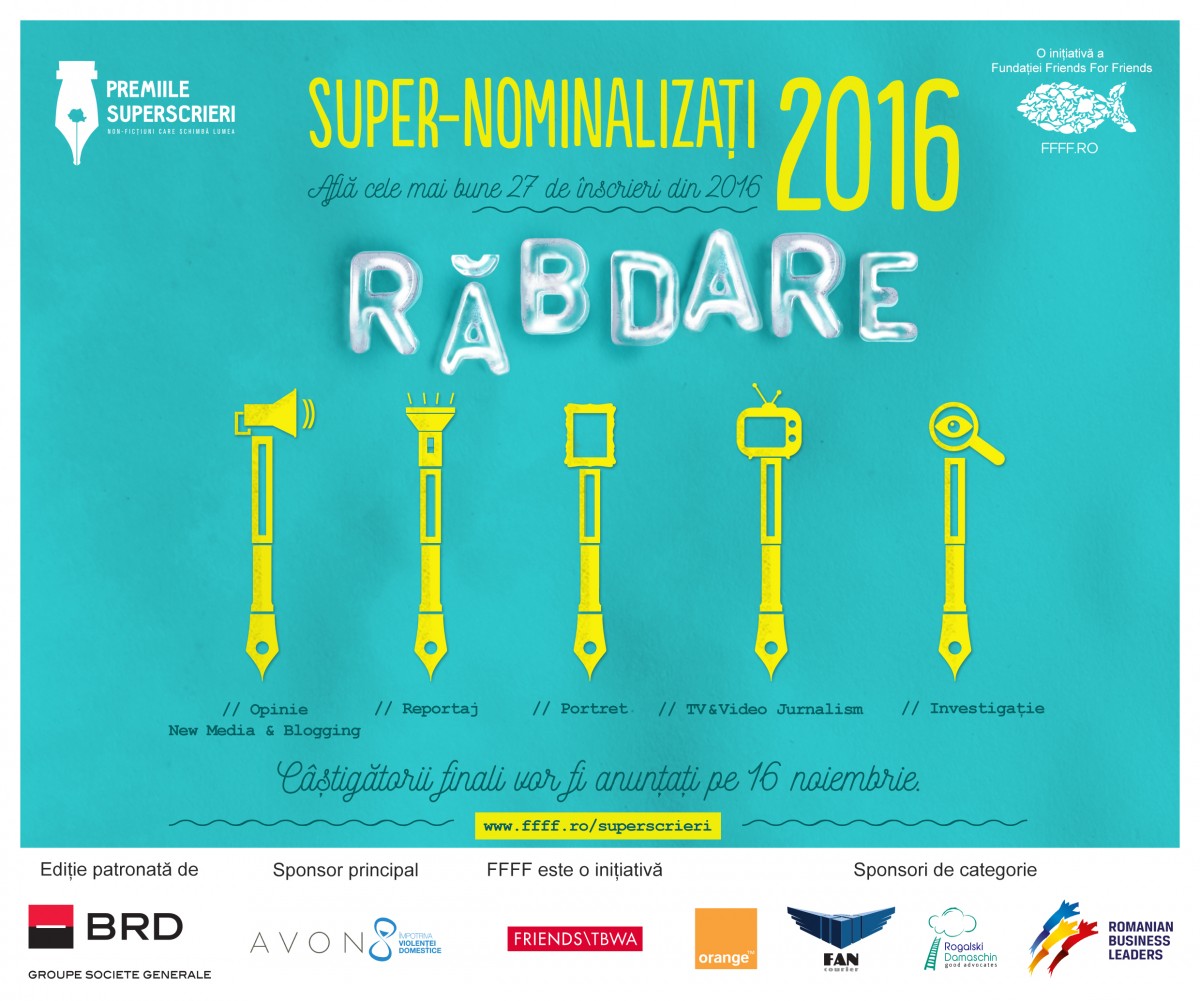 De sase ani, Fundatia Friends For Friends (FFFF.ro) organizeaza competitia Premiile Superscrieri, din dorinta de aduce recunoastere si repere pentru materiale de non-fictiune si jurnalism narativ de calitate care pot fi citite in Romania.
Companii precum BRD – Groupe Societe Generale (patronul editiei), Avon Cosmetics Romania (sponsor principal), Friends\TBWA (initiator FFFF) si alti sustinatori isi aduc contributia pentru a valoriza si a face tot mai des auzite aceste povesti despre realitate care au puterea de a schimba ceva.
La editia actuala, pe langa premiile la care s-au inscris autorii, FFFF va oferi cinci premii speciale onorifice, in afara mecanismului de concurs: un super-material de fotojurnalism, o super-carte de non-fictiune, personalitatea anului, cea mai solida redactie si premiul pentru presa locala. Publicul este invitat sa trimita propuneri, iar juriul va avea rol consultativ. Puteti completa formularul de propuneri pana pe 2 noiembrie.
In afara de sustinatorii de baza mentionati, aceasta cea de-a VI-a editie a Premiilor Superscrieri nu ar fi fost posibila fara sustinerea partenerilor si prietenilor:
Sponsori de categorie: Orange Romania, FAN Courier, Rogalski Damaschin Public Relations, Romanian Business Leaders.
Prieteni si sustinatori ai galei: Epson Romania, Editura Publica, Editura Humanitas, Tea Forte Romania, Frontline, Aural Eye Visions Studio.
Prieteni si sustinatori media: Hotnews, Adevarul, Dilema Veche, Marie Claire, Beau Monde, Scena9, Republica.ro, Sapte Seri, Decat o Revista, The Power of Storytelling, Arte si Meserii, Centrul pentru Jurnalism Independent, RISE Project, Active Watch, Frontline, Think Outside The Box, Romania Pozitiva, IGLOO Media, Veioza Arte si multi altii.