Cu sprijinul UPC România, The Institute prezintă în perioada 14-23 noiembrie Internetics Digital Week 2016, un eveniment amplu dedicat industriilor creative digitale din România care are ca scop să aducă mai aproape industriile conexe de publicitate, tehnologie, IT & gaming. Pe lângă competiția propriu-zisă, Internetics Digital Week va găzdui o expoziție și o serie de conferințe care își propun să investigheze cum interferează digitalul în trei domenii largi: social, business și artistic.    
Expoziția Internetics Digital Week, al cărei vernisaj va avea loc în data de 14 noiembrie, începând cu orele 19:30, la Palatul Știrbei, reunește sub umbrela Digital Heroes lucrări ale artiștilor digitali, produse tech inovative, aplicații sociale.
Expoziția urmărește cele trei domenii de interes ale evenimentului: business, social și artistic. Astfel, printre artiștii expuși se numără:  Julien Britnic  -  Coloana Wi-Finitului; iMapp 2016 by 360 Revolution & Creart, AMPT (Administrația Monumentelor și Patrimoniului Turistic) cu Art 7 și Cristian Vasile  Monumente animate; The Temple & Spider – Escape, the First VR movie in RO; Am exersat viața într-un picior – 3D feature-length-film –  Regizor Bogdan Mustață în colaborare cu CINETIc; MINDSCAPE –Cosmic Rain; Electric.Brother Rocks (cel mai nou album Electric Brother în preaudiție înainte de lansarea din 17 noiembrie de la Grand Cinema & More, Băneasa); Alex Gâlmeanu; Aurel Eye în parteneriat cu CINETIc – Bird in space; NUNU – a collaborative interactive digital manifesto, Institutul Francez & Rencontres Audiovisuelles.
În cadrul digital for business, expoziția îi cuprinde pe Gigi, robotul umanoid și Harpa fără coarde create de Robofun, dronele Quad copters; Social Ego al RMX Creative ȋn colaborare cu Dorks Studio și Rage, Lampix, Woogie – un dispozitiv hardware cu inteligență artificială, imprimante 3D și instrumentul Quick Draw de la Alco 3D și Mobile Academy cu Mobile Tech Report 2016.
Expozitia se încheie cu o serie aplicații sociale: DEEE Collect – Patrula de Reciclare; Tandem Navigator – Asociația Tandem, Green Tips al Asociației MaiMultVerde; Lalele Interactive al Asociației de luptă împotriva bolii Parkinson; Leul curajos – Asociația Little People; Plimbă ursul – Publicis România și Let's do it, România.Tot aici va fi prezentat și proiectul CINETIc – The Jilava Massacre, un tur virtual cu Oculus Rift. Designul expoziției va fi asigurat de Mihai Sfrijan, Founder Notic Games, iar accesul se va face pe baza unui scan 3D powered by echipa 3D Seflie. Expoziția va fi deschisă până în 23 noiembrie.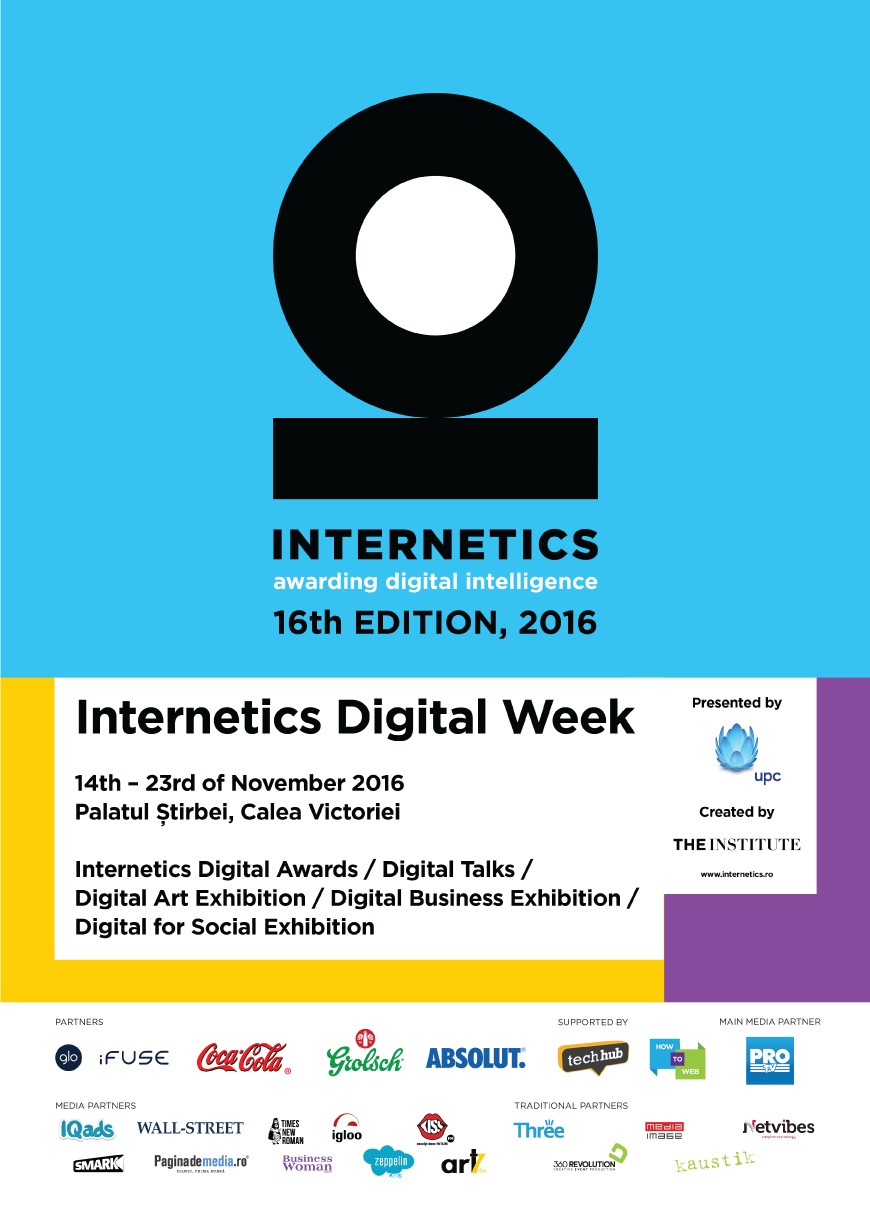 Panelurile de discuții din cadrul conferinței Internetics Digital Week vor avea loc pe 17 noiembrie, la Palatul Știrbei începând cu orele 15. Evenimentul își propune să aducă la aceeași masă specialiști ai industriilor creative din România și din străinătate care să discute despre cum digitalul modelează domeniile în care activează, care sunt trendurile care merită a fi urmate și care sunt cele mai eficiente mecanisme prin care digitalul interferează în cele trei domenii vizate de eveniment: social, business și artistic. Seara de conferințe se va încheia cu un recital Chagall, cu un demo al modului de funcționare al mânușilor mi.mu gloves.
Gala Internetics, în cadrul căreia vor fi anunțați câștigatorii Internetics 2016, competiția care premiază inteligența digitală, va avea loc pe 21 noiembrie la Ateneul Român, începând cu orele 19:30. Câștigătorii vor sărbători în cadrul unui After Party semnat glo iFuse la Expirat Halele Expirat, începând cu orele 22:30.
Festivalul este susținut de glo iFuse, Coca-Cola, Grolsch și ABSOLUT.