Lan Party National Edition este unul dintre cele mai mari evenimente de tip competiţie, destinat tututor studenţilor pasionaţi de tehnologie şi de jocurile video, dornici să-şi demonstreze skill-urile de gameri în campionate de League of Legends, Defender of the Ancients 2, Fifa 17, HearthStone, Counter-Strike Global Offensive, Mortal Kombat, dar și în cadrul competițiilor pe smartphone, XBOX 360, PlayStation 4 sau Wii.
Ajuns deja la a 13-a ediţie, evenimentul va cuprinde 2 etape, cea locală având loc pe 24-25 martie 2017, iar cea naţională, în luna următoare, pe 7-8 aprilie. Ambele faze se vor desfăşura în Facultatea de Automatică şi Calculatoare din cadrul Universităţii Politehnica Bucureşti.
Evenimentul care aduce în acelaşi loc studenţii pasionaţi de jocurile pe calculator şi nu numai, este organizat de către Liga Studenţilor din Facultatea de Automatică şi Calculatoare București (LSAC), în parteneriat cu Uniunea Națională a Studenților din România (UNSR) și Alumni LSAC. Fiind vorba despre o ediţie naţională, aceasta va reuni toţi tinerii dornici de competiţie, cu spirit de echipă şi comunicativi, din 7 centre universitare din țară: București, Timișoara, Târgu Mureș, Cluj, Craiova, Bacău și Iași.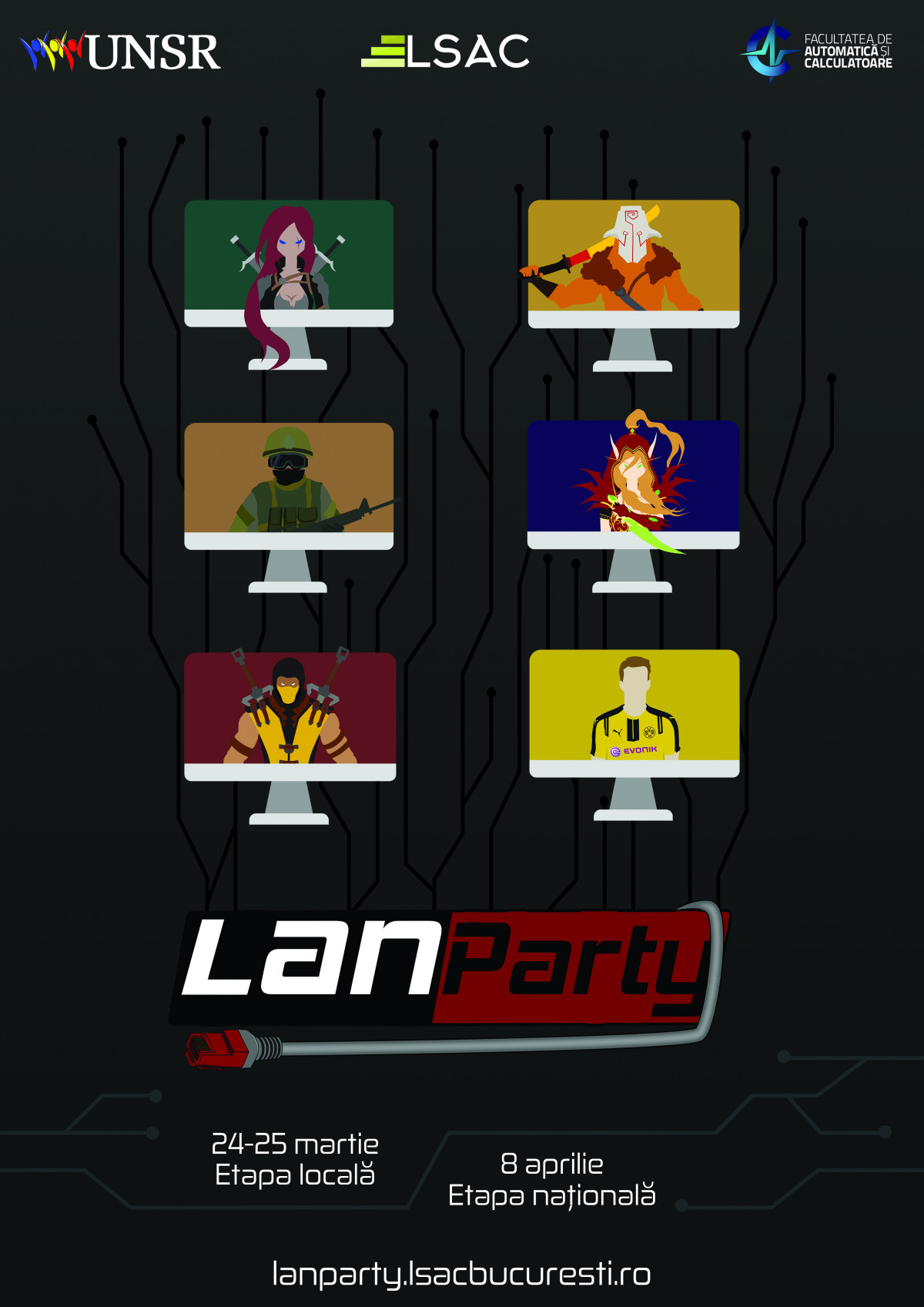 Pentru mai multe informaţii legate de competiţii şi de modul de desfăşurare al acestora, puteţi consulta site-ul evenimentului.
Astfel, studenţii însetaţi de victorie şi pasionaţi de jocurile video, sunt aşteptaţi să participe la cel mai mare Lan Party al acestui an şi să se înscrie la una dintre competiţiile acestuia. Fie ca cei mai buni să câștige!