Black Rhino Music începe o serie de conferințe dedicate scenei de muzică electronică unde vor fi invitați artiști, promoteri, manageri de club și de label. Scopul întâlnirilor este de a aduce un plus de informație și experiență, și de a intermedia un dialog între actorii culturali din industria muzicală.
"Music and Communities", prima conferință Black Rhino Music, are ca topic relația dintre muzică și comunitățile care se dezvoltă în jurul sunetului. Invitații acestei ediții sunt Noah Ball, managing director al festivalurilor Outlook, Dimensions, Sunfall, Soundwave, și pe Geoff Wright aka Presha, radio și nightclub Dj, promoter, distribuitor și manager al labelului Samurai Music Group.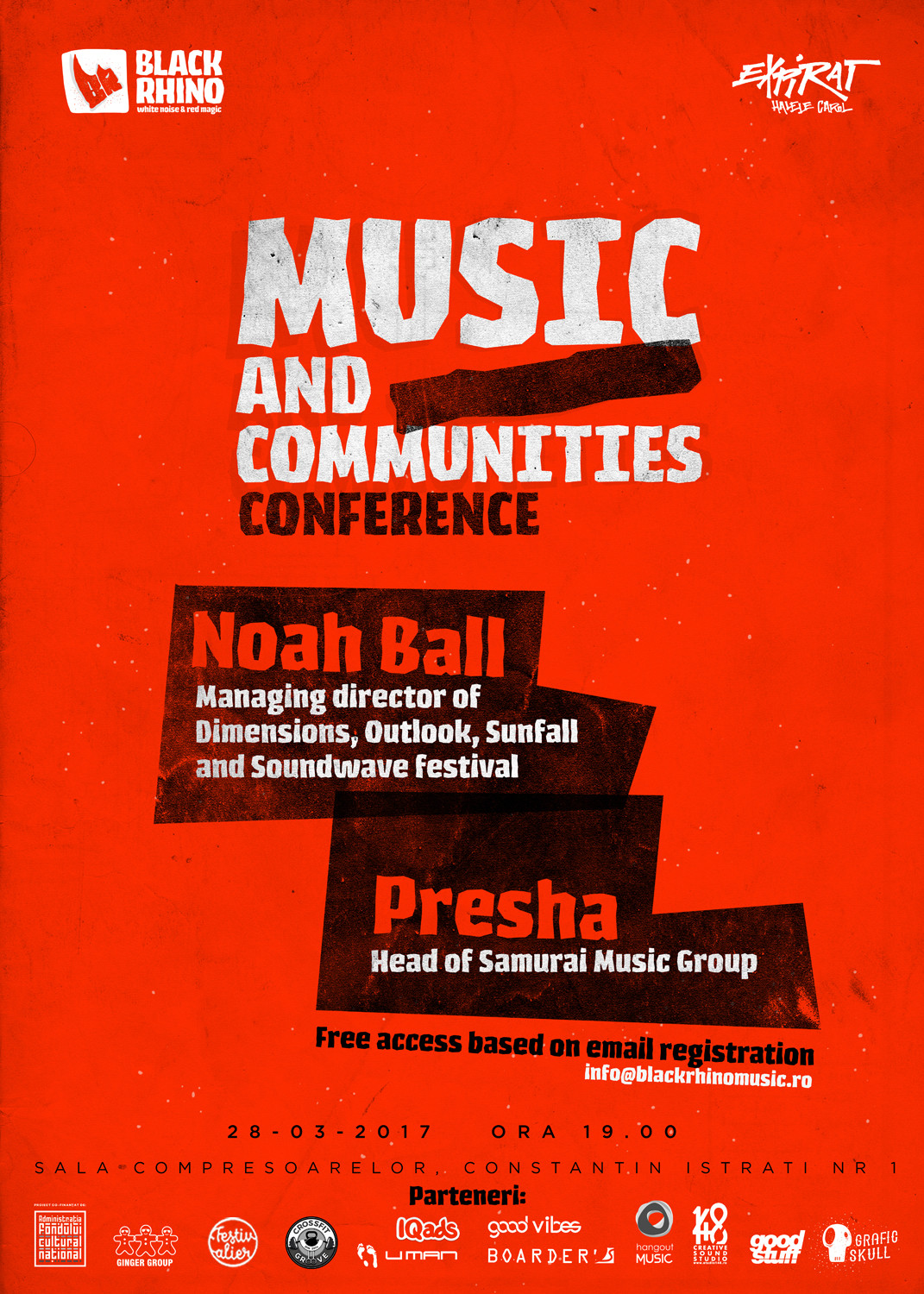 Vom discuta despre selecția de artiști, promovarea unui anumit sunet, marketing și distribuție, pornind de la exemplele oferite de festivalul Outlook și Samurai Music, două organizații a căror filosofie a reușit să modeleze zona muzicală în care activează creînd comunități puternice în jurul lor, formate din artiști și public deopotrivă.
Conferințele sunt deschise întrebărilor pe tot parcursul lor, încurajînd către un dialog activ între public și invitați. Accesul la conferințe este gratuit și înscrierile se fac printr-un email de rezervare la adresa info@blackrhinomusic.ro.
După conferință, pe 30 martie, tot în Expirat, Black Rino Music îi are invitați pe Presha, Dyl, Fane și Low Freq pentru o seară de club dedicată sunetului drum and bass.
Seria de conferințe este co-finanțată de Autoritatea Fondului Cultural Național și se bucură de parteneriatul cu Best Music, Boarders, Crossfit Groove, Expirat Club, Festivalier, Good stuff, Grafic Skull, Hangout Music, IQads, Fundația Cărturești, Ginger Group, Good Vibes, Studio148, Uman. 
"Proiectul nu reprezintă în mod necesar poziţia Administrației Fondului Cultural Național. AFCN nu este responsabilă de conținutul proiectului sau de modul în care rezultatele proiectului pot fi folosite. Acestea sunt în întregime responsabilitea beneficiarului finațării."