Cel mai nou raport al echipei Questia Group prezinta evolutia sectorului de retail banking din ultimii ani, oferind o privire de ansamblu asupra mediului international si concentrandu-se ulterior pe industria bancara romaneasca.
De la evolutii ale principalilor indicatori macroeconomici, la cote de piata ale celor mai importanti jucatori din consumer banking si la date agregate din studiile realizate de echipa Questia Group, "Towards the Digital Age of Retail Banking and the Omnichannel Consumer" se adreseaza oricarui profesionist din mediul academic sau de afaceri interesat de domeniul bancar si de digitalizarea industriei. Raportul urmareste sa fie un suport solid pentru toti cei care doresc sa inteleaga contextul bancar actual si sa tina pasul cu noile evolutii din consumer banking.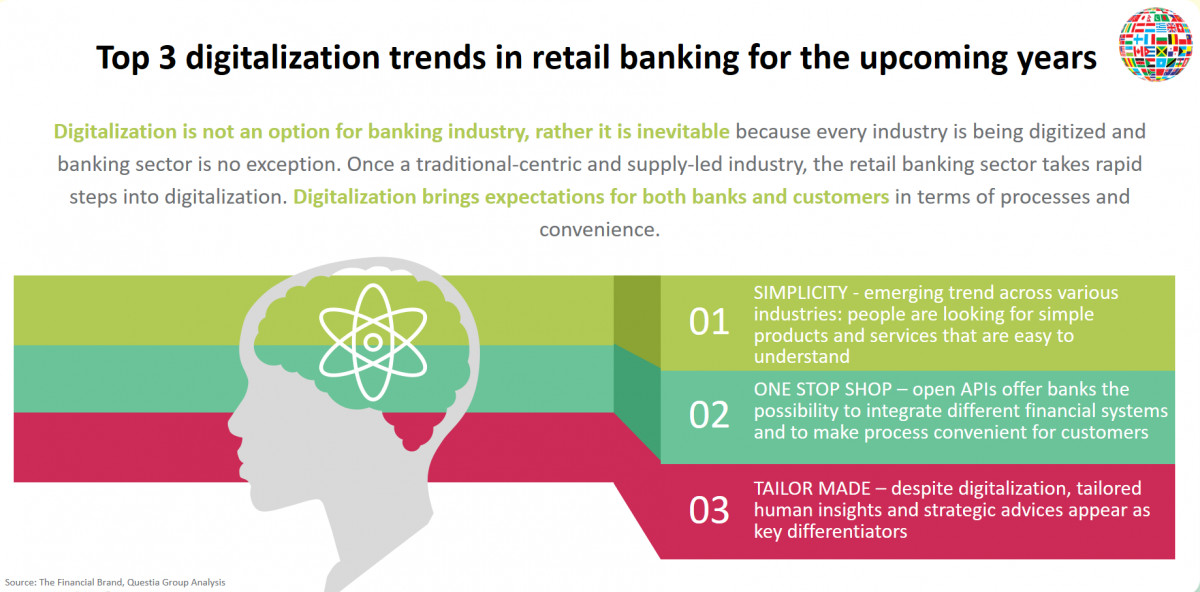 "Prin whitepaperul <<Towards the Digital Age of Retail Banking and the Omnichannel Consumer>>, vrem sa oferim un punct de pornire in intelegerea contextului bancar actual si a trendurilor din domeniu. De la departamente de market research, pana la marketing si strategie, raportul nostru agrega date utile pentru toti clientii interesati sa aiba o imagine completa a industriei, care sa cuprinda atat evolutii ale pietei, cat si date de la consumator.", spune Andreea Nedelcu (Chief Business Development Officer la Questia Group).
"Dincolo de datele statistice, am incercat sa oferim publicului povestea digitalizarii sectorului bancar romanesc. Povestea este insa extrem de complexa. Implica indici macro-economici importanti, eforturi sustinute ale industriei sau bariere ce tin de perceptiile consumatorilor. Insa e o poveste care mizeaza pe clarificarea unor tendinte de schimbare operationala din domeniu si ofera cateva raspunsuri la cum pot bancile integra servicii si produse cat mai utile pentru clienti lor", afirma Andrada Nimu (Chief Research Officer la Questia Group).
Selectii din materialul
"Towards the Digital Age of Retail Banking and the Omnichannel Consumer"
Cei interesati de achizitionarea raportului, dar si de alte date din studiile Questia Group, pot trimite un e-mail pe adresa: whitepapers@questiagroup.com
Questia Group este o companie de cercetare de piata independenta, 100% romaneasca, cu prezenta in Europa, Asia si Africa.