TeSuprinde.ro este prima platforma de surprize pentru public si, totodata, locul unde devii surprinzatorul propriei tale vieti, locul unde dorintele si ideile frumoase devin surprize demne de povestit peste ani.
Pentru ca uitam adesea sa ne bucuram de noi si de cei din jurul nostru, TeSurprinde.ro devine ajutorul ideal pentru persoanele care isi doresc sa simta din nou gustul unor surprize bine facute.
Platforma te ajuta sa organizezi altora sau chiar tie, surprize cat mai inventive: "Ready to go", "Personal touch", "Home made", "Evenimente" care sa te faca sa spui la sfarsitul zilei "da, m-am surprins pe mine insumi."
Oricand, echipa de surprinzatori e pregatita sa descopere exact acele bucurii care te reprezinta, sub forma cea mai apropiata de tine.
"Echipa TeSurprinde.ro are un singur scop: sa te surprinda, sa te impresioneze. E un grup de oameni creativi, care gandesc "out of the box" si pentru care "a lucra", "a crea", "a construi", "a merge la birou", "job description" au alte definitii decat cele impamantenite. Cum ar fi a le readuce celor cu care intra in contact bucuria de a primi lucruri neasteptate, de a trai povesti inedite.", a declarat Monica Magureanu (owner Pandorra Story Style).
Serviciul a diversificat plaja surprizelor oferite, acoperind urmatoarele categorii:
Surprize la cheie adaptabile in functie de locatie, data, numarul de persoane.
Surprize preparate "in casa" cu cele mai autentice ingrediente: "Expo yourself", "Cumparam timp", "Intalniri surprinzatoare", "Excursii in trecut" sunt doar cateva dintre ideile pe care le poti vedea puse in practica.
Surprize cu o nota personala in functie de informatiile pe care tu ni le oferi si pe care noi le modelam special pentru tine: "Iubeste prin arta", "Party film", "TangoTu", "O calatorie cu aroma argentiniana", "Impro your life", "Povestea copilului tau…"
Evenimente si ateliere neobisnuite. Toate personalizate cu si despre tine, cu povestea ta.
Prieteni multi si frumosi. Toti sunt eroii propriei lor vieti. Ei au ales deja sa se surprinda!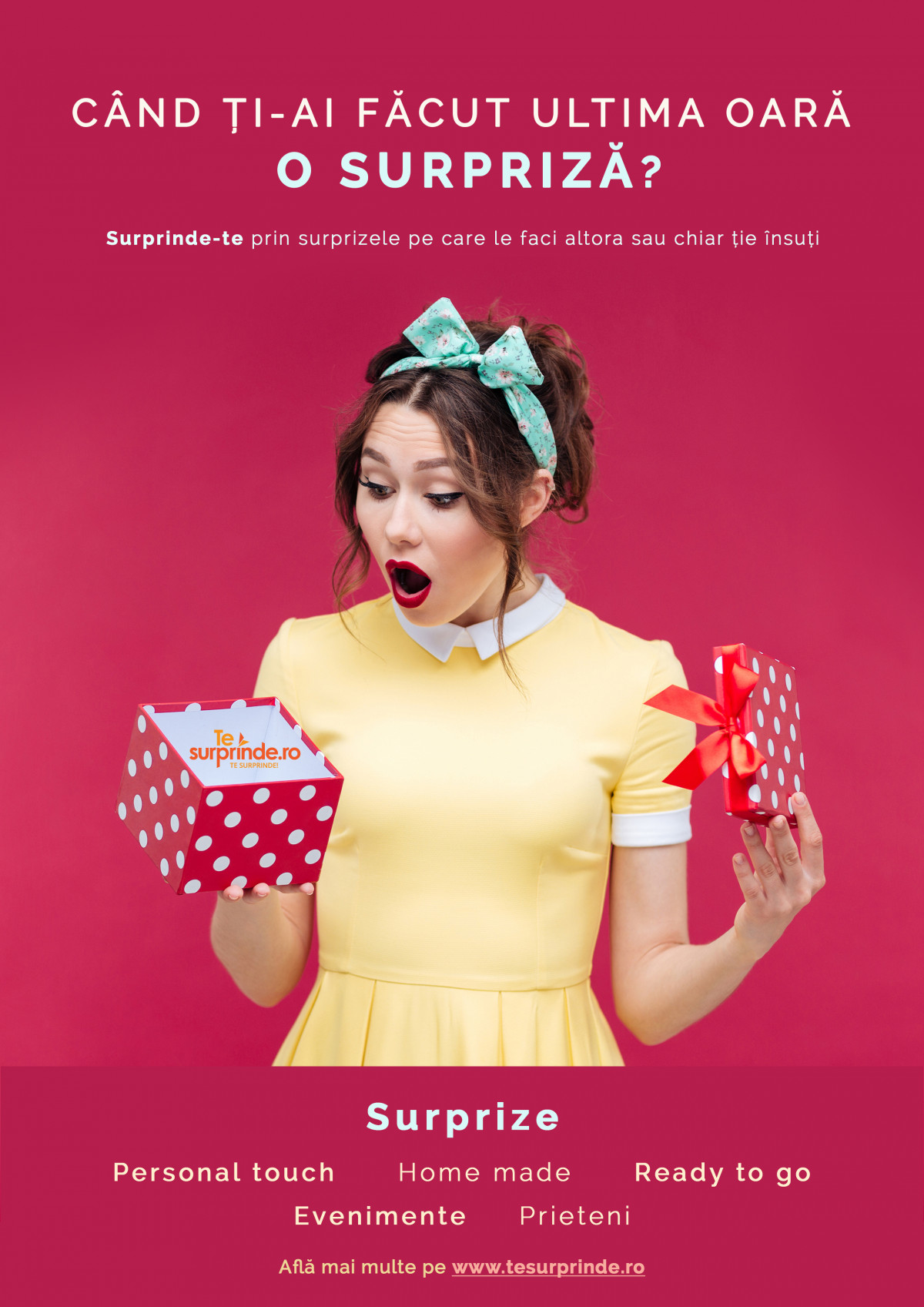 "Intr-o lume in care totul se preconizeaza, se estimeaza, se proiecteaza in viitor… de-a lungul zilelor bine planuite dinainte, a bugetelor prestabilite, a "goal-urilor" personale stabilite contabiliceste, a copiilor "planuiti", intr-o lume in care ne permitem aroganta de a intui ce vom face peste 20 de ani, Echipa tesuprinde.ro restabileste valoarea pe care o are SURPRIZA in viata fiecaruia", a continuat Monica Magureanu (owner Pandorra Story Style).