Pe parcursul celor trei zile vor fi organizate diverse activități educative și recreative, urmând ca odată cu lăsarea serii festivalierii să ia parte la cele 9 concerte susținute de: GoGo Penguin - Marea Britanie (pentru prima oară în România), Bugge Wesseltoft's New Conception of Jazz - Norvegia și Tingvall Trio - Germania, formațiile străine Eric Vloeimans' Gatecrash (în premieră în România) - Olanda, The Kandinsky Effect (în premieră în România) - Franța, Sickpicnic - Ungaria, Iordache, JazzyBIT și Trompetre - România.
"Smida Jazz Festival este un proiect cultural unic în România și în Europa de Est, care își propune să susțină jazzul contemporan și abordările inovatoare în acest gen muzical. Totodată, țintește să contribuie activ la dezvoltarea regiunii Transilvaniei, prin promovarea Parcului Natural Apuseni, locul de desfășurare. Astfel, festivalul se adresează tuturor consumatorilor de cultură, muzică live și natură.", Asociația Transylvanian Cultural Development - organizator.
Smida (Beliș, Cluj) se află la 90 de kilometri asfaltați de Cluj-Napoca și 130 de Oradea, accesul făcându-se din drumul european E60, prin Huedin (pe traseul Răchițele, Doda Pilii și Smida). Zona dedicată festivalului, la 1.100 de metri altitudine, va avea: parcare, food court, baruri, camping cu toate facilitățile necesare (dușuri, toalete, spălătoare, electricitate, pază ș.a.) și vor fi puse la dispoziție mijloace de transport în comun dinspre Cluj-Napoca spre Smida și invers.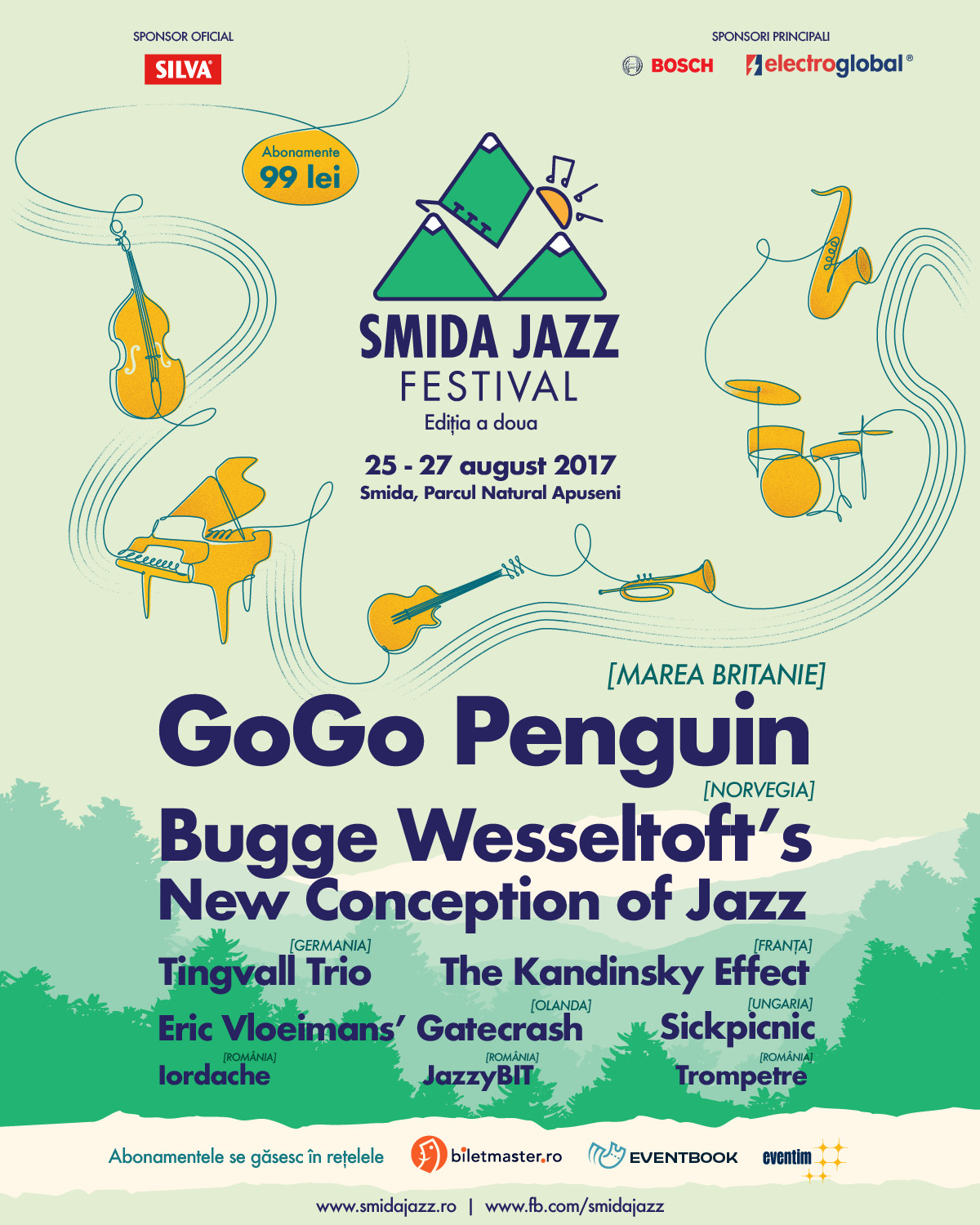 Festivalul se află la cea de-a doua ediție, în 2016 având loc ediția-pilot, ce a adunat, pe parcursul celor două zile, 3.000 de persoane. În timpul zilei, acestea au luat parte la activități în aer liber, iar pe parcursul serii au participat la concertele susținute de Ilhan Ersahin's Istanbul Sessions - Suedia-Turcia, Studnitzky Quartett - Germania, Loop Doctors - Ungaria, Uptake Quartet - Franța, Sebastian Spanache Trio, Arcuș Trio, Exit Oz și Essential Notes - România.
Abonamentele la festival și camping, precum și biletele pentru o zi, pot fi cumpărate atât online, cât și offline, de la parteneri.
Cu sprijinul: Consiliul Județean Cluj;
Sponsor oficial: Silva;
Sponsori principali: Electroglobal și Bosch;
Sponsori: Agressione, Benvenuti, Distral, Farmec, Go4EcoMobility, KONE Corporation, La Donna Imobile, Lecom, Monoventure, Oscartielle, Repro Invest, Samsara Foodhouse;
Partener travel: Wens Tour;
Parteneri: Cărturești, Centrul Cultural German, Daisler, Dalin, Institutul Francez, Live Rental, Policolor;
Parteneri media: AdMirror, Centrul Național de Informare și Promovare Turistică Cluj, Clujul Cultural, Cluj Life, Cluj.com, Festivalier.ro, HotNews.ro, InfoMusic.ro, IQads, Radio HIT Iași, RFI România, Scena9, SUB25, SUNETE?, TVR Cluj, Zile și Nopți Cluj-Napoca, Zile și Nopți București.