Un număr de peste 30 exponate, imprimante 3D, un exoschelet printat 3D, Sculptura Bloom, un braț robotic precum și castelul Bran realizat în totalitate cu ajutorul creionului 3Doodler vor putea fi admirate începând cu 9 iunie în Cluj-Napoca, în cadrul primului eveniment din România dedicat tehnologiei imprimării tridimensionale.
Expoziția Viitorul în 3D Printing va fi găzduită de Muzeul Național de Istorie a Transilvaniei, unde va putea fi vizitată gratuit până pe data de 23 iunie 2017.
Evenimentul își propune să conducă vizitatorii în povestea reală a imprimării 3D, a modului în care este utilizată în România, oferind totodată o privire către viitor, asupra potențialului revoluționar pe care îl poate avea această tehnologie. Vor fi reprezentate trei sectoare cheie în care tehnologia imprimarii 3D generează inovație - sectorul industrial, medical și industriile creative.
Pe parcursul evenimentului, publicul va avea șansa de a participa la ateliere interactive de inițiere în fabricația aditivă și procesare digitală, cu aplicații directe în design de produs. Expozitia încurajează interacțiunea cu exponatele 3D, multe dintre ele putând fi observate de aproape de către vizitatori.
Expoziția include și o serie de lucrări ale artiștilor nominalizați la premiile STARTS 2016, prin care Comisia Europeană își exemplifică poziția în ceea ce privește dezvoltarea capacității de inovare la intersecția dintre arte, științe și noi tehnologii. De altfel, expoziția VIITORUL ÎN 3D PRINTING va fi prilejul unei vizite speciale din partea invitaților români și europeni ai Open Innovation 2.0, conferința pe teme de inovație, organizată la Cluj-Napoca în perioada 13-14 iunie.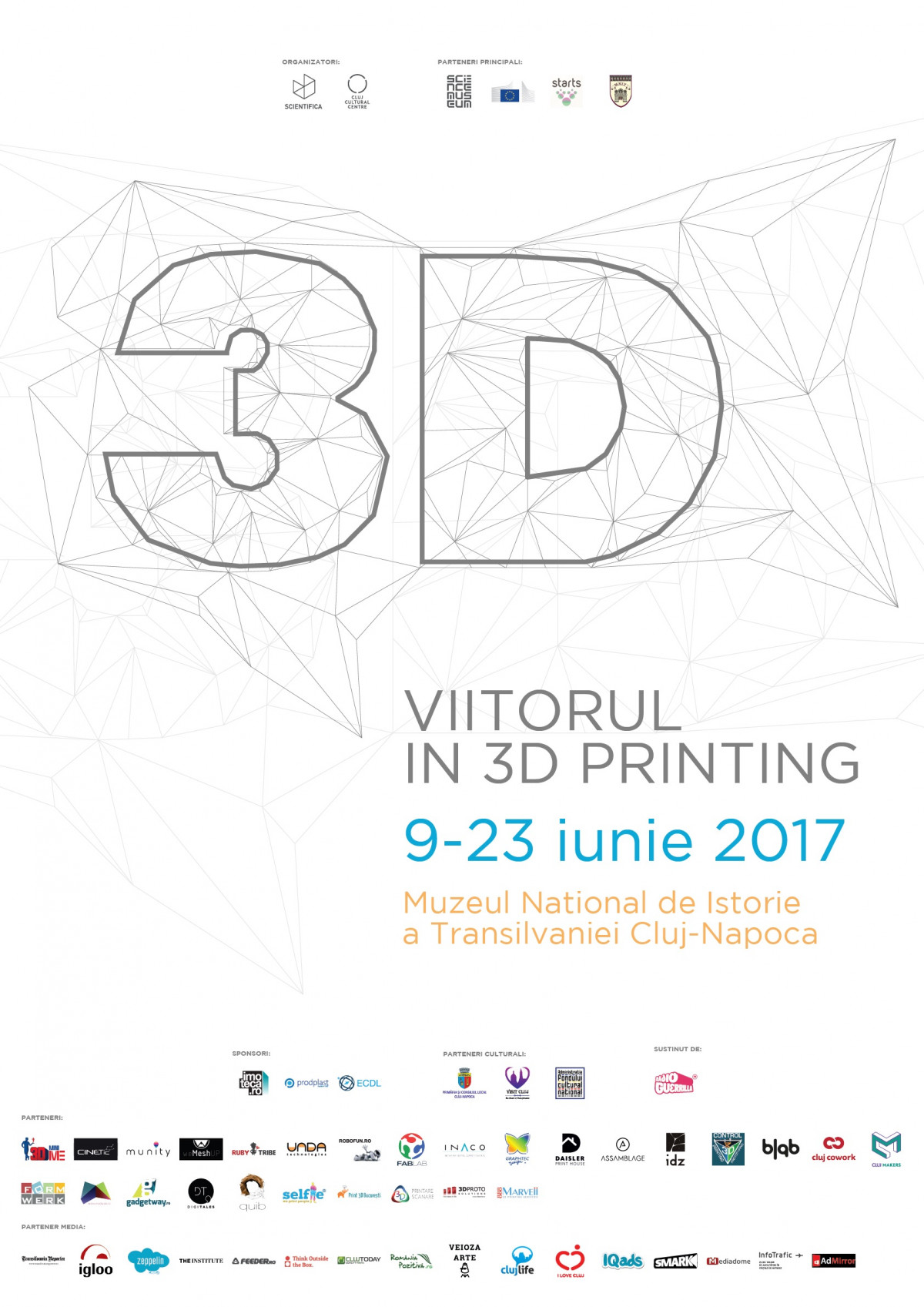 Evenimentul este organizat de Asociația Scientifica, co-organizator Centrul Cultural Clujean, în parteneriat cu Science Museum of London, Comisia Europeana, DG CONNECT, STARTS, Gluon și cu sprijinul Administrației Fondului Cultural Național.
"Acum, mai mult ca niciodată, fiecare dintre noi poate experimenta tehnologia imprimării 3D. Artiști, entuziaști și antreprenori din întreaga lume folosesc imprimarea 3D pentru a imagina și crea obiecte cu design inovator.

Acest proiect reprezintă un prim pas pentru dezvoltarea la Cluj a centrului Quantum Science, un proiect aflat pe agenda prioritară a Centrului Cultural Clujean. Astfel dorim să încurajăm participarea publicului și a comunității locale la activități interdisciplinare din zona artelor, științelor și tehnologiei", spune Miruna Amza, Fondator Asociația Scientifica.
Informații despre vizitare: Acces gratuit.
Program de vizitare: Marți, joi, vineri, sâmbătă, duminică: 10.00 - 16.00, miercuri: 12.00 - 18.00. Muzeul Național de Istorie a Transilvaniei, Strada Constantin Daicoviciu 2, Cluj-Napoca
Sponsori: Imoteca, ECDL, ProdPlast
Organizator: Asociația Scientifica
Co-organizator: Centrul Cultural Clujean
Parteneri principali: Science Museum of London, Comisia Europeana, DG CONNECT, STARTS, Gluon
Parteneri: Primaria si Consiliul Local Cluj-Napoca, ARIES Transilvania, CINETic, 3D Mini Me, Munity, We Mesh Up, UNDA Tech, Ruby Tribe, RoboFun, FabLab, Inaco, Graphtec Design, iMAKE3D FabLab, Assamblage, IDZ Arhitectura, Control 3D Cluj, Cluj Makerspace, Cluj Cowork, FormWerk, Gadgetway, Modulab, Quib, Digitales, 3DSelfie, Symme3D, Printare 3D Bucuresti, 3D Printare Scanare, 3D Proto Solutions, 888 Marveii Print
Parteneri Media: Radio Guerilla, InfoTrafic, Transilvania Reporter, AdMirror, Igloo, Zeppelin, The Institute, Feeder, Think Outside The Box, Cluj Today, Romania Pozitiva, Veioza Arte, ClujLife, I Love Cluj, IQads
Proiect realizat cu sprijinul Administrației Fondului Cultural Național.