Anunt valabil pana la data de 2021-05-17
Companie: OLIVER Agency
Specializare: Marketing, Digital, Account
Tip job: Full Time
Nivel: Middle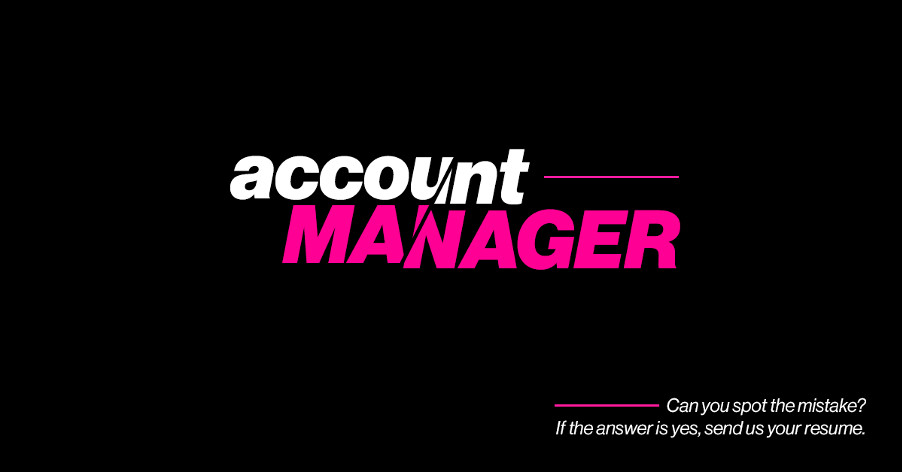 ROLE MISSION
Account Manager will manage everything from concept creation to pitching and adaptation.
THIS ROLE IS RIGHT FOR YOU IF...
You are someone who likes to work in close collaboration with clients and brands. You are entrepreneurial and relish the opportunity to be a part of something new and dynamic.
ABOUT THE TEAM YOU WILL BE JOINING
You will be part of a regional European hub.
WHAT YOU WILL BE DOING IN YOUR ROLE
Overseeing the output of the of the team; acting as the final checkpoint to ensure quality is kept high across all projects.
Strive to follow and implement the best practice project management process within OLIVER and with clients
Be able to verify the qualitative and quantitative output of a project against the project objectives
Develop and maintain strong client relationships through clear communication and by building trust between yourself and the client contacts.
Be pro-active and therefore anticipate and rectify issues at project outset before they become a problem. Identify, manage and mitigate against project risks at all times.
Plan and schedule campaigns efficiently therefore ensuring the optimum use of company resources.
Communicate project status both internally and externally according to agreed account process.
Produce estimates and timelines and measure progress of projects against those throughout the workflow.
Be financially conscientious when managing the delivery of a project ensuring all relevant parties are aware of financial implications of delays, additional amends and re-briefs.
Be a valued team member and enjoy working with people from different disciplines across the globe within OLIVER.
WHAT SKILLS WILL HELP YOU BE SUCCESSFUL
3+ years' experience managing integrated communication campaigns from initial briefing to delivery.
Competent user of Microsoft Office software including Word, Excel, PowerPoint and project planning software (optional)
Good understanding of project finances and commercials – estimating, timings, costs and invoicing.
Confident communication skills both internally and externally with client.
Be able to handle multiple projects under pressure
Understand industry trends and have the instinct to grasp and funnel emerging opportunities.
Have great interpersonal and negotiation skills.
Be proactive, self-motivated and enjoy working as part of team.
Delegate responsibility effectively and know when to manage 'up' as well as 'across' and 'down'.
Be calm, consistent, confident and courageous.
ABOUT OUR COMPANY
Lots of agencies say they're different.
OLIVER is. OLIVER believes that agencies work better inside a brand's organisation; delivering more effective work at the speed required to drive modern businesses forward. Using our unique Inside Intelligence methodology, we build specialist, dedicated in-house agencies that collaborate with clients to form better marketing solutions.
Established in 2004, our model is now driven by over 2000 people, working across more than 200 in-house agencies globally. Clients include The Guardian, Unilever, Barclaycard, PepsiCo, AXA, The AA, Adidas, BMW, Post Office, and 3M. OLIVER is part of the Inside Ideas Group (IIG), which also includes a global content agency to Adjust your Set, design, experience, and engineering company DARE and property marketing specialists Aylesworth Fleming.
OUR VALUES
We are a company built on our values; we have given you a brief overview below but would love to tell you more.
Be Ambitious – to succeed
Be Imaginative - to push the boundaries of what's possible
Be Inspirational - to do groundbreaking work
Be always learning and listening - to understand
Be Results-focused - to exceed expectations
As an employer, we are committed to ensuring representation of people from all backgrounds regardless of their gender identity or expression, sexual orientation, race, religion, ethnicity, age, neurodiversity, disability status, or any other aspect which makes them unique. We welcome applicants from all backgrounds to apply and would encourage you to let us know if there are steps, we can take to ensure that your recruitment process enables you to present yourself in a way that makes you comfortable.
Aplica la acest job