Domeniile de activitate ale companiei sunt: productie publicitara si suport in organizarea de evenimente.
Suntem o companie care imbina experienta de 20 de ani in productia publicitara cu entuziasmul unei echipe tinere si bine pregatite. Avem resurse umane si logistice pentru a fi la inaltimea cerintelor unei piete dinamice, in continua schimbare si urmarim trendurile internationale in domeniu. Ajustam oferta noastra necesitatilor clientilor si suntem intotdeauna pro-activi. Parteneriatele noastre sunt in majoritatea lor mai vechi de 10 ani si asta pentru ca avem clienti fideli si furnizori seriosi. Cautam si oferim partenerilor nostri seriozitate, profesionalism si valoare adaugata.
Misiune
Sa oferim clientilor nostri un ONE STOP SHOP pentru orice inseamna productie publicitara la cel mai inalt nivel. Cuvantul nostru de ordine este SERIOZITATEA. Cultivam relatiile comerciale de lunga durata si avem un renume impecabil in piata.
Viziune
"We always go the extra mile for the client"
Suntem certificati ISO 9001:2008 inca din anul 2008, de catre prestigioasa institutie germana TUV Thuringen: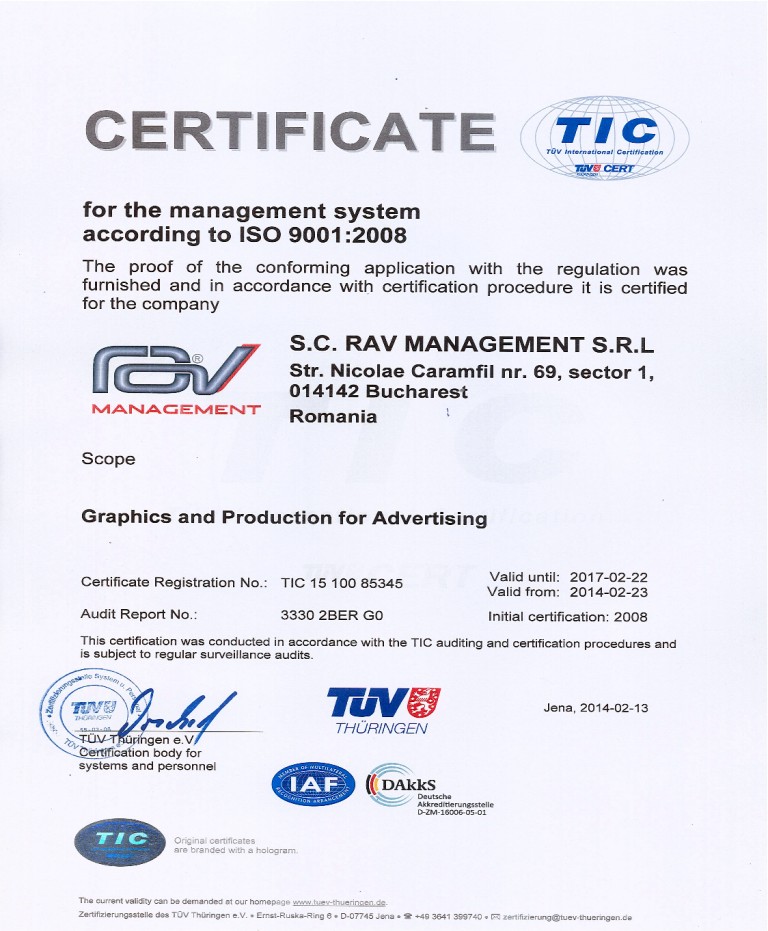 Prezentarea serviciilor:
Import si distributie materiale promotionale personalizate. Suntem distribuitori ai celor mai renumiti furnizori si detinatori de stocuri din Europa si Asia, cu care avem parteneriate de lunga durata bazate pe seriozitate si suport reciproc. De asemenea, avem o larga baza de producatori specializati in China si Hong Kong, biroul nostru din Gunaghzou asigurand verificarile calitative si partea logistica.

Alcatuirea de pachete de produse promotionale adecvate oricarui tip de cerere, indiferent de buget, termen de livrare sau destinatie . Putem asigura personalizare, pachetizare speciala, distributie pana la punctul de contact si daca este nevoie gestionare stocuri.

Design, productie si implementare standuri expozitionale personalizate, in tara sau strainatate.

Amenajare locatii pentru concerte, conferinte, team building, indoor sau outdoor .

Proiectare si productie mobilier de expunere produse pentru magazine, hipermarketuri, mall-uri, inclusiv decorare vitrine sau spatii comerciale pentru ocazii deosebite ( sarbatori, targuri, evenimente).
Portofoliu clienti:
Prezentare evenimente:
Echipa de management: VLAD MIRONESCU (Director General)
Extra info
Afla mai multe despre Rav Management