La data de 1 iunie a acestui an, geekșii din Saatchi & Saatchi + The Geeks au aniversat 10 ani de la înființare. Cu ocazia acestei aniversări, care s-a întâmplat să fie și de Ziua Copilului, publicitarii au vrut să facă cinste cu... povești. Mai precis, au lansat campania "Audiofile de poveste", cu scopul de a strânge fonduri pentru copiii mai puțin norocoși de la SOS Satele Copiilor.
"Audiofile de poveste" este o colecție de povești audio, scrise, interpretate și ilustrate de creativii de la Saatchi & Saatchi + The Geeks. Toate poveștile abordează subiecte legate de viața copiilor în contextul pandemiei. Spre exemplu, cei mici pot asculta povestea rândunicii Veronica, fericită că acum zboară într-un oraș mai puțin poluat, sau a mașinii Dora, ușor tristă că nu a mai fost scoasă de ceva vreme din garaj. Sau pot afla cum se simt cățeii Albuș și Luță în izolare. Sau de ce au fost torturile bosumflate la petrecerile aniversare fără copii. 
Poveștile sunt însoțite și de ilustrații alb-negru care pot fi descărcate de pe un link aflat sub descrierea fiecărei povești de pe YouTube, pentru ca mai apoi să fie colorate de cei mici.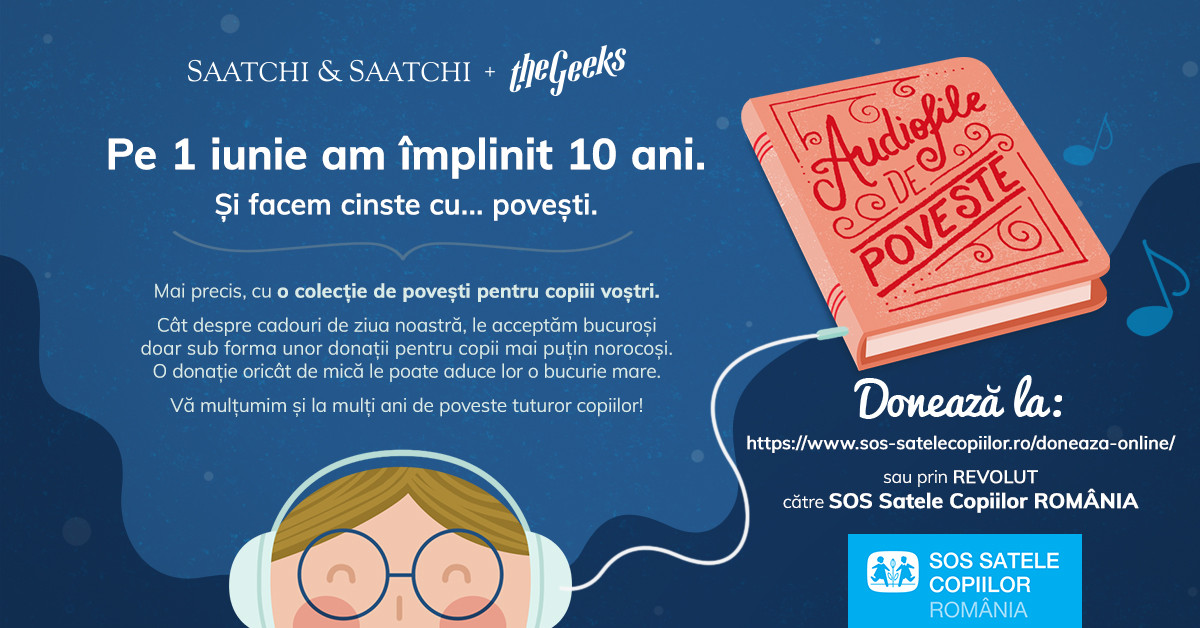 Cei care s-au bucurat sau încă se bucură ascultând "Audiofilele de poveste" și vor să le facă un cadou geekșilor cu ocazia celor 10 ani împliniți, pot face asta donând pentru SOS Satele Copiilor sau prin Revolut (găsiți contactul lor în secțiunea Donations).