Orice fan Game of Thrones care se respecta a vazut cel putin o data clipul in care Tyrion (cel mai tanar dintre mostenitorii casei Lannister) il plesnea nu o data, ci de doua ori, pe Joffrey, nepotul lui si totodata urmasul regelui Robert Baratheon. Stiu ca totul suna foarte complicat pentru necredinciosi, dar sa ne concentram pe esential: un personaj general placut palmuieste un alt personaj urat cu o intensitate care ne face sa credem ca Joffrey e real. Chiar si pentru cei care nu sunt fani, scena asta e irezistibila. Asadar, e lesne de inteles de ce pe YouTube exista videoclipuri lungi de zece ore in care aceeasi faza a fost taiata si repetata de zeci de ori. Sau alte extrase din serial in care Joffrey primeste ce merita din partea altor personaje GoT.
Curiosi sau fani dedicati, indiferent carei casa i-au jurat credinta, toti sunt uniti intru ura impotriva lui Joffrey. Cel putin astea sunt datele adunate de agentia de research Sysomos, date pe care HBO si agentia online 360i le-au folosit pentru a lansa cea mai mare campanie de distrugere a reputatiei lui Joffrey din istoria serialelor TV. La batjocorirea lui Joffrey au fost rugati sa se alature si cei de la Funny or Die (autorii "Gay of Thrones"), creatoarea de clipuri Vine Megan Cignol, Maisie Williams (Arya Stark in serial) si Kristian Nairn (Hodor in serial). Lansata ieri impreuna cu hashtag-ul #roast, campania a atras deja o multime de reactii din partea fanilor .
De ieri: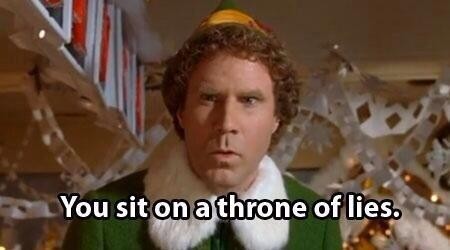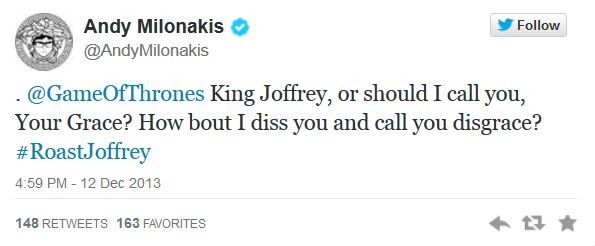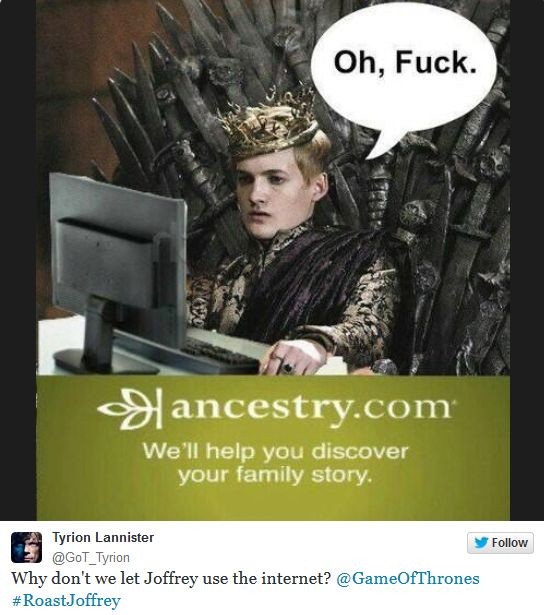 De azi: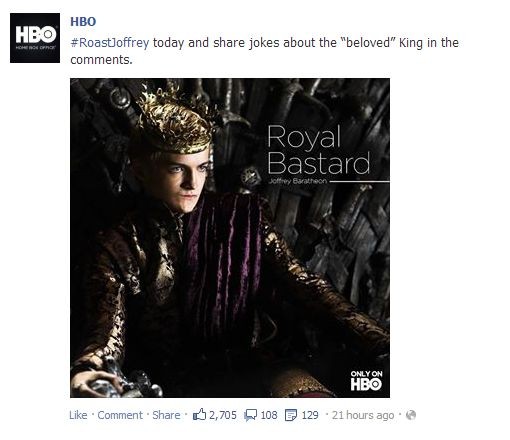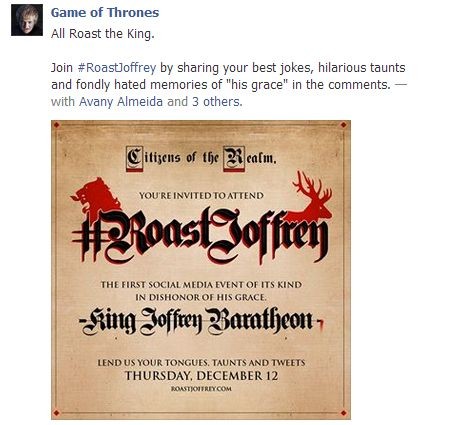 #RoastJoffrey clip with Adrianne Curry (WARNING: NSFW Language) from AdrianneCurry on Vimeo.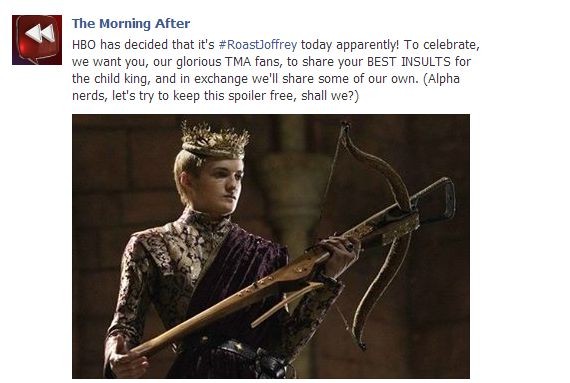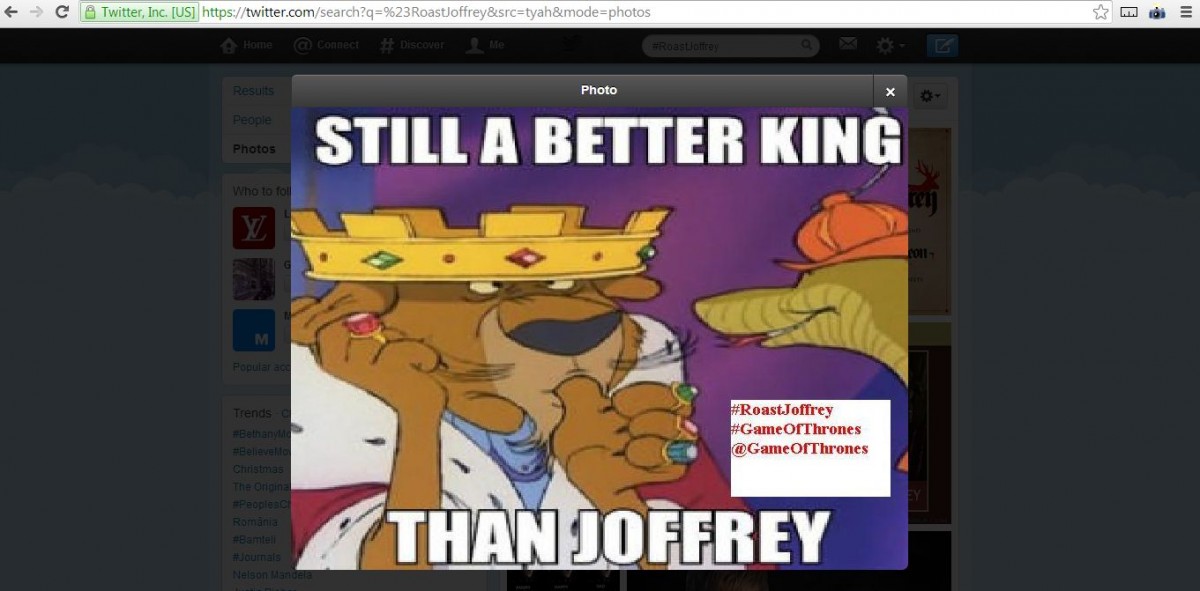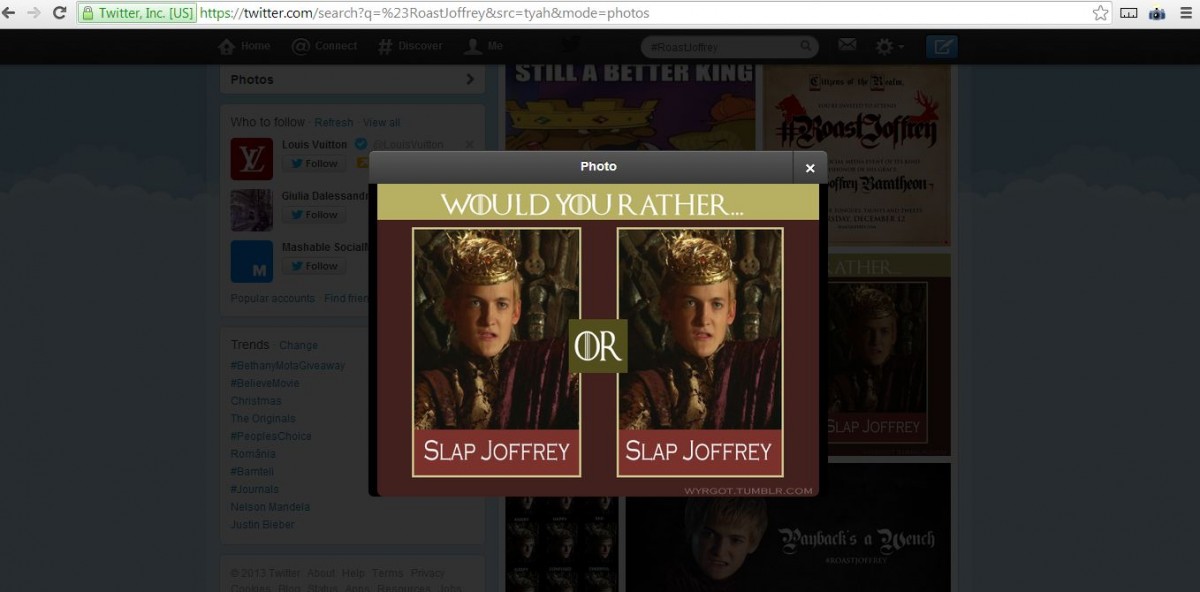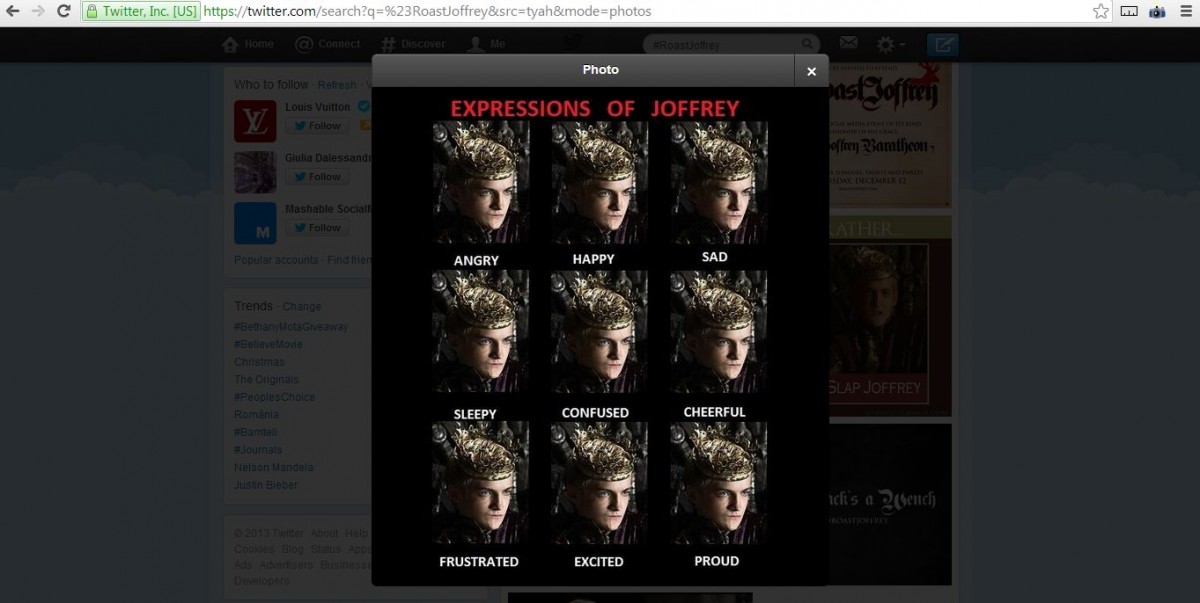 Scopul campaniei din social media a fost de a genera mai multa discutie in jurul serialului in perioadele dintre sezoane. Toate insultele aduse lui Joffrey vor fi incurajate si distribuite de organizatorii campaniei in primele 48 de ore de la lansarea de pe 12 decembrie.