Adevarata pasiune e inteleasa doar de fanii adevarati - aceasta este premisa ultimului spot TV Orange, realizat de Publicis Romania, care continua platforma de comunicare Orange Love si mesajul "Acasa e prima ta scena". 
Prietenii reuniti sa urmareasca ultimul sezon al serialului intra la propriu in rolul personajelor preferate. Drama celui care a fost mai putin inspirat cat sa se costumeze intr-o armura medievala devine comedie. 
Pe tonul cel mai serios insa, Orange propune un pachet extraordinar de fibra + TV, care include si pachetele HBO si HBO Go. La fix pentru toti fanii entuziasti ai seriei acum cand se lanseaza ultimul sezon.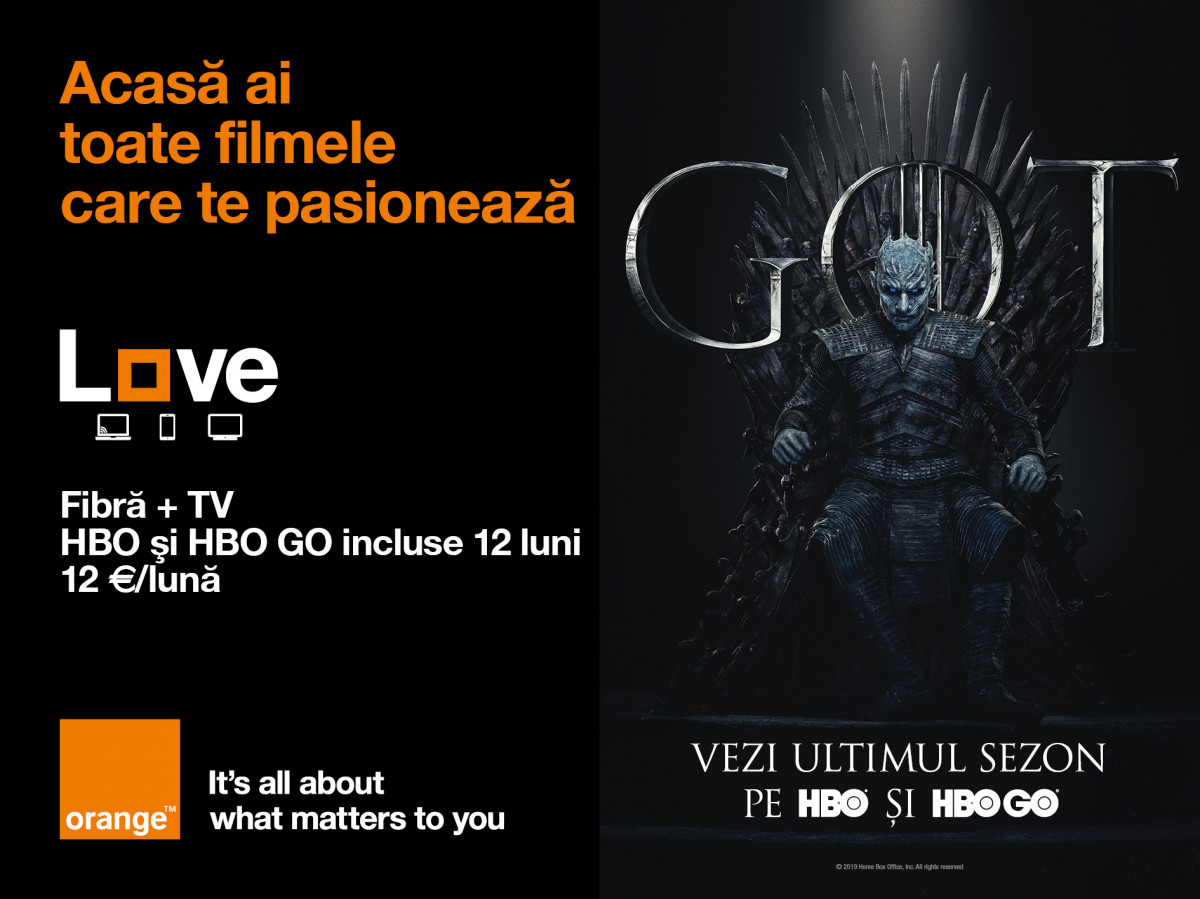 "A fost o provocare sa punem in scena atmosfera filmului, insa fara ingredientele "gore" care l-au si facut celebru. Cum Orange trateaza mereu lucrurile dintr-o perspectiva pozitiva, unghiul ales de data asta a fost tocmai partea amuzanta a celor care iau totul mult prea in serios. Chiar si cand e vorba de Game of Thrones.", Silviu Nedelschi (Executive Creative Director – Publicis)
Cu noua campanie de Paste pentru Orange Love, continuam sa exploatam universul pasiunilor pe care le poti descoperi acasa, aducand in acelasi timp ceva nou si proaspat, atat in modul in care comunicam, cat si in structura ofertei.  Asocierea cu cel mai asteptat eveniment al momentului – ultimul sezon din Game of Thrones, a reprezentat o noua oportunitate de a creste notorietatea serviciilor fixe, dar si o provocare din perspectiva armonizarii conceptului creativ la rigorile HBO, pastrand coerenta brand-ului Orange.", Crina Chiru (Head of Convergence and B2B Communication - Orange)
Echipa Publicis România: Daniel Raicea – Deputy Director & Head of Orange Division, Silviu Nedelschi – Executive Creative Director, Alina Vîja – Senior Account Manager, Albertina Coacci – Senior Copywriter, Cristian Anton – Senior Art Director, Camelia Efrimov – AV Production Director, Casa productie- Mitra Film/ Abis, Producer - Gabi Antal, Director - Sam Washington, DOP- Mihai Marius Apopei.
Echipa Orange: Mirela Bosoi – Head of Brand and Communication, Crina Chiru – Head of Convergence and B2B Communication, Anca Stancov – Head of Media, Nicoleta Stanciu – Communication Specialist, Loredana Jucan – Communication Specialist.