Cea de-a treia ediție a festivalului BUCHAREST CRAFT BEER FESTIVAL își deschide porțile vineri, 31 august, la Verde Stop (Barbu Văcărescu 162-164). Vor fi trei zile pline cu bere artizanala și mâncare delicioasa, cu peste 140 de etichete de bere, cidru și craft soda, relaxare la iarbă verde, și, evident, muzică bună cu șapte trupe și doi DJ-i.
Programul festivalului se prezintă astfel: 
VINERI, 31 august
17:00 – ACCES
21.00 – 22:00 – concert THE MONO JACKS
SÂMBĂTĂ, 1 septembrie
12:00 – ACCES
18:30 – 19:15 – concert THE DETAILS
19:45 – 20:30 – concert FiRMA
21:00 – 22:00 – concert COMA
DUMINICĂ, 2 septembrie
12:00 – ACCES
18:30 – 19:15 – concert DAYDAY
19:45 – 20:30 – concert JURJAK
21:00 – 22:00 – concert B.U.G. MAFIA – spectacol necenzurat
Și pentru că mâncarea delicioasă merge cel mai bine cu muzica bună, mai jos vi-i prezentăm și pe cei doi DJ-i care se vor ocupa de atmosfera de dinainte de concerte: - Alt Om si NotSoCommonDJ (Electrocord).
La iesirea din festival, ca in fiecare an, publicul isi va putea cumpara, pentru acasa, berile pe care le-a degustat in timpul festivalului. Selectia de beri prezente in magazin va fi asemanatoare, daca nu chiar mai mare decat cea din festival.
Line-up-ul culinar al festivalului ii cuprinde pe Arrosticini, Camionetta, Duma's Van, Maidan, Smokin' Pig, Soho Fish&Chips, I,Bubble Waffle, Mrs. Lava si Puro & Bio.
Cea de-a treia ediție BUCHAREST CRAFT BEER FESTIVAL, singurul eveniment din Bucuresti dedicat în exclusivitate bauturilor artizanale, are loc între 31 august și 2 septembrie, la deja cunoscuta locație din Barbu Văcărescu 162 – 164.
BUCHAREST CRAFT BEER FESTIVAL 2018 te invită să incerci peste 140 de etichete de bere, cidru si soda, toate artizanale, fabricate de peste 45 de producatori din întreaga țară si din strainatate.
Unul dintre ingredientele de bază ale BUCHAREST CRAFT BEER FESTIVAL este atmosfera creată de un public minunat. Pentru ca experiența să fie și de această dată una foarte plăcută, organizatorii aduc la cunoștința publicului câteva informații utile:
· Accesul se face pe baza biletului valid, o singură dată, iar participanții vor primi câte o brățară (valabilă o zi în cazul biletelor de o zi, sau pe toată durata festivalului, în cazul abonamentelor);
· La intrare vor fi disponibile bilete și abonamente în puncte de vânzare autorizate de către organizatori. Vânzarea și cumpărarea de bilete în afara acestor puncte nu este permisă;
· Accesul este gratuit pentru copiii sub 12 ani însoțiți de către unul dintre părinți (posesor de bilet valid);
· Cățeii sunt bine-veniți la festival, în măsura în care nu îi deranjează pe cei din jur;
· Este permis accesul cu aparate foto-video;
· În zona evenimentului cât și în cadrul acestuia se vor face fotografii/materiale video pentru care ne rezervam dreptul de a le folosi ulterior în comunicări de uz intern sau extern cu scop comercial sau de marketing. Intrând în aceste zone, puteți fi surprinși în aceste materiale, așadar, implicit, sunteți de acord sa ne transferați și toate drepturile de folosință a imaginilor.
· Fiecare posesor de bilet o sa primească la intrare/acces propriul pahar reutilizabil, iar în incinta festivalului exista un loc de spălat aceste pahare. Dacă paharul se sparge sau se murdărește foarte tare, acesta se poate schimba cu un pahar nou tot din zona accesului, dar doar dacă paharul deteriorat/murdar se returneaza.
· Paharele oficiale Bucharest Craft Beer Festival au mai multe gradatii (100ml, 200ml, 330ml, 400ml, 500ml), iar vizitatorii pot cumpara bere de la comercianti in functie de ce cantitati doresc.
· Accesul cu sticle, conserve, mâncare sau băuturi de orice fel, artificii, arme, lanțuri, substanțe interzise prin lege, obiecte periculoase, nu este permis, iar organizatorul nu va stoca sau păzi asemenea lucruri;
· Accesul cu bicicleta în perimetrul festivalului nu este permis. Organizatorii vor asigura o parcare de biciclete, însă e necesar să vă aduceți propriul antifurt;
· Pentru confortul publicului, organizatorii vor limita accesul la cel mult 5.000 de persoane în același timp, în zona de festival;
· Organizatorii NU asigură locuri de parcare, drept urmare publicul este rugat ca, în măsura în care este posibil, să folosească mijloacele de transport în comun.
· Accesul se încheie la ora 22, în toate cele trei zile de festival.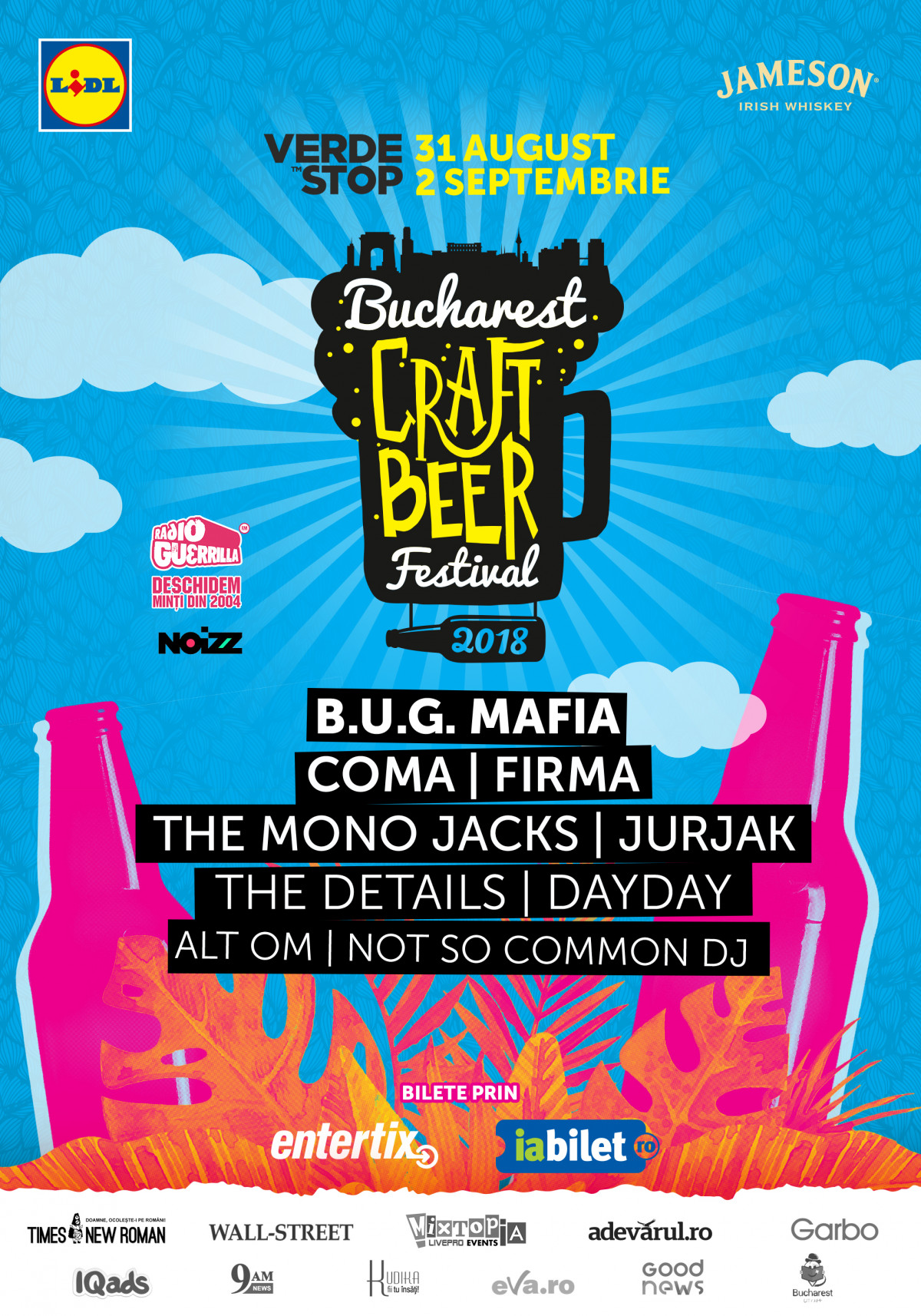 Reamintim că organizatorii Bucharest Craft Beer Festival 2018 au pregătit și o categorie specială de bilete, pentru cei care doresc o experiență all inclusive. Craft Beer Fan Ticket are prețul de 69 de lei și include:
– acces de o zi, în oricare dintre cele trei zile de festival
– 1 porție mâncare la alegere, din meniul truck-urilor participante
– 1 draught de bere BCBF
– 1 cafea revigorantă
– 1 voucher de 8% reducere la o comanda de pe Berero.ro
– 1 voucher de 8% reducere la o sesiune de cumparaturi de la The Beer Institute
Atât Craft Beer Fan Ticket, cât și abonamentele și biletele obișnuite se pot cumpăra de pe entertix.ro si iabilet.ro, prețurile fiind de 20 lei pentru tichetele de o zi și 48 lei pentru abonamentele ce permit accesul în toate cele trei zile de festival.
Bucharest Craft Beer Festival 2018 este un eveniment organizat de Mixtopia Live, prezentat de LIDL, sponsorizat de Jameson si gustat de RADIO GUERRILLA.