Vino weekend-ul acesta la Art Fashion Fair să descoperi noutățile în materie de design contemporan autohton și să cunoști oamenii din spatele celor mai de succes branduri românești de fashion și lifestyle.
Într-o lume în care predomină producția în masă, Art Fashion Fair susține și sărbătorește designerii ce creează piese unicat sau in serie limitată, folosind metode sustenabile de producție și materiale organice. Aflat la a 17-a editie - Art Fashion Fair #17 se desfasoara pe 25 si 26 mai în Casa Oromolu – spaţiul Qreator by IQOS, cladire iconică din Piaţa Victoriei.
Recunoscut de către participanţi și vizitatori ca fiind unul dintre cele mai importante evenimente de design, high fashion și luxury brands din România, Art Fashion Fair promovează o cultură a inspirației, creativității și colaborării, prezentând branduri autohtone unei comunități de oameni deschiși către original, cunoscători și consumatori de design românesc.
Pe cele două etaje ale Casei vă așteaptă 45 de makeri români, câţiva dintre ei prezenţi exclusiv la Art Fashion Fair, aleși in urma unei selecţii riguroase de catre Roxana Silean - fondator și curator al evenimentului. Veţi găsi bijuterie contemporană, design vestimentar contemporan, accesorii și cosmetice naturale.
Designerii selectaţi la Art Fashion Fair #17: Amprenta, Amure, ARGO ART by Andreea Buga, Atelierul de portelan, Atelier Isabelle Vijiiac, Bizar Concept, Bratara succesului, By Emily Ray, Ceci n'est pas une poupée, Chemistry, Christine on the Clouds, Coson Concept by Ioana Socaciu, Csilla Tulogdy, DACO Jewelry, Details Fashion Shop, Dia Handmade, Evelyn Cerys, Experiment, Felicity Store, Fire and dreams, Florentina Giol, Icrus Florea, Instance, Iuliana Asoltanei Jewelry, Gena Tudor, Ginissima, Koja Concept, KoModa, Larisa Dragna, Luvers, Luviane Atelier de Parfumerie, Midee Concept, Mihaela Cretescu, Mirabilis Art Jewelry, Miracolore, Monica Iacovenco Jewelry, NITA SAO, Noria Anis, OCCJ, Onna Gall, P'ANKA, Sorin Papa Leather Forever, Twigs and Bark, UKISCREATOR, Una-i-luna, Valah, Whiskers and tales.
Pentru ca Art Fashion Fair este un eveniment integrat dedicat zonei de lifestyle, fashion și design, nu doar "un loc de cumpărături", am pregătit pentru voi câteva întâlniri cu trei doamne foarte pricepute în ceea ce fac. Este vorba despre Gabi Urda, Alexandra Pascal - Mihaiu și Andreea Nicolau, care vă vor dărui cadouri de ținut minte și de purtat, în trei workshop-uri cu intrare GRATUITA - zicem noi - utile în toată aglomerația vizuală care ne înconjoară.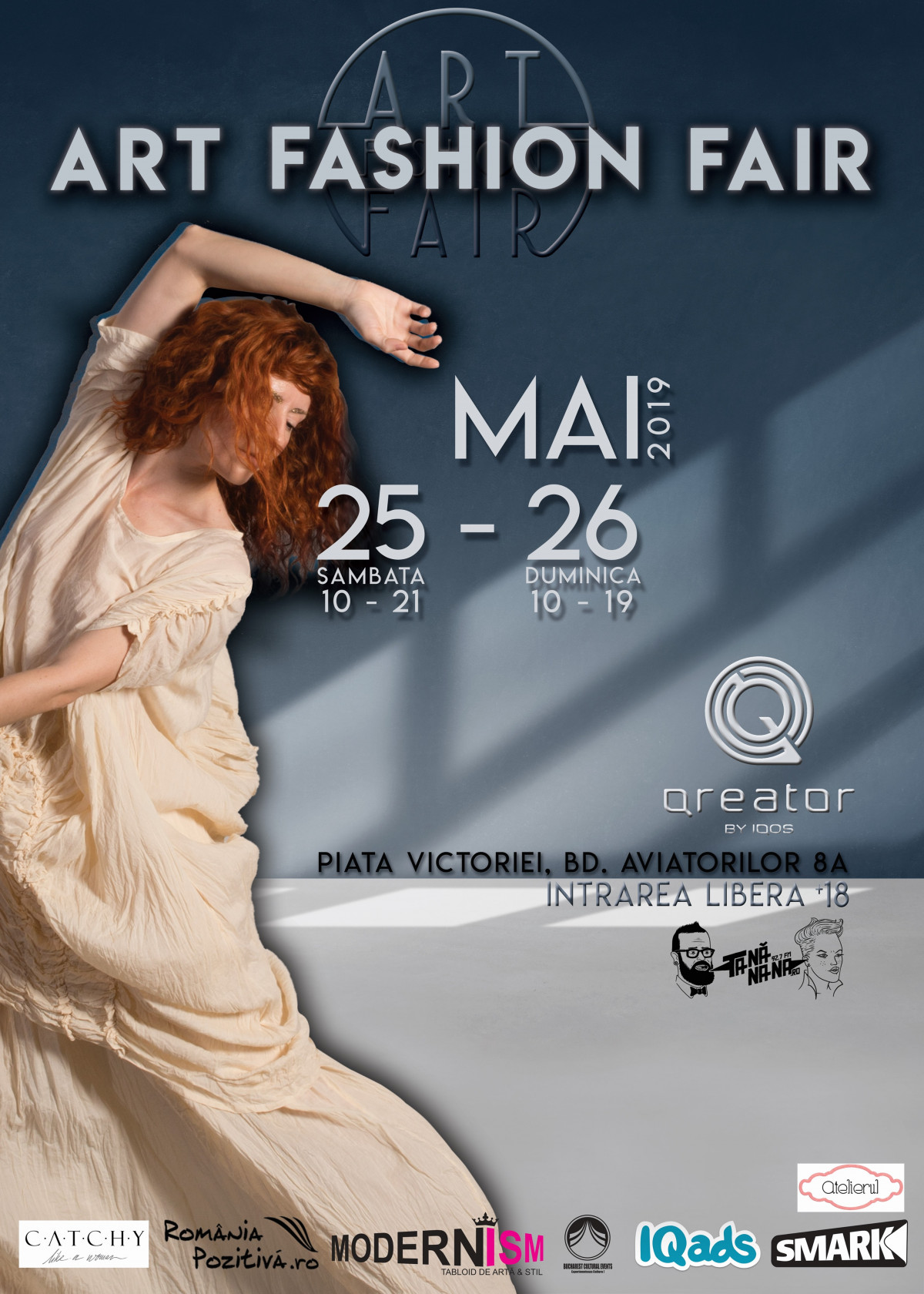 ✔️ Când și unde e Art Fashion Fair?
Sâmbătă 25 mai | 10 AM – 9 PM
Duminică 26 mai | 10 AM – 7 PM
@ Qreator by IQOS | Piața Victoriei, Bulevardul Aviatorilor 8A (exact la ieșirea de Metrou Victoriei spre Bd. Aviatorilor)
Si la aceasta ediție, categoria "Recomandat de" va fi susținută de Revista Atelierul, unul dintre cele mai importante proiecte destinate promovării comunităţilor creative şi culturale autohtone. Designerii selectati de catre Mihaela Ion vor fi promovați pe revista-atelierul.ro.
Concept vizual: Designer Raluca Măndiță
Tinuta si styling vizual: Mihaela Crețescu
Decor special pentru Art Fashion Fair: Atelierul de decoruri
Parteneri: Qreator by IQOS, Revista Atelierul, TANANANA, România Pozitivă, IQads, Modernism Punct Ro, Catchy, Bucharest Cultural Events
Intrarea este liberă! Accesul în interiorul târgului este permis exclusiv persoanelor cu varsta peste 18 ani, din raţiuni de natură legislativă care ţin de destinaţia uzuală a spaţiului.