At EssenceMediacom Romania, we believe in People First, Better Results.
We help people, brands and businesses unlock their growth potential.
Growing brands is harder than ever. Economies are unstable. Retailers, shareholders and consumers are demanding more. And technology, data and globalisation are creating more competition and complexity.
But, avenues of growth still exist. And we know where to find them. Because, at MediaCom, we help brands unlock growth through media.
WHO WE ARE
Hello.
We are EssenceMediacom.
We believe in People First, Better Results.
We unlock growth through media. We are a team of 8,000 people in 125 offices in 100 markets.
Our success is underpinned by our belief "People First, Better Results" that if we invest in our people, we'll deliver better results not only for our teams but for our clients.
Our global client roster includes adidas, Coca-Cola (TCCC), Dell, Mars, NBC Universal, P&G, PSA, Richemont, Shell and Sony.
In 2018, we became the first network to hold all six major Media Network of the Year titles concurrently: Adweek, Campaign, Cannes Lions, Festival of Media Global, M&M Global and WARC Media 100.
WHAT WE DO
We unlock growth through our unique Systems Thinking approach.
Growing brands is a challenge that excites us. To unlock growth, you need a big picture perspective across the whole communications system.
That's why we pioneered Systems Thinking in media.
As the trusted partner to more than 2000 brands globally, we are committed to keeping our clients at the forefront of a constantly evolving industry, whether that's branding, performance or eCommerce.
Through our cutting-edge technologies and unparalleled data, we don't simply create automated processes – our experts combine our systems and technologies with a relentless focus on driving growth for our clients.
It helps that we are one of the world's top three global media networks, and part of GroupM and WPP. This gives us access to the richest data sets and the most robust benchmarks in the business.
We use this data to power The System, our proprietary planning platform. Every day, this enables our 8,000 people – in 125 offices, across 100 markets – to unlock our clients' growth potential for their brands.
HOW WE DO IT
By putting people first, we deliver better results for our clients.
We are invested in helping our people unlock their own growth potential. We believe that if we put our people first, we'll deliver better results not only for our teams, but also for our clients.
It's only by growing our people's careers and capabilities, that we can more effectively grow our clients' business too.
Like when we worked with Snickers to realise the untapped potential of Chinese New Year, creating a new distribution and promotion opportunity – and even a new airline – to send sales soaring 60%.
And when we propelled Tesco back into growth, by orchestrating a campaign that integrated Tesco's own customer insights with Google and Facebook data, to tell personalised, localised food stories across every touchpoint.
People First, Better Results has been our belief for over 15 years. This is why our people stay with us longer than the industry average and it's what drives our high client satisfaction scores.
OUR SERVICES
We use The System to build a consistent narrative across media.
Our teams of Systems Thinkers use data, technology and creativity to design communications strategies that build brands and generate sales. And we do it at scale.
Each of our specialisms is dedicated to making our clients' communications systems work harder and more efficiently for their brands, whether it's to identify opportunities for leverage or to remove wasted dead ends.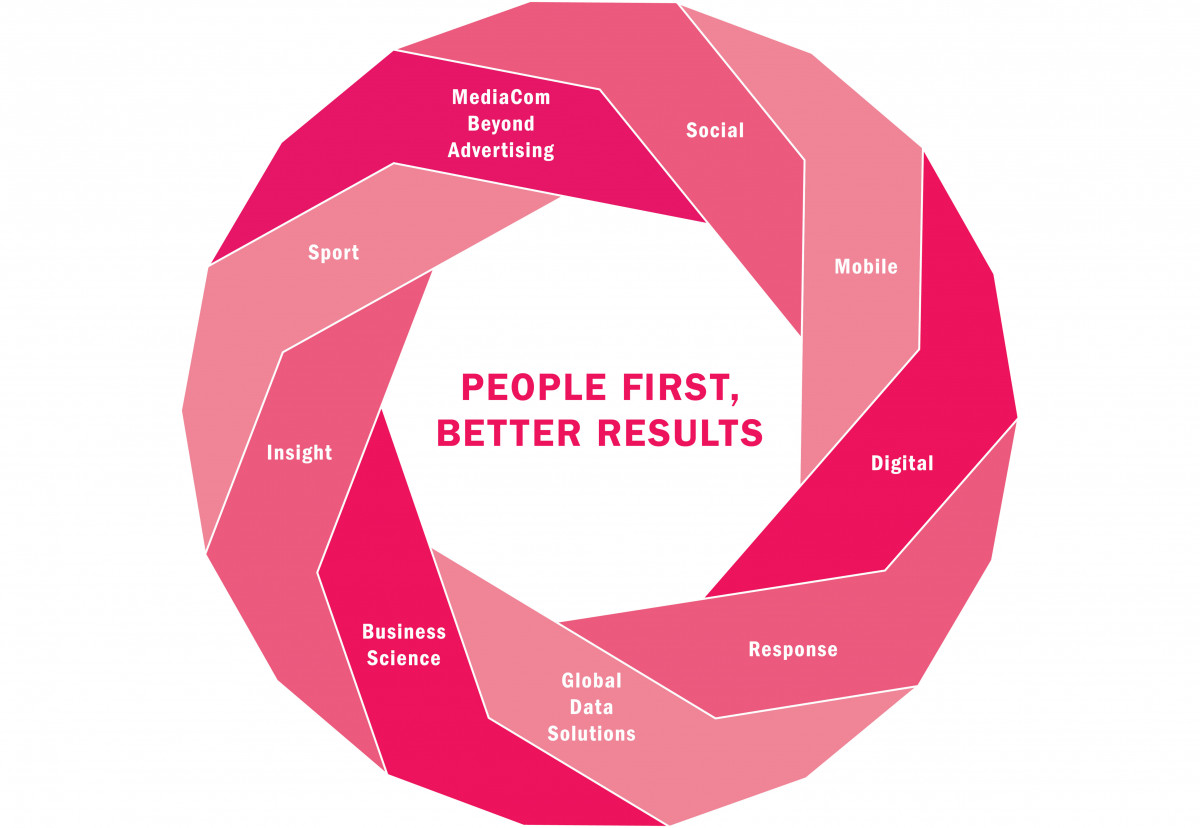 Contact
Adress: 84-98 Calea Grivitei Street, 3rd floor, Bucharest, 1st district, 010735, Romania
Phone: +40 0372 359 100
Fax: +40 21 314 50 15
Email: [email protected]
Web: www.mediacom.com
Facebook: www.facebook.com/MediacomRomania/
LinkedIn: www.linkedin.com/company/mediacom-romania
Extra info
Afla mai multe despre EssenceMediacom
Portofoliul: Online