Atentie! Articolul urmator NU contine spoilere despre Game of Thrones. Asta daca nu cumva esti un ciudat care in loc sa se concentreze pe actiune urmareste cat de des se pateaza personajele. Atunci da, imi pare rau, articolul asta e plin de spoilere. Si-ti zic din start ca Tide e de vina. 
In timp ce noi, muritorii de rand, asteptam cu sufletul la gura sa vedem ce mai fac personajele, brandul de detergent isi nota constiincios, episod cu episod, cum si cu ce s-au murdarit ele. Din toate notitele astea a iesit frumusete de infographic care ne arata fix cate pete au existat pe parcursul sezonului, ce-au dat pe ele personajele si ce instrumente au facut stropii sa zboare in stanga si-n dreapta, fix pe hainele eroilor. Dupa cum cred ca era de asteptat, cele mai multe pete nu sunt cauzate de piure si supica, ci de sange. Si nici n-au ajuns unde au ajuns dintr-o lingura tinuta de o mana tremuranda. Vedeti in continuare ce vreau sa zic: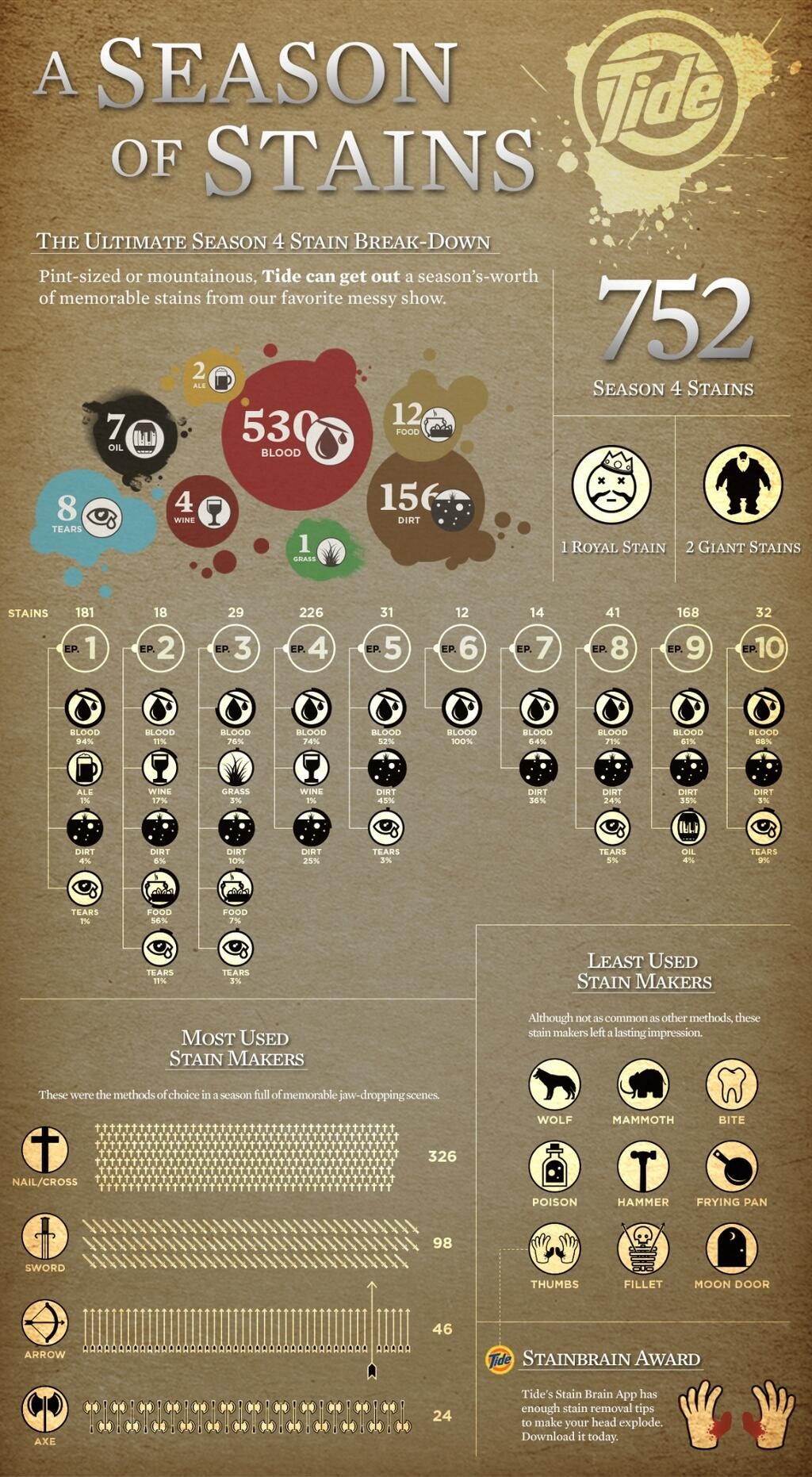 Primul si penultimul episod au fost cele mai murdare, dar, judecand dupa ce a cauzat petele, episodul al doilea e preferatul meu. Pare o poveste despre un ospat la care oamenii au mancat, au baut si au ajuns sa se simta atat de bine incat s-au tavalit pe jos plangand de fericire. S-au si julit putin, ceea ce explica sangele. Dar asa-i in viata. Pentru toate petele, aparute fie pe hainele personajului tau preferat, fie pe ale tale, Tide a creat si o aplicatie cu tips&tricks despre cum pot fi eliminate, catre care trimite infographicul.
Una peste alta, Tide care vorbeste despre ceva atat de cool si de actual cum e Game of Thrones e destul de departe de Tide-ul pe care mi-l aminteam eu de la TV, care imi vorbea cu voce de copil. Dar la urma urmei, e vorba tot despre familie.