Anul acesta, pe 1 decembrie, se implinesc 6 ani de la lansarea AFI Palace Cotroceni. Daca in anii precedenti activitatile care marcau acest eveniment au avut in componenta tombola cu premii speciale, momente artistice si elemente care sa incurajeze cumparaturile, anul acesta, pe langa activarile traditionale, conceptul campaniei aniversare propus de echipa Lowe construieste pe ideea de traditie, tinand cont de faptul ca ziua aniversara AFI coincide cu Ziua Nationala a Romaniei.
Celebrarea AFI Palace Cotroceni de anul acesta este cu totul speciala, inspirata din tot ce inseamna aceasta zi. Strategia de comunicare, semnata de echipa Lowe, si declinarile speciale din mall vor ingloba elemente traditionale romanesti pentru a crea o legatura puternica intre cele doua sarbatori.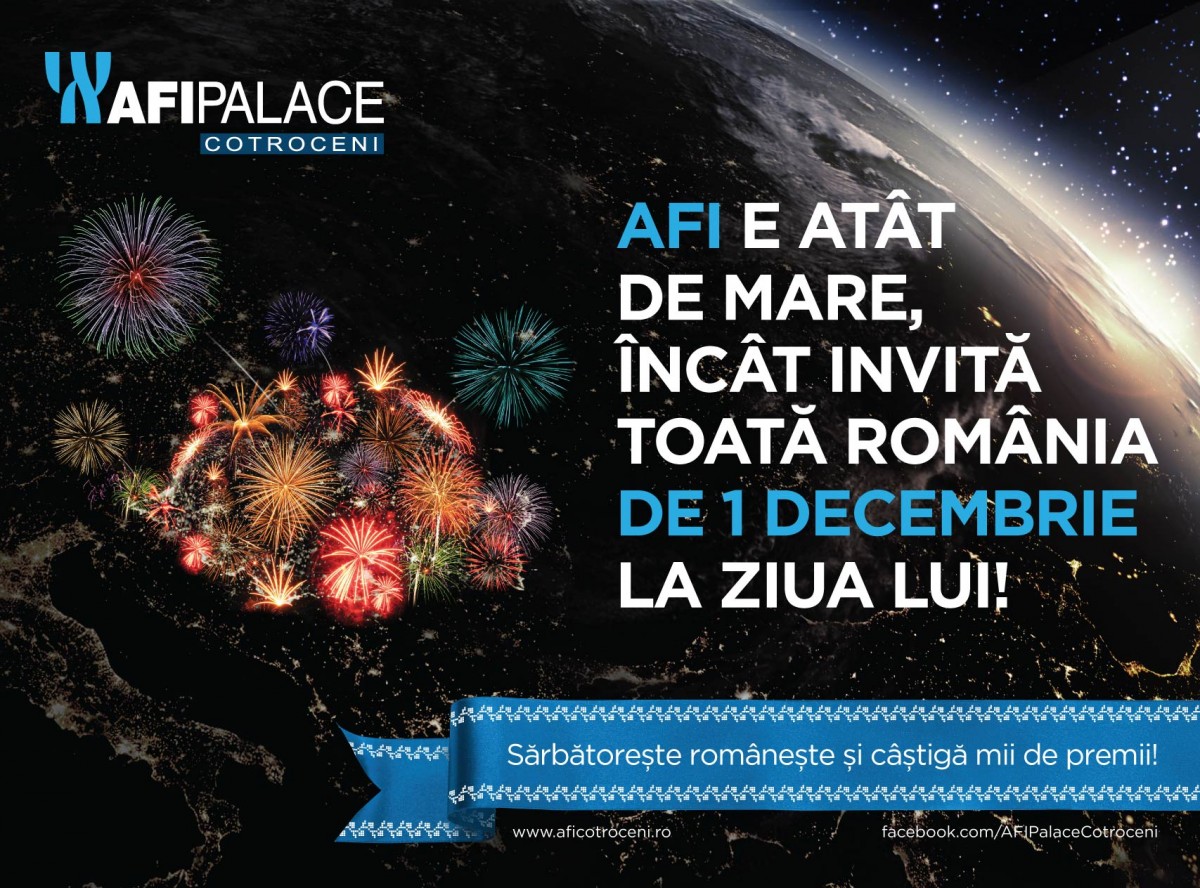 Intreg mall-ul va fi impartit in 3 regiuni corespunzatoare celor 3 provincii romane (Moldova, Transilvania, Tara Romaneasca). Fiecare regiune va fi decorata si va avea activari dedicate, vor avea loc concerte, dansuri specifice si degustari de bucate traditionale. Vor performa numerosi artisti, printre care Delia, Fanfara 10 Prajini ("Shukar"), Ansamblul Junii Calusari, Ansamblul de dansuri populare Tara Vrancei si Ansamblul Chindia, dar si Fanfara Militara.
Mai mult, cei care vor face achizitii de minim 200 de Ron in perioada 11 noiembrie - 1 decembrie se vor putea inscrie la tombola aniversara. De asemenea, persoanele nascute pe 1 decembrie vor primi un tort din partea AFI Palace Cotroceni, iar copiii care au implinit anul acesta 6 ani vor primi 2 ore de distractie la locul de joaca din AFI Palace Cotroceni.
"Ne-am propus ca sarbatoarea AFI din acest an sa fie sarbatoarea romanilor si a tot ceea ce este frumos in aceasta tara. Impreuna cu Lowe si Golin am pregatit o campanie care pune in centru identitatea nationala, totul intr-o maniera creativa", spune Aura Dinu (Head of Marketing, AFI Palace Malls Division).
"AFI Palace Cotroceni e mare… e atat de mare, incat cheama toti oamenii din spatiul mioritic sa sarbatoreasca. Si, daca tot suntem pusi pe sarbatoare, ne-am gandit ca o placinta moldoveneasca merge excelent dupa o zeama ardeleneaca si aluneca mai bine cu zaibar oltenesc. Dupa masa, facem o plimbare usoara prin mall si ne intoarcem acasa cu diverse lucraturi bine mestesugite de artizani din toate colturile tarii. Sa ne bucuram toti cei cu inima romana, zic!", adauga Vasile Alboiu (Chief Creative Officer, Lowe Group).
Pe langa evenimentele care vor avea loc in cadrul centrului comercial, campania va fi promovata prin OOH si in mediul online.
Echipa AFI Palace Cotroceni este formata din Aura Dinu (Head of Marketing), Roxana Vlad (Deputy Marketing Manager) si Raluca Harabagiuc (Marketing Specialist).
Echipa Lowe implicata in proiect este formata din Vasile Alboiu (Chief Creative Officer), Alin Marghidanu (Group Creative Director), Victor Oprisan (Senior Art Director), Vlad Emandi (Flash Designer), Nicoleta Grigoriu (DTP), Alina Balan (Client Service Director), Alina Floroian (Account Director) si Andra Panaitescu (Account Manager).
Campania de PR pentru aniversarea AFI este realizata de echipa Golin Romania, formata din Anca Scarlat (Media Manager), Raluca Duta (Chief of the Bridge™) si Florentina Grosu (Junior Media Associate).
Componenta de BTL este semnata de echipa Lowe Vibe, formata din Oana Popescu (BTL Manager) si Mihaela Rotariu (Senior BTL Executive).