Celebra creație Foraeva semnată de designerul Lana Dumitru și arhitectul Vlad Țenu vine în premieră, în România, la festivalul de business Zilele Biz 2017. În ultima zi a maratonului de business, pe 24 noiembrie, echipa Biz prezintă rochia viitorului în cadrul "Foraeva Cocktail Party".
Lana Dumitru și Vlad Țenu reinterpretează trecutul și aduc viitorul în prezent prin acest proiect unic, susținut de Swarovski, în care arta atinge noi repere ale perfecțiunii cu ajutorul tehnogiilor digitale.
Peste 25.000 de cristale Swarovski, șase luni de muncă susținută și o echipă alcătuită din peste 15 persoane au dus la bun sfârșit anul acesta viziunea celor două minți creative. Printr-o abordare multidisciplinară și o serie de algoritmi de mare complexitate, cristalele au fost folosite ca elemente structurale, precum și ca ornamente pentru crearea efectului geometric fluid și suprafețelor continue ale rochiei. Totodată, cristalele arată ca niște pi­xeli 3D, în relief, controlați printr-un algoritm specific. Proiectul a fost prezentat în avanpremieră în această vara la World Jewelry Facets 2017 din Shanghai.
Lana Dumitru și Vlad Țenu, artizanii Foraeva, se numără și între vorbitorii Zilei de Media&Marketing, din 24 Noiembrie, de la ARCUB Gabroveni.
Accesul la conferință  cât și la "Foraeva Cocktail Party" se face pe baza invitației din partea organizatorilor. Pentru acreditări de presă va rugăm să contactați: lelia.petrescu@revistabiz.ro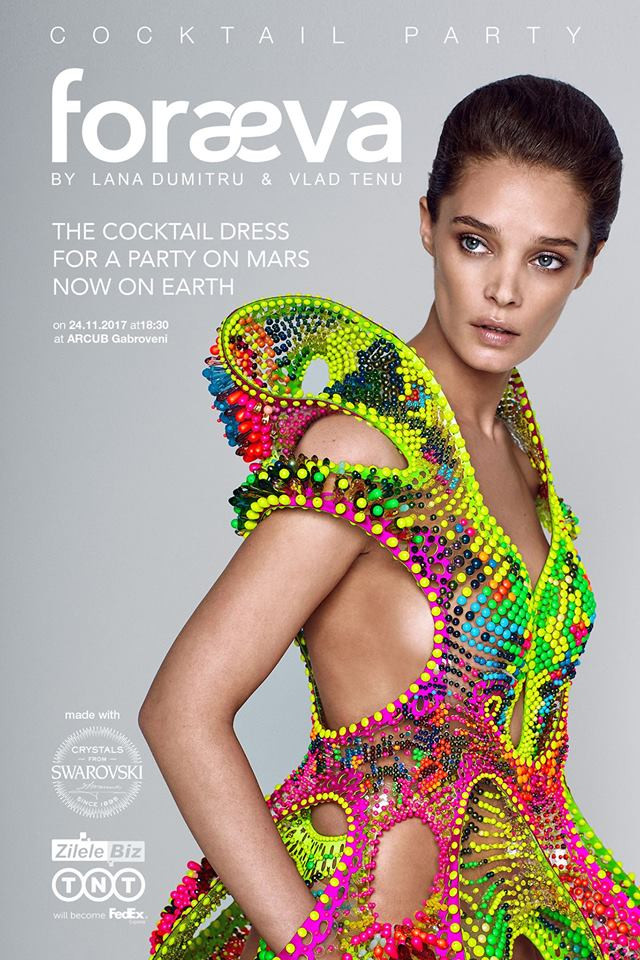 Despre Lana Dumitru face parte din noul val de designeri și antreprenori din lumea modei care apelează la tradiții și motivele tradiționale românești pentru a se diferențiază pe piețe inundate de branduri internaționale. Absolventă a Universității de Arte din București, Lana trăiește la Londra unde a absolvit doctoratul în artă aigitala și modă.
În urmă cu câțiva ani a câștigat un concurs de creativitate organizat de Puma, context în care a lansat jacheta Puma by Lana 17 Etno Shake. Colecțiile create de ea au fost prezentate la London Fashion Week/Internațional Fashion Showcase, Strasbourg Fashion Week, Muzeul de Design din Holon (Israel), Muzeul de Artă din Kalmar și Centrul de Design din Malmö (Suedia), Salone del Mobile Milano, Muzeul Horniman din Londra, Muzeul Satului din București, precum și în institute culturale, galeri de artă și săptămâni ale designului.
Despre Vlad Țenu este arhitect și artist vizual, stabilit la Londra, artizan a numeroase experimente artistice care se axează pe integrarea tehnologiilor digitale în procesul de proiectare, cu metode generative de design, tehnici digitale de fabricație și design interactiv. Proiectul sau intitulat Minimal Complexity, câștigător al concursului REPEAT TEX – FAB 2010 din Houston, a fost expus atât în Statele Unite, cât și în Marea Britanie, în cadrul a două evenimente de amploare internațională: London Festival of Architecture și London Design Festival în 2012. Proiectul a câștigat de asemenea din partea AIA Houston Design premiul pentru Divine Detail în 2012.
A avut lucrări expuse la Synthetic Nature 2013 în Londra, Glimpses of Infinite Symmetry în 2014, în București. A curatoriat de asemenea Process, o expoziție de design avangardist în Shanghai în 2014. În lumea modei, a colaborat cu CLON8 în cadrul Saptamanei Modei de la Paris în 2015 și a creat un pop-up shop modular pentru designerii de încălțăminte Del Rio London din cadrul LeBonMarche din Paris. În prezent, lucrează la Allford Hall Monaghan Morris (AHMM), iar anterior a lucrat la Surface Architects, ambele companii premiate pentru activitatea arhitecturală cu sediul în Londra. În paralel cu activitatea profesională, este implicat și în domeniul academic la Școala de Arhitectură Bartlett, ca asistent universitar și supervizor de teze de masterat.