Înscrierile de trupe de teatru pentru ediția cu numărul XXI a festivalului "Serile Teatrului Studențesc" au început!
Ce este SiSC?
Sindicatul Studenților din Cibernetică (SiSC) este o organizație non - profit care a luat naștere la inițiativa studenților din facultatea de Cibernetică, Statistică și Informatică Economică din dorința de a-și depăși limitele și a-și extinde orizontul. În anul 1997, SiSC organizează prima ediție a unui festival de teatru care avea să trezească, pentru încă douăzeci de ani, emoții noi și de nestăpânit în fiecare spectator, voluntar și actor: Serile Teatrului Studențesc (STS).
Anul acesta spunem pentru a XXI-a oară START ÎNSCRIERI pentru trupele pasionate de teatru din toată țara. Acestea pot fi atât de profesioniști, cât și de amatori, urmând să încânte publicul numeros punând în scena festivalului reprezentații prin intermediul cărora entuziasmul și dragostea pentru cultură vor ajunge cu siguranță la inimile sutelor de spectatori prezenți. Așadar, în perioada 8 - 12 aprilie 2019, aveți ocazia să cuceriți scena STS și să duceți mai departe pasiunea, tradiția și totodată emoțiile celui mai longeviv festival al organizației noastre. Dacă faceți parte dintr-o trupă de teatru și credeți că publicul are nevoie de pasiunea și energia voastră, vă încurajăm să vă înscrieți în perioada 21 ianuarie - 11 martie 2019. Aveți posibilitatea să înscrieți două piese pe trupă, cu mențiunea că se va alege maximum una.
Pentru unii, teatrul poate reprezenta arta cunoașterii. Pentru STS, teatrul înseamnă cea mai pură artă care trezește trăiri distincte în sufletele oamenilor și își lasă amprenta asupra tuturor celor implicați în acest proces. STS continuă să se hrănească ediție de ediție cu momentele zguduietoare care au loc pe scenă, dar și cu emoțiile pe care acestea le transmit mai departe spectatorilor, fie ele de fericire sau de tristețe.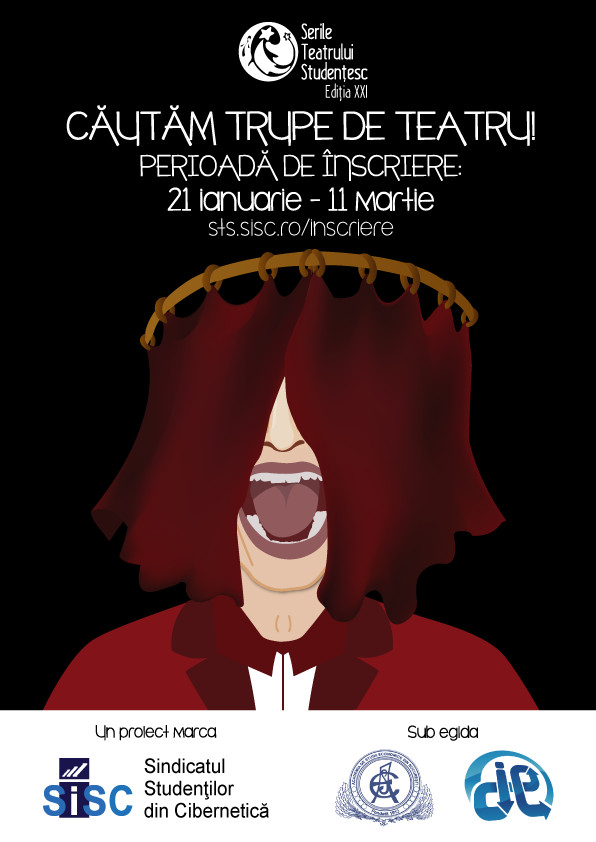 "Teatrul n-are a face nici cu vreo clădire anume, nici cu un text, nici cu actorii, nici cu forme sau stiluri. Esenţa teatrului se află într-o formă de mister numit "clipa de faţă"." (Peter Brook,  Fără secrete. Gânduri despre actorie şi teatru)
Sindicatul Studenților din Facultatea de Cibernetică, Statistică și Informatică Economică (SiSC) este prima organizație studențească din cadrul Academiei de Studii Economice. Prin proiectele inițiate încurajează participarea activă a studenților la viața academică, oferind atât oportunități de învățare și ajutor în carieră (ITFest, Spring IT, Tap That Job), cât și activități cu caracter cultural - educativ (Serile Teatrului Studențesc, Dare to Speak).