Pe 20 și 21 martie va avea loc la clubul Fratelli Studios (str. Glodeni nr. 1-3, București) Mastering the Music Business Showcase Festival unde peste 25 de artiști români și internaționali vor susține concerte live. Primele trupe confirmate provin din Belgia, Marea Britanie, Slovacia, Ungaria și Romania, iar trupa The Mono Jacks va fi unul dintre headlinerii acestei ediții.
MMB Showcase Festival completează conferința Mastering the Music Business oferind posibilitatea artiștilor aflați la început de drum să concerteze în fața membrilor industriei muzicale locale și internaționale, dar și a publicului dornic să descopere muzică nouă. De asemenea, artiști din toate genurile muzicale vor avea ocazia să se cunoască cu alți artiști locali și internaționali și să pună bazele unor viitoare colaborări. In urma ediției de anul trecut, trupa Ana and the Changes din Serbia a lansat o piesă avându-l ca invitat pe Dan Byron.
Primii artiști confirmați la MMB Showcase Festival 2019 sunt: Belau din Ungaria, Days of Confusion și Gate 1  din Romania, FVLCRVM din Slovacia, ShaoDow și Tokyo Taboo din Marea Britanie, Thot din Belgia. Printre invitații speciali ai acestei ediții vor fi cei de la The Mono Jacks.
Belau – Breath feat. Sophie Lindinger (official video)
Days of Confusion – Dharkata (official video)
Gate 1 - If You Love (rooftop session)
FVLCRVM – Words (official video) 
ShaoDow – Kaio-Ken (official video)
Tokyo Taboo – No Pleasure Only Pain (official video)
Thot – Odra (official video)
Biletele la MMB Showcase Festival 2019 sunt disponibile pe iabilet.ro și în rețeaua IaBilet și costă 40 de lei în avans și 50 de lei în ziua concertului la intrare. Pentru cei care doresc să participe la ambele zile de festival sunt disponibile abonamente la prețul de 70 de lei. Posesorii de bilete la conferința Mastering the Music Business au access gratuit.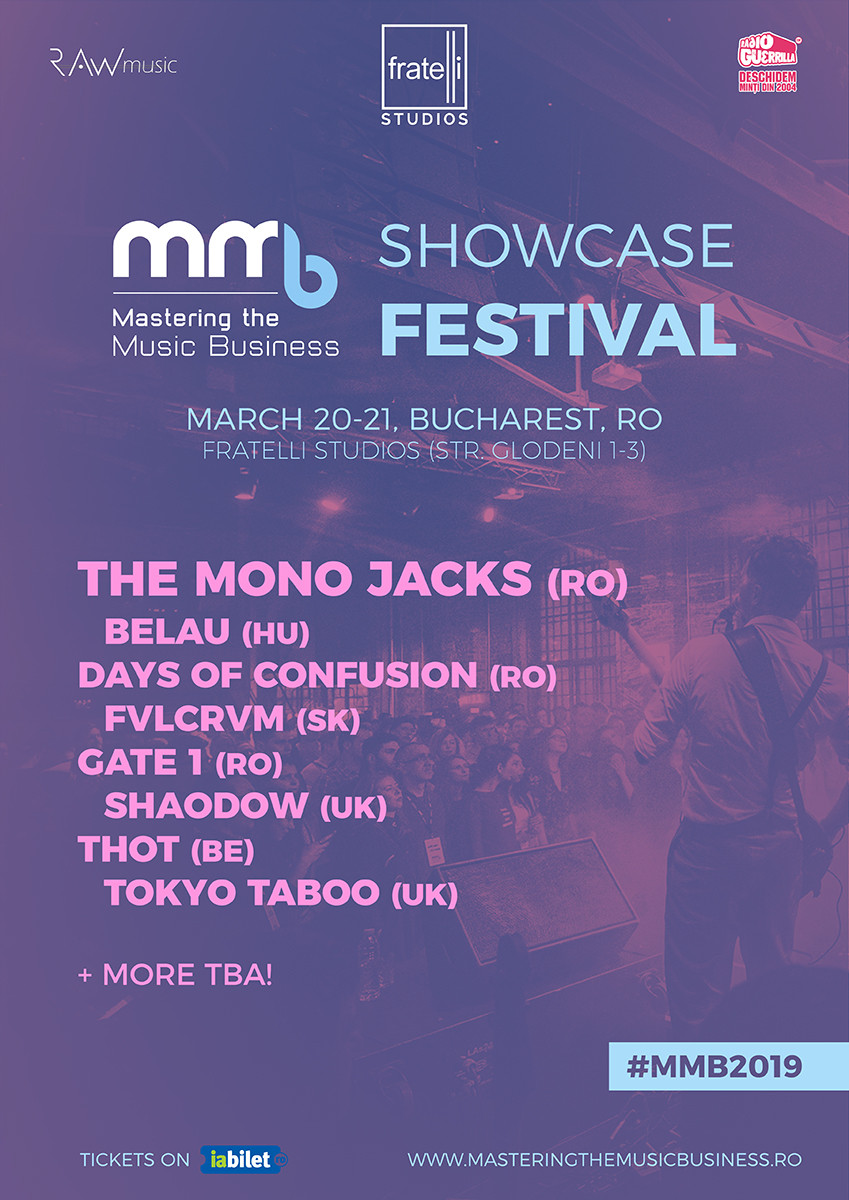 Mastering the Music Business Conference & Showcase Festival este primul eveniment profesional organizat în România pe teme de industrie muzicală care dezbate teme de interes comun din industrie, dedicat în principal artiștilor independenți, dar care se adresează și managerilor, agențiilor de booking, agențiilor de PR muzical, tour manageri, avocați, promoteri, reprezentați ai label-urilor majore și independente.
Până în prezent, conferința MMB a avut 3 ediții la care au participat peste 150 de speakeri din România și din Europa, care au vorbit în fața a peste 500 de participanți. 30 de trupe din 6 țări au participat până  acum la MMB Showcase festival.
Conferința MMB a fost înființată în anul 2016 și este organizată de Asociația RAW Music.