Motto:
"Even in darkness it is possible to create light and encourage compassion" - Elie Wiesel, Open Heart
Asociația Daisler anunță lansarea celei de-a treia ediții a festivalului de light-art Lights On, care se va desfășura în perioada 27 noiembrie - 6 decembrie 2020. Evenimentul presupune o expoziție de instalații sculpturale de lumină în spațiul public, libere pentru vizitare și accesibile gratuit tuturor, în condiții de siguranță și de distanțare impuse de lege.
Instalațiile de lumină vor fi amplasate în spații deschise, cu acces liber și facil pentru a preveni aglomerarea, putând fi vizitate în intervalul orar în care circulația e permisă pe drumurile publice.
Ne dorim ca pe finalul lui 2020, un an extrem de dificil pentru toți, să aducem puțină speranță în viețile tuturor, iar lumina face acest lucru extrem de simplu. Sperăm să putem oferi publicului o oportunitate de întâlnire cu arta contemporană nu doar în online, ci și în offline, în mediul real. 
Temele ultimelor două ediții au fost Centenarul în 2018 și Conștientizarea în 2019, iar tema ediției din 2020 este una în asentimentul vremurilor pe care le trăim, una care invită la a te bucura de liniște, la a-ți găsi echilibrul și la a te dezvolta - Solitudine. Solitudinea, și nu singurătatea, este starea constructivă în care descoperim aspecte noi, atât despre noi înșine, cât și despre ceilalți și despre lume, în general. Este starea fără de care am sta în loc, nu am crește (emoțional, spiritual). Este starea în care vă invităm să intrați cât priviți instalațiile de anul acesta și să dezlegați noi sensuri ale luminii și ale puterii ei vindecătoare.
Printre instalațiile care vor fi expuse la Cluj și care vor fi descrise în detaliu zilele următoare pe canalele Lights On Romania, se numără "Breathe" și "Oumua" aparținând studioului Circus Lumineszenz din Austria, "Social Sparkles" creat de Studio Toer din Olanda, dar și celebra instalație "Mi-e Dor De Tine" care se conectează de această dată cu "I Miss You" (creată tot de Asociația Daisler), expusă în orașul britanic Leeds în această perioadă, ca parte a unui amplu proiect european.
Din edițiile trecute, ne amintim cu drag de instalațiile "Museum of the Moon" din Biserica Piaristă, de "Gaia" din The Office, de "Avioanele de hârtie" de pe strada Potaissa, dar și de altele care au făcut înconjurul minților noastre, ale tuturor.
Tot din acest an, Lights On Romania face parte din celebra International Lights Festivals Organization (ILO), fiind partener cu festivaluri de lumină de prestigiu din zona Europei precum Staro Night Riga, Light Night Leeds, Fete des Lumiere Lyon, Canary Wharf Winter Lights sau Glow Eindhoven.
"On behalf of the International Light Festivals Organisation (ILO) we wish everyone in Cluj, the residents, the workers and the organisers of Lights On Romania,  good luck with their forthcoming Light festival. We have all suffered terrible hardship this year, not only financially, but our spirits of adventure and our common aim to join together to celebrate has been devastated by the pandemic. But we all know this will soon be over and next year will be brighter. We are extremely pleased that Lights On Romania, will be one of only a few Festivals to happen in 2020, and will shine a light on exciting artworks and extraordinary Artists.", Keith Watson, President of ILO.
"Lights ON rămâne una dintre puținele lumini aprinse într-un peisaj întunecat pentru evenimentele globale de Light Art din 2020/2021. Acest fapt ne îndeamnă să regândim o obișnuință care credem că ni se cuvine, să reflectăm mai mult asupra momentelor care creează un spirit de comunitate. Prin contrast, lucrările prezentate în acest an aduc o componentă mai personală, mai aproape de individ, într-un context potrivit pentru timpurile pe care le traversăm.", Daniel Popescu, directorul artistic al Lights On România.
"Lumina aduce speranță. Chiar și în acest timp. Pentru al treilea an, instalații spectaculoase de lumină vor fi expuse pe străzile din Cluj-Napoca în cadrul Lights On, festivalul de light-art. Păstrează distanța față de ceilalți pietoni, poartă masca și lasă-te inspirat de instalațiile de lumină expuse atunci când te plimbi prin oraș. Oricum ai alege să faci asta (online sau offline), asigură-te că ești bine, înainte de orice.", Andi Daiszler, fondatorul Lights On și președintele Asociației Daisler.
Desfășurat într-un areal diferit în fiecare an, într-un spațiu amplu și deschis prin poziționarea instalațiilor la distanță una față de cealaltă și printr-o perioadă de timp destul de lungă față de alte festivaluri de lumină din Europa (10 zile în 2020), Lights On invită publicul la responsabilitate atunci când vizitează instalațiile de lumină. De menționat este și faptul că în acest an nu vor mai avea loc tururi ghidate în cadrul festivalului.
Chiar dacă e o expoziție cu titlu și acces gratuit, echipa Lights On va pune în vânzare în curând biletul de solidaritate neobligatoriu, după modelul lansat de Jazz in the Park, banii strânși în urma acestei campanii urmând să meargă către susținerea unor artiști din zona artelor performative independente, artiști aflați în imposibilitate de a mai practica vocația și meseria în această perioadă.
Tot ca o premieră, toate materialele video pe care echipa Talo Media le va produce pentru Lights On Romania sunt acompaniate de piese ale unor trupe locale clujene, printre care Kimera, Musspell, Baba Dochia, Blue Velvet, Positive John sau FUNKorporation, aceasta fiind încă o manieră prin care festivalul încearcă să fie alături de artiștii care au avut de suferit în 2020.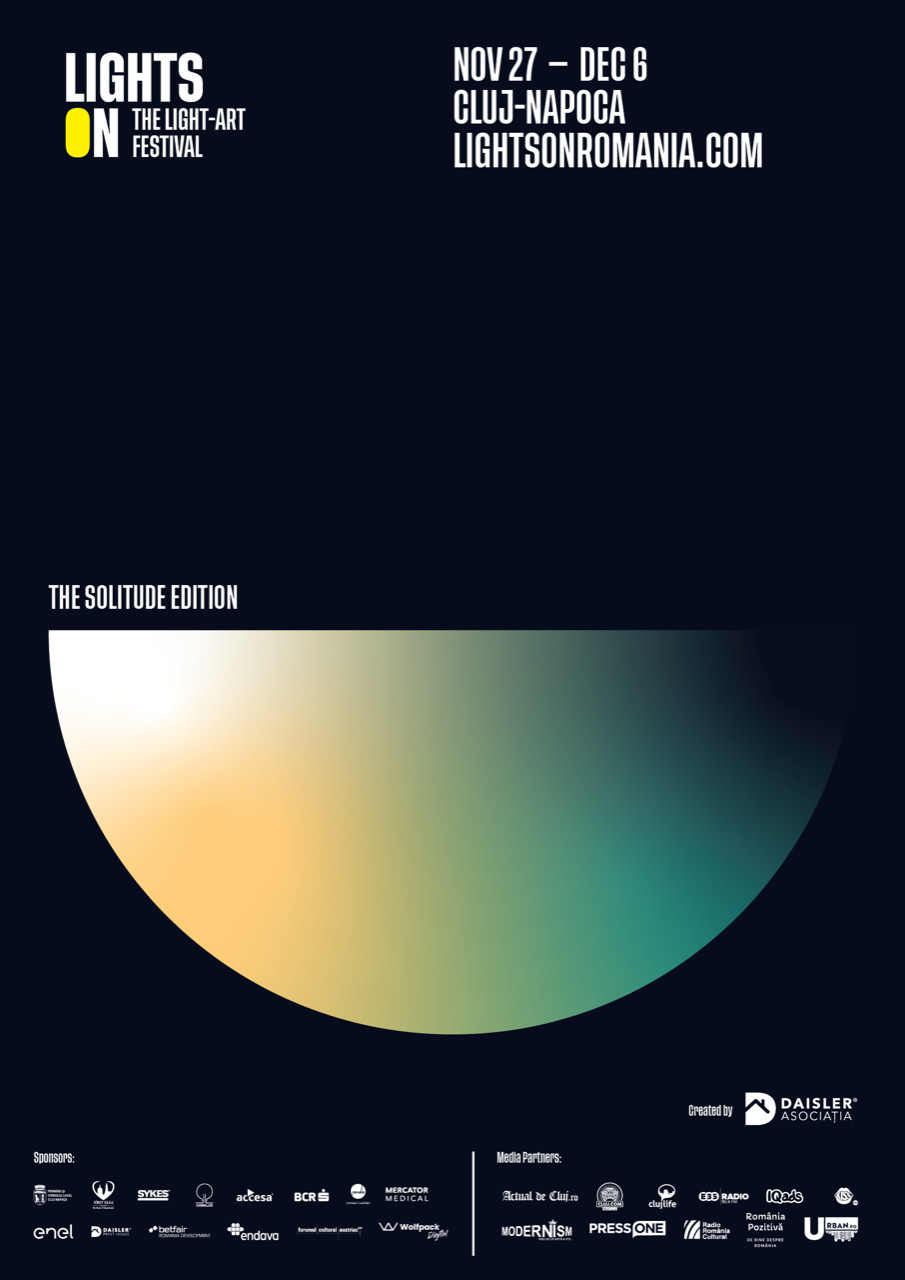 În 2020, festivalul este susținut și sponsorizat de Primăria și Consiliul Local Cluj-Napoca, Visit Cluj, Enel, Endava, BCR, Daisler Print House, Caralux, Betfair Development, Wolfpack Digital, Accesa, Sykes, Mercator Medical, Rondocarton, Forumul Cultural Austriac.
Parteneri media: Actual de Cluj, cluj.com, clujlife.com, EBS Radio, Iqads, Modernism, Pressone, Radio România Cultural, Kiss FM, România Pozitivă și Urban.ro.
Realizat de Asociația Daisler.