the Syndicate - Sindicatul Creativitatii Inteligente.
the Syndicate este o agentie de advertising independenta, infiintata in 2007, orientata spre rezultatele celor peste 25 branduri din portofoliu prin executia impecabila a conceptelor creative dezvoltate.
Credem in Before-the-Line and After-the-LineTM ca fiind linia care delimiteaza momentul de memorare de cel de alegere a brandului, ceea ce ne face sa construim branduri si campanii pentru oameni, printr-o abordare psihologica.
Ce alegem sa comunicam? Care sunt mediile si strategiile cele mai bune pentru a ajunge la publicul-tinta? Raspunsurile ne ilustreaza, de fapt, o calatorie a brandului in vietile oamenilor prin intermediul mesajului transmis: cum patrunde, cum ii influenteaza, ce le transmite, ce lasa in urma. Secretul calatoriei consta in acordarea aceluiasi grad de atentie, atat relevantei mesajului, cat si elementului care diferentiaza brandul.
Un joc, insa niciodata o joaca, creatia reprezinta fereastra catre brand, prin care poti privi imaginea de ansamblu, prin care mesajul transmis devine clar si cat mai personal. Decoram, infrumusetam, uratim cand este cazul, redefinim, coloram, eliminam. Procesul creativ nu este niciodata acelasi. Este intotdeauna rezultatul combinatiei intre obiectivul business-ului si subiectivul uman.
Clienti: ALGIDA :: AXXA :: BANCA ROMANEASCA :: BRAMAC :: CURTEA BERARILOR :: DOVE:: FESTIVALUL DE MUZICA VECHE :: GARONE :: GRANDE PANINI :: GREEN PANNEL :: HENKEL :: LAPTARUL GHITA :: TOTAL GREEN :: TOPGAME :: SANDOZ :: TRUST EXPERT :: UNILEVER FOOD SOLUTIONS :: WINERBERGER
Servicii: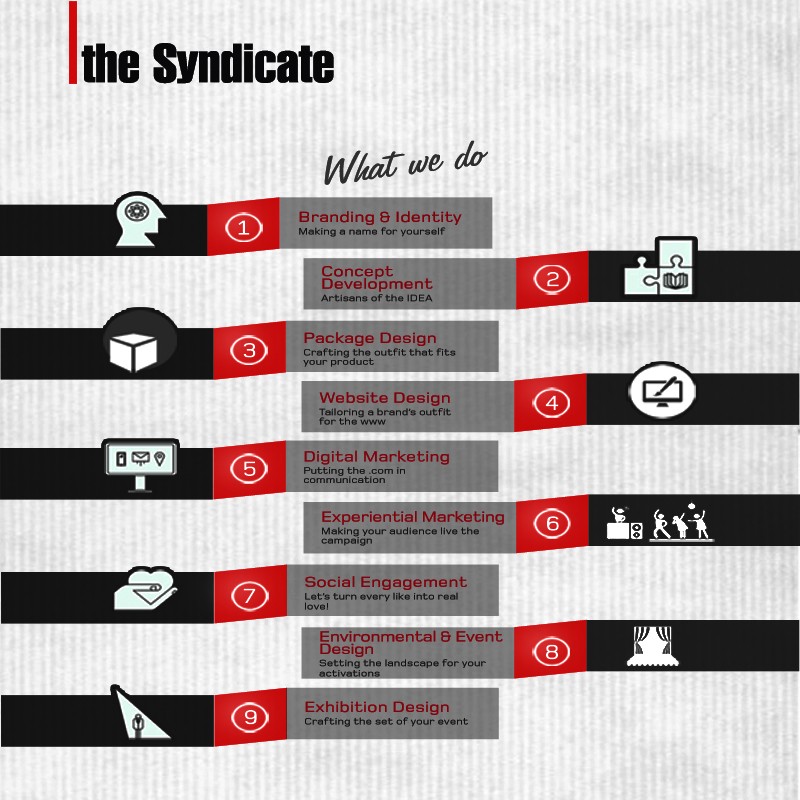 Contact
Adresa: Str. Mihnea Voda nr 06, sect 4, Bucuresti, cod postal: 040276
Email: vali.vernea@thesyndicate.ro, lucia.bobi@thesyndicate.ro
Telefon: 0728 210 191
Web: www.thesyndicate.ro
Extra info
Afla mai multe despre the Syndicate
Portofoliul: Alte Creatii • Branding • Clipuri TV • Direct Marketing • Evenimente • Neconventional • Online • OOH • Packaging • Printuri • Spoturi Radio