Q2M lanseaza pe Facebook platforma de e-learning in domeniul marketingului digital, Ronewmedia Academy, informeaza un comunicat emis de agentie. Platforma Ronewmedia Academy ofera utilizatorilor acces la continutul generat de conferintele RoNewMedia organizate de Q2M si este totodata un spatiu unde vor avea loc webinarii si traininguri online dedicate industriei.
De asemenea, Ronewmedia Academy beneficiaza de integrare cu platforme sociale si de sharing cum sunt Slideshare (in premiera pentru o aplicatie romaneasca), YouTube si Wordpress, potrivit comunicatului.
Platforma a fost conceputa si implementata de agentia social media Happy:Digital.
Membrii pe Facebook ai platformei Ronewmedia Academy vor avea la dispozitie sectiunea The Hub si Next Star. The Hub contine videoclipuri, prezentari si articole adunate in editiile trecute ale evenimentelor, recomandari din partea organizatorilor, dar si prezentari inscrise de vizitatori.
Sectiunea Next Star gazduieste concursul "Become the next Digistar" care incurajeaza competitorii sa inscrie o prezentare al carui subiect sa fie mediul digital. Competitia se desfasoara in perioada 15 septembrie – 30 noiembrie, timp in care prezentarile inscrise pot fi votate o singura data pe zi/ votant, fiecare vot valorand un punct. Va fi alcatuit un shortlist pe baza punctajului final, iar primele 10 prezentari vor fi supuse votului juriului, care va acorda o nota de la 1 la 10 fiecareia dintre ele. Autorul prezentarii cel mai bine punctate va castiga Grand Prix-ul, constand in posibilitatea de a fi speaker in cadrul RoNewMedia 2011. De asemenea, votantii vor fi premiati saptamanal, in perioada competitiei, cu cate un bilet la ro:newmedia 2011. Castigatorul va fi ales prin tragere la sorti.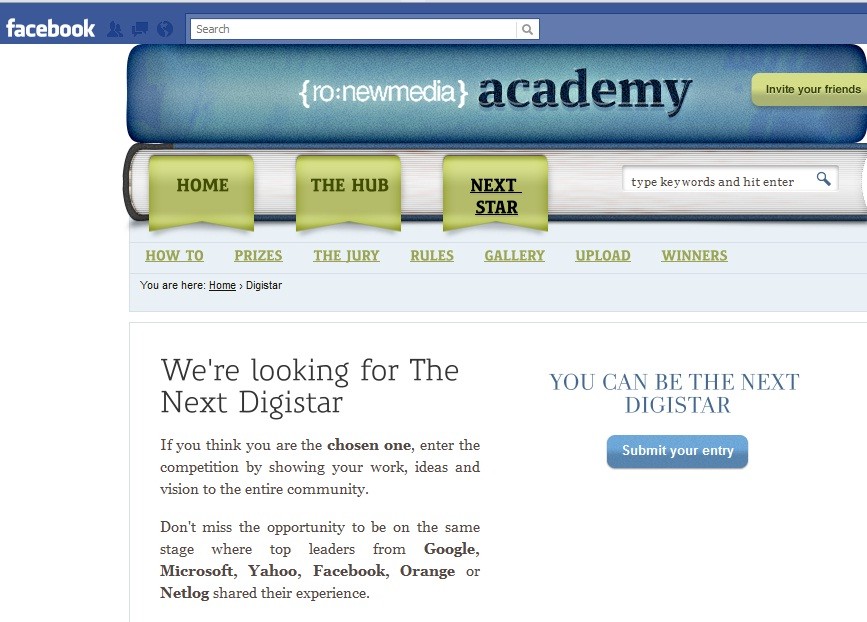 Pana la acest moment, juriul este format din: Gabi Bartic (Marketing Strategist Q2M), Vlad Bomboe (Fondator si Managing Partner Openmind), Marius Cristea (Managing Partner Blue Idea), Carmen Dinca (Managing Partner MainMast Marketing), Dani Florea (Techy partner HAPPY:DIGITAL), Philip Macartney (Global Social Media Director Bodog), Monica Mircea (Relationships Partner, HAPPY:DIGITAL), Dragos Novac (Owner Metropotam si FourHooks, organizator RoBlogFest), Gabriel Saftescu (Online Strategist, Valvis Holding), Dragos Stanca (Managing Partner Q2M, co-founder PUBLYO si fondator RoNewMedia) si Jean Valvis (Care Taker, Valvis Holding).
In noiembrie 2011 va avea loc cea de-a sasea editie RoNewMedia.