Vremea la ADfel a fost usor dubioasa. Aseara s-au inregistrat averse cu spuma care s-au depus pe alocuri la intrarea in terasa Fabrica, dand nastere unui fenomen nemaintalnit pe teritoriul Romaniei: un deal de dimensiuni medii creat exclusiv din clabuc. Ba nu, glumesc, vremea a fost ieri numai buna, iar de vina pentru invazia de baloane de sapun este DERO, care, insotit de Clabucel, le-a aratat participantilor la ADfel cum se spala romaneste.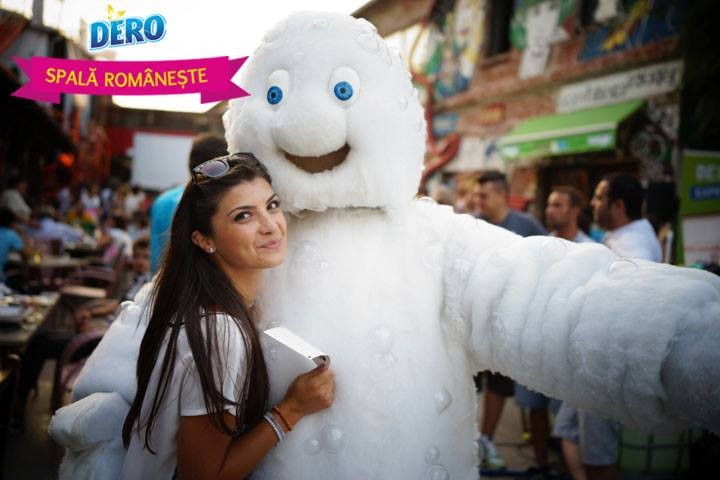 Pe de o parte, cei care au venit la ADfel puteau sa se alature distractiei cu spuma, in care deja au fost dati disparuti cativa copii si vreo doi tatici care alergau dupa ei. Pe toti ceilalti participanti care s-au alaturat petrecerii am reusit sa-i gasim. Clabucel a fost acolo sa directioneze tunul cu spuma care asigura necesarul de balonase si sa imbratiseze toti participantii la ADfel care n-au rezistat tentatiei.
Pe de alta parte, oamenii si-au putut spala tricourile chiar in terasa Fabrica. Odata scoase din masinile de spalat, hainele au fost atarnate de sarmele aranjate romaneste fix la intrare. In schimbul tricourilor de pe ei, participantii la ADfel au primit unele cu mesaje fresh (cum ar fi "100% prospatura" sau "Levanticaman") pe care le-au putut pastra si dupa ce si le recuperau pe ale lor.
DERO si Clabucel vor mai improspata atmosfera ADfel vineri si sambata seara (16 si 17 august, de la 6 seara pana la miezul noptii). N-aveti cum sa-i ratati, va asteapta la intrarea in Fabrica, impreuna cu un munte de clabuc.
Programul complet al evenimentului il gasiti aici.
DERO este unul dintre brandurile care vor aduce spiritul neconventionalului in cadrul ADfel. Evenimentul de branded entertainment este organizat de IQads si are loc pe terasa Fabrica (Str. 11 Iunie, nr. 50, Bucuresti). Programul incepe in fiecare seara la ora 18.00, iar intrarea este libera. Pe Facebook.com/IQads si pe IQads.ro vor fi prezentate detalii despre programul fiecarei seri din cadrul evenimentului.
Partenerii media ai evenimentului sunt 24-FUN, Metropotam, Catavencii, Orasul Meu, 220.ro,Tataia, All Hollow, VICE, HipMag.ro, Times New Roman, Revista de Povestiri, Mixtopia, Realitatea.net, The Institute, SUB25, Money, BestJobs, The Chronicle si Radio Guerrilla. ADfel este organizat cu sprijinul Euromedia, Trade Media, 360Revolution, Carturesti, Elevate, MVcom si AdProduction.