Era de asteptat ca vor aparea si ele, pe langa suratele lor dragalase, care nu stiu in ce fel sa iti promita ca iti vor face viata mai buna. Ei, aceasta aplicatie, iti promite iadul. Tot pentru a-ti face viata mai buna. E cea care are grija de standardele si productivitatea ta cu ajutorul biciului. Sau, ma rog, cum a fost transpus biciul pe internet: cu Delete-ul. 
Se numeste The Most Dangerous Writing App si te intampina imbietor: Nu te opri din tastat, pentru ca tot ce ai scris pana atunci va fi pierdut. 
In ciuda caracterului ei malefic, insa, noi ii acordam scuza integritatii. Cel putin, spre deosebire de anumite computere sau programe, ea nu se blocheaza fara sa te anunte, aruncandu-ti munca si sudoarea in gaurile negre ale binarului.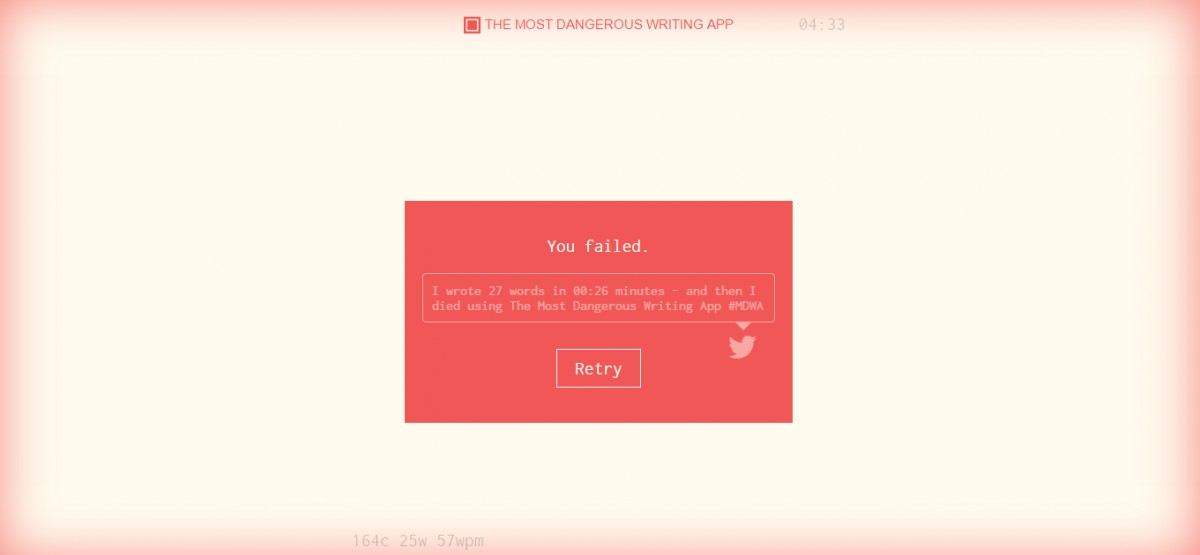 Aplicatia a fost dezvoltata de Manuel Ebert, care se autodescrie ca un "Ex-neuroscientist, data wrangler, designer and engineer." El a dezvoltat-o in timpul liber si a lasat-o la liber pe interes. Menirea ei este sa ii ajute pe scriitori (sau alti oameni ai cuvintelor) sa treaca de blocajul scriitoricesc.