Mix eclectic de artă, modă și cultură urbană pentru oameni deschiși către original, pasionați de design autohton de calitate și preocupați de un viitor sustenabil.
Pe 24-25 septembrie 2016 vă invităm la Art Fashion Fair - Urban Culture să explorăm impreună arta, moda și cultura urbană intr-o expoziție specială, dedicată in aceeași masură designerilor autohtoni și orașului ca subiect. Aflat la a patra ediție, evenimentul va fi găzduit de Maison 13 (Dumbrava Roșie 2, Grădina Icoanei), un spațiu plin de creativitate, fără restricții de imaginație, unde detaliile fac diferența.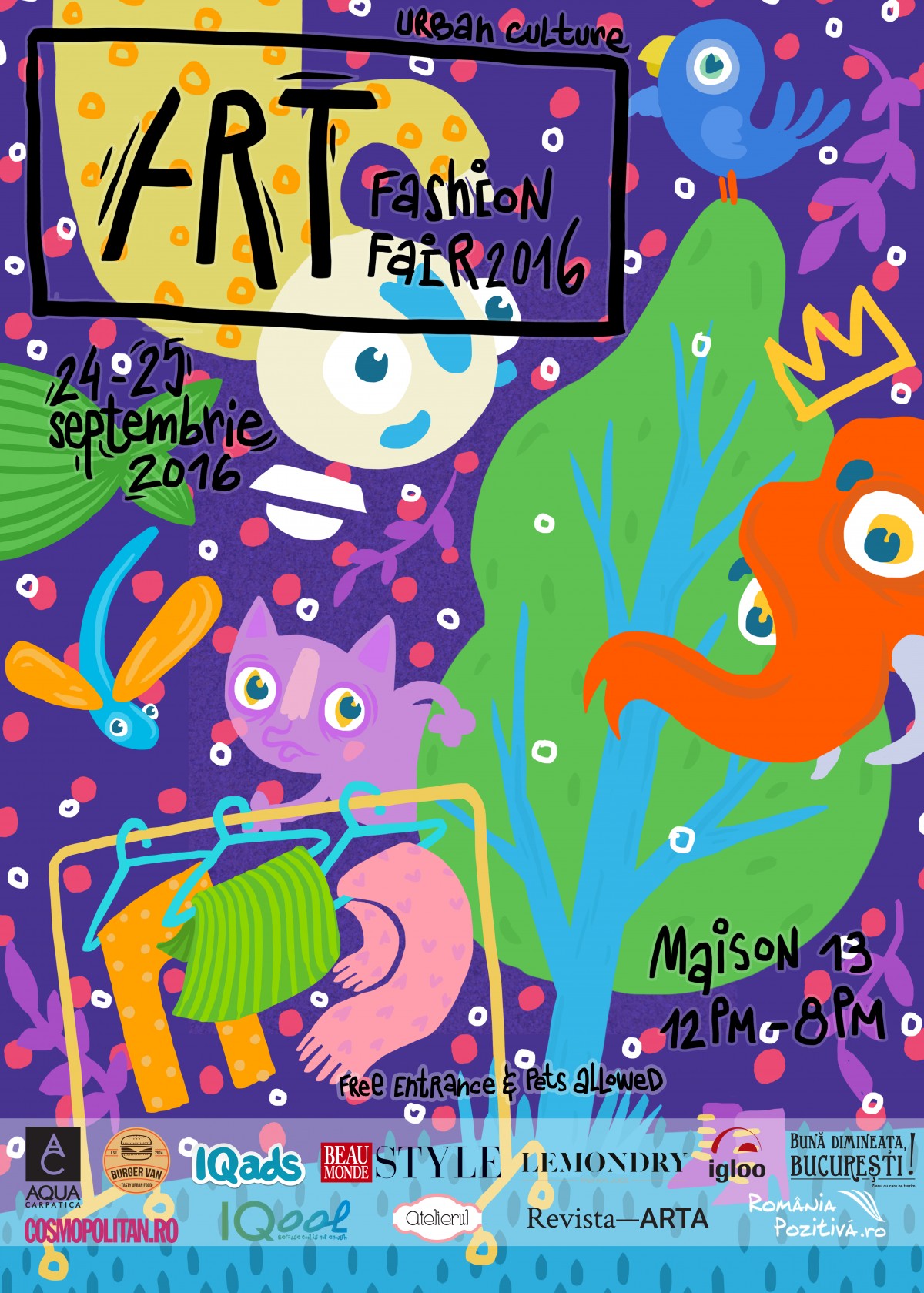 Selecția riguroasă este realizată de Roxana Silean (fondator Art Fashion Fair), iar conceptul vizual al acestei ediții este rezultatul colaborării cu Serebe (artistă din București a cărei imaginație nu încape pe un singur suport, absolventă a Universității Naționale de Arte Plastice, creatoarea lui "Bob" - personaj căruia i-a construit o lume întreagă).
Designerii români selectați vor expune la Art Fashion Fair haine si accesorii de autor, obiecte home deco și produse organice, evenimentul remarcându-se prin accentul pe design, calitate și inspirație pentru un viitor sustenabil. Vă invităm să faceți cunoștință cu oamenii din spatele brandurilor și să descoperiți trend-uri esențiale stilului de viață urban: Utopic by Mona Vulpoiu | Serebe | Gabriela Secarea - Brielle Bijoux | Mihaela Cretescu | Most Precious | Luviane Atelier de Parfumerie si Bijuterie | Chemistry | Alina Simion Contemporary Jewellery | Porphyras |Minionette | Mihaela Ivana - Bijuterie Contemporana | Nico Carp | Brandusa - Atena Ungurasu |Unofficial: COD | Aranjat by Anne | Atelier Muna | Alex Ciobanu | Atelier437 | Istoriato - The Alchemy of dreams | Mihaela Coman | Alexandra Ivan | Redodendron | Madam Mitza | Maum
In curte vizitatorii sunt rugați să se relaxeze in oaza noastră urbană, impreună cu prietenii de la Burger Van – tasty urban food, Wild Forest - dish-uri vegane si raw vegane si Ground Zero Beer – studio de bere artizanală.
Live DJ Sets: Ef Eeks Creative Partners : Lemondry & Serebe Superpowers Partners : Beau Monde, Cosmopolitan Romania, AQUA Carpatica, Revista Atelierul, Igloo media,România Pozitivă, IQads, Bună dimineaţa, Bucureşti, IQool, Zâna Boemă, Revista ARTA, Artivist.
Intrarea este liberă! | Free entrance & pets allowed! Când: 24-25 septembrie 2016 | orele 12 - 20. Unde: Maison 13 (Dumbrava Roșie 2, Grădina Icoanei)