Mai tineti minte the walk of atonement din Game of Thrones? Ce o mai apara atunci The Mountain pe Cersei. Intre timp, a cam trecut peste: apare in reclame si complimenteaza calugarite. Chiar pe cea care striga intr-un ritm hipnotizant "SHAME".
"Shame or Glory", ultima campanie a brandului SodaStream, are ca scop accentuarea mesajului pe care produsul (aparat de acidulat apa), prin utilitatea lui, doreste sa-l transmita: reducerea poluarii rezultate din utilizarea pet-urilor.
Spot-ul este putin twisted, e lung, e cu The Mountain, lacrimi varsate, rosii si salati aruncate. Sa va uitati la tot.
Pentru ca o campanie nebuna nu trebuie lasata singura, exista si o platforma interactiva dedicata, unde iti poti alege de partea cui esti: a ignorantilor sau a utilizatorilor glorificati de SodaStream.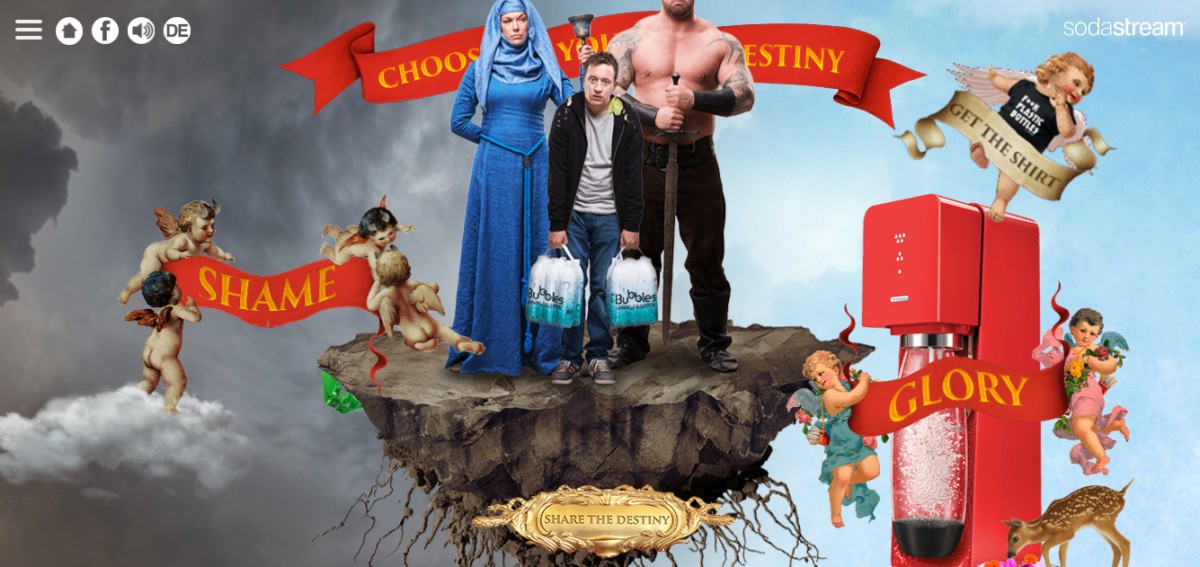 Inainte de asta, SodaStream a avut campania "Heavy Bubbles", marca inregistrata (pe caterinci), iar brandul se asocia de pe atunci cu Gregore Clegane (The Mountain, d'oh) si inducea in eroare consumatorii mai creduli. 
Eu una mi-s neutra. Beau doar apa plata.
Dar, stai, e cam acelasi lucru.