Impact Hub Bucharest, organizația lider în domeniul antreprenoriatului, cu sprijinul Ambasadei SUA în România, se alătură mișcării globale "#BeBoldForChange" cu ocazia celebrării Zilei Internaționale a Femeii, organizând pe data de 11 martie evenimentul Women of Romania.
Personalități reprezentative din diferite domenii de activitate cu un puternic spirit antreprenorial își dau întâlnire într-o zi special dedicată promovării poveștilor de succes ale femeilor din România. Oana Marinescu, directoarea şi fondatoarea companiei de consultanţă şi relaţii publice OMA Vision, Maria Gheorghiu, cofondatoarea asociaţiei OvidiuRo, Virginia Oțel, Communication Leader GarantiBank Romania sau Mirela Bucovicean, fondatoarea Molecule F, sunt câteva dintre invitatele evenimentului.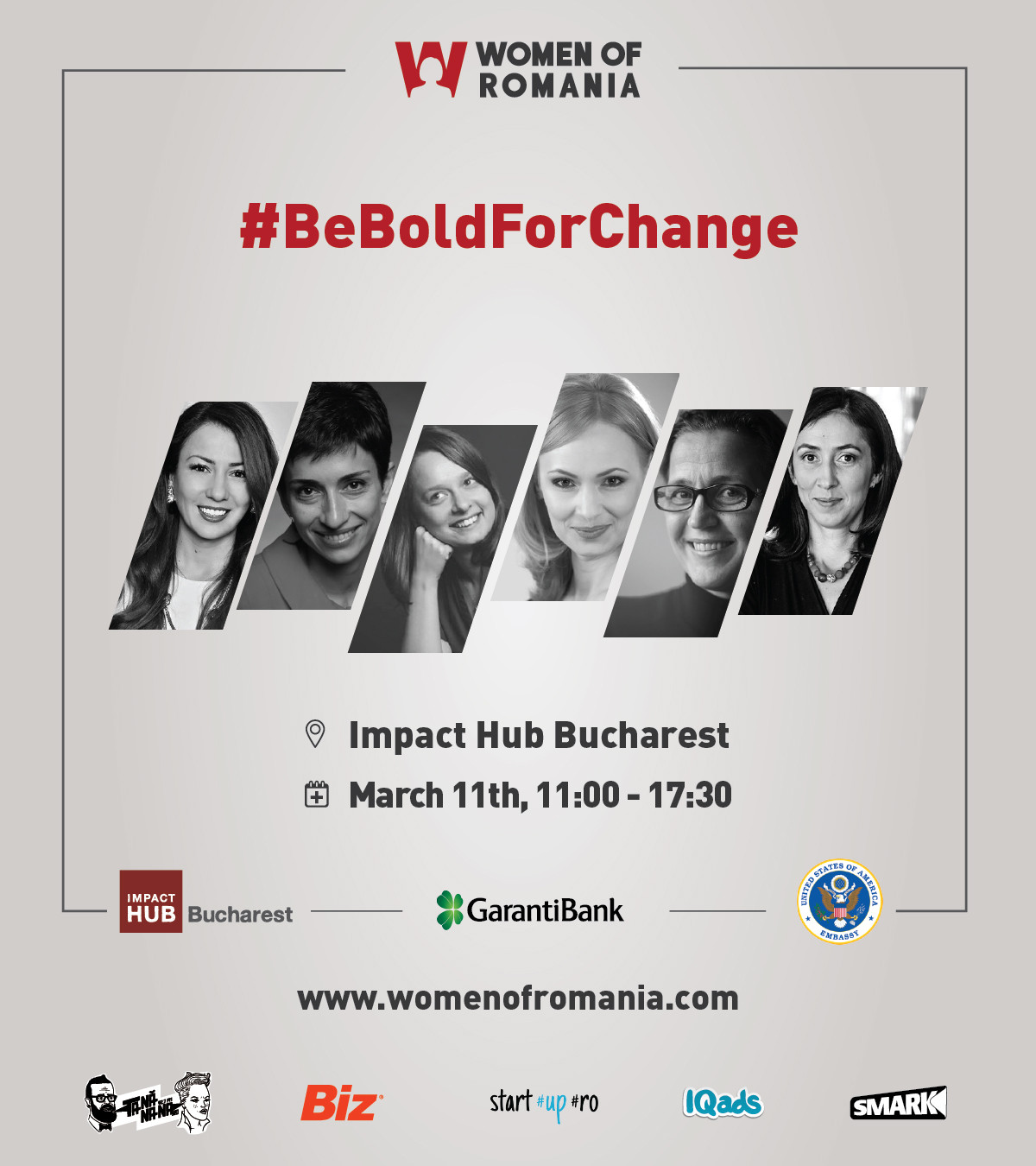 "Antreprenoriatul nu are și nici nu ar trebui să aibă legătură cu genul, ținând mai degrabă de capacitatea de a inova și de a dezvolta lucruri noi plecând de la idei interesante. Este foarte adevărat că sunt destul de multe provocări pe care le avem încă de depășit la nivel de percepții, educație și toleranță când vine vorba despre implicarea femeilor ca antreprenori.

Prin Women of Romania ne propunem să recunoaștem rolul și contribuția acestora, să creăm un context favorabil de prezentare a succesului feminin cu scopul de a inspira și încuraja femeile din România să-și creeze propriul drum către performanță, indiferent de domeniu", a declarat Vlad Craioveanu, CEO Impact Hub Bucharest.
Rolul femeii în societate, contextul local al antreprenoriatului feminin, povești de succes, sfaturi și recomandări pentru viitoare antreprenoare sunt câteva dintre subiectele abordate în cadrul Women of Romania. Prin formatul evenimentului se încurajează interacțiunea între participanți și invitați.
Women of Romania este organizat de Impact Hub Bucharest cu sprijinul Ambasadei SUA în România și în parteneriat cu GarantiBank România.
Eveniment susținut de: Radio Tananana, Biz, Start-up.ro, IQads, SMARK