Pe 19, 20 și 21 iunie, în parcarea principală de la Romexpo, artiștii tăi preferați urcă pe scenă pentru cel mai mare concert drive-in din România, THE CONCERT drive-in! În contextul actual, pentru respectarea măsurilor de distanțare socială, fanii vor putea urmări artiștii și concertele care le-au lipsit în toată această perioadă, live, într-un mod inedit, din mașină.
Programul THE CONCERT drive-in:
19 iunie - Alina Eremia, Antonia, Carla's Dreams, Roxen
20 iunie - INNA, Irina Rimes, The Motans
21 iunie - Azteca & IAN, Killa Fonic, Nane, Oscar
Muzica este cea care, indiferent de situație, prin puterea și magia ei poate schimba stări și ne poate face să visăm, ne poate duce în locurile în care ne dorim să fim sau mai aproape emoțional de persoanele care ne lipsesc. Muzica se ascultă oricând, în orice context, este cea care trăiește în fiecare dintre noi, care schimbă mentalități și ne ajută să trecem mai ușor peste o perioadă dificilă. Iar artiștii sunt nerăbdători să-și întâlnească publicul, să urce pe scenă și să creeze show-uri speciale pentru cei care îi urmăresc și îi admiră.
Fanii sunt așteptați pe 19, 20 și 21 iunie, la Romexpo, să petreacă 3 seri speciale alături de artiștii lor preferați. Accesul în cele trei zile se va face începând cu ora 19:00.
Biletele puse în vânzare sunt per mașină. Cei care își doresc să participe la eveniment trebuie să țină cont de faptul că în fiecare mașină sunt permise maximum 4 persoane care fac parte din aceeași familie. De asemenea, aceștia vor putea asculta concertele prin intermediul sistemului audio din mașina personală, pe o frecvență care va fi comunicată la fața locului, iar aplauzele vor fi înlocuite de data aceasta de sunetul claxonului.
Accesul cu camioane, dube, utilaje, autoutilitare sau alte vehicule este interzis.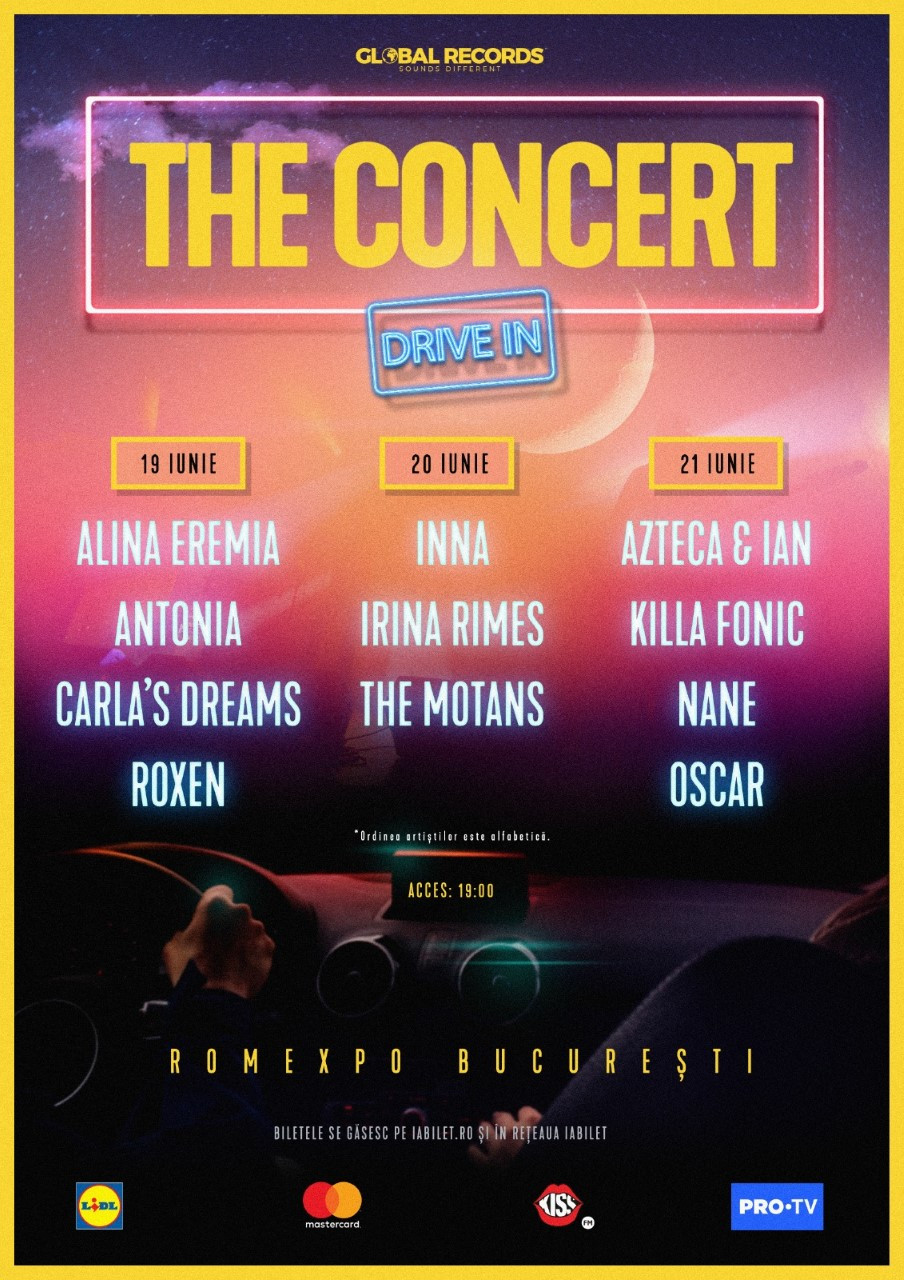 Biletele sunt disponibile pe iabilet.ro și în rețeaua IABILET.
PRO TV și KISS FM sunt partenerii media ai evenimentului.