NO.MAD Talks, comunitatea freelancerilor, revine cu primul eveniment public offline de după lockdown, Povești NO.MADe - Pandemia Made Me Do It, pe 22 septembrie, la CoOperativa (str. Icoanei nr. 86, București). 10 freelanceri și câțiva invitați speciali vor povești despre cum pandemia le-a scos din priză proiectele la care lucrau și evenimentele planificate și au lăsat în pauză vacanțele, întâlnirile și planurile de viitor dar și cum timpul și liniștea au adus noi lecții de învățat. Biletele sunt în număr limitat și se pot achiziționa de pe Eventbook.
Inerție vs. recalibrare în timpul lockdown-ului
Pentru mulți freelanceri pandemia a adus proiecte anulate, clienți pierduți și multă nesiguranță după cum a reieșit și în timpul întâlnirilor online de suport pentru comunitate organizate de NO.MAD Talks în timpul lockdown-ului. Iar, cum conceptul de freelancing în România nu este încă destul de familiar și de reglementat, nu toți freelancerii aflați în impas au putut beneficia de facilitățile oferite de stat altor categorii de profesioniști mai vechi pe piața muncii: granturi, indemnizații și șomaj tehnic.
La șase luni după declararea stării de urgență freelancerii povestesc despre cum au reușit să gestioneze situația, ce idei noi le-au venit, și-au regândit proiectele și ce noi metode de a se susține au descoperit.
Artiști, traineri, sportivi și creativi ies în față să își spună poveștile
Costin Teodorescu, actor și creator al Teo Magic Show, ne va povesti cum s-a împăcat pandemia cu magia. Când nu mai poți de dorul oamenilor, al muzicii și al concertelor și cum regândești un proiect de la zero, fiind totodată alături de comunitatea ta, împărtășește Mădălina Pavăl, artista din spatele Oamenii se fac dor.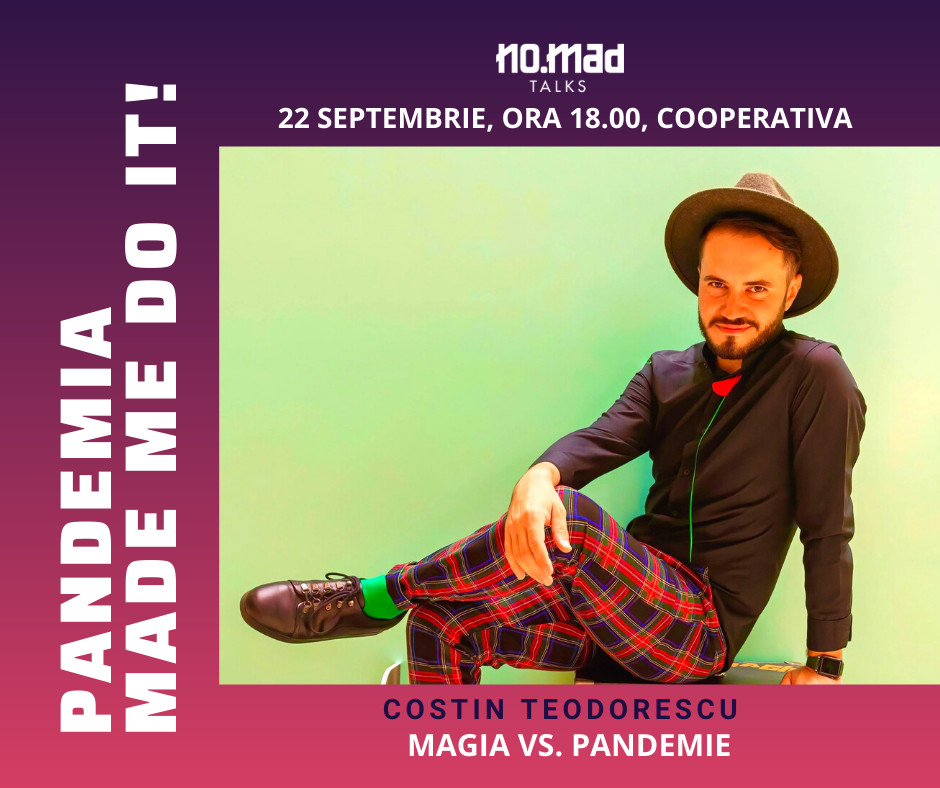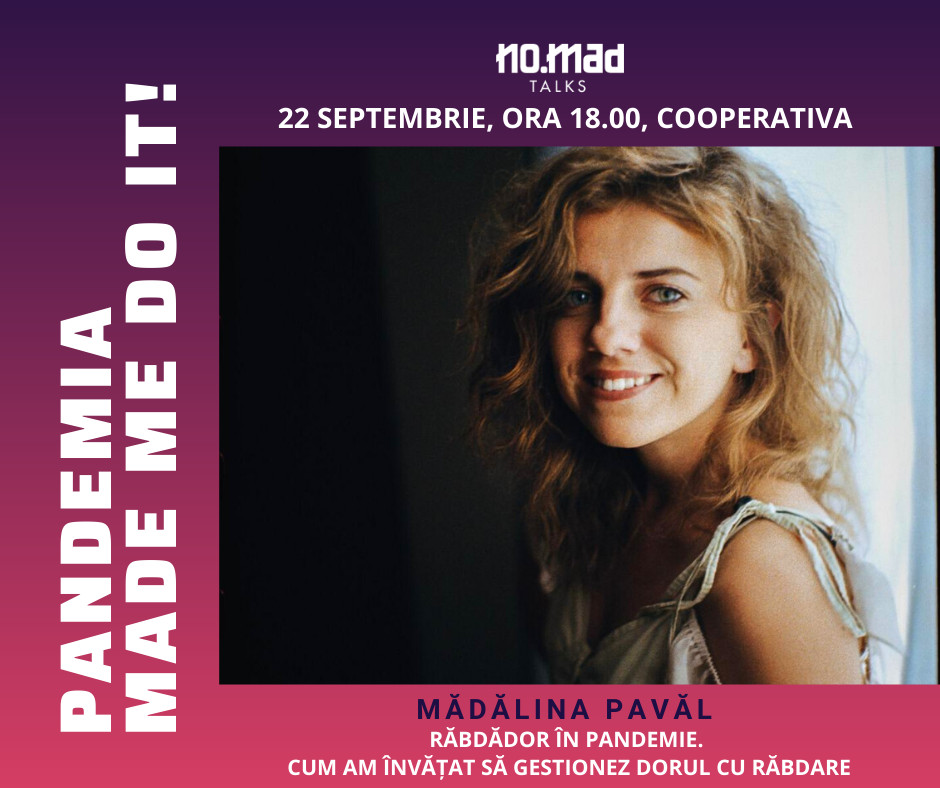 Cristina Ursu, trainer, coach și psihoterapeut, ne sfătuiește să ne conectăm cu alți oameni și să cerem ajutorul altora pentru re-evaluarea direcțiilor în care mergem.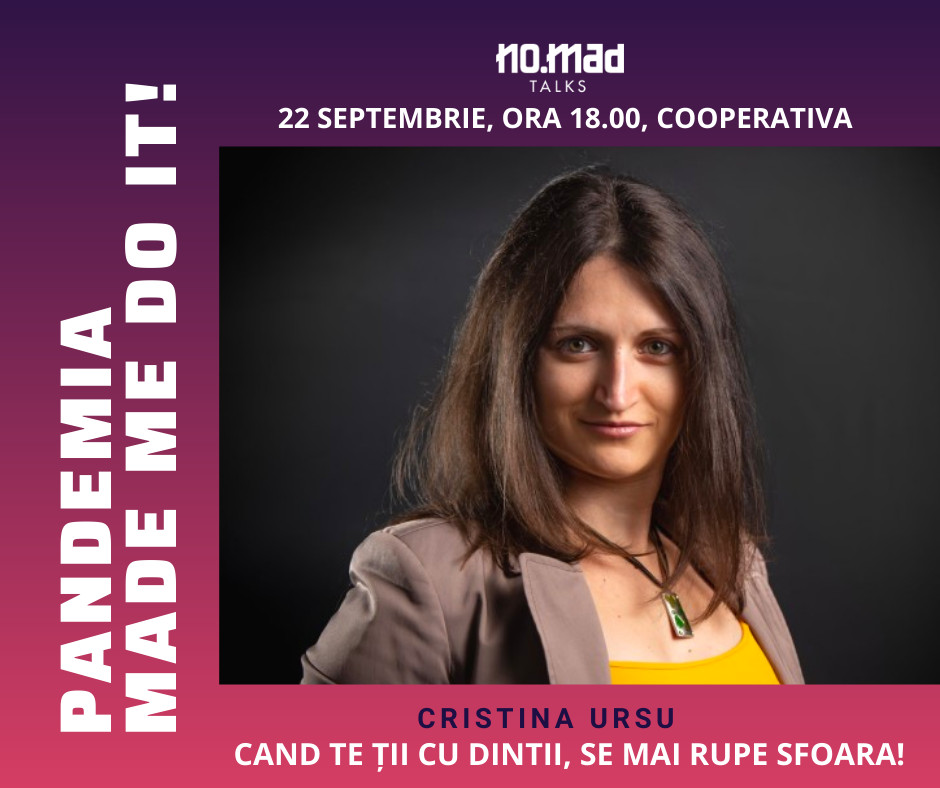 Luiza Olteanu, coach de branding personal, s-a înșelat când a crezut că lockdown-ul îi va aduce o binemeritată pauză și a dat fără regrete relaxarea pe ore multe de muncă.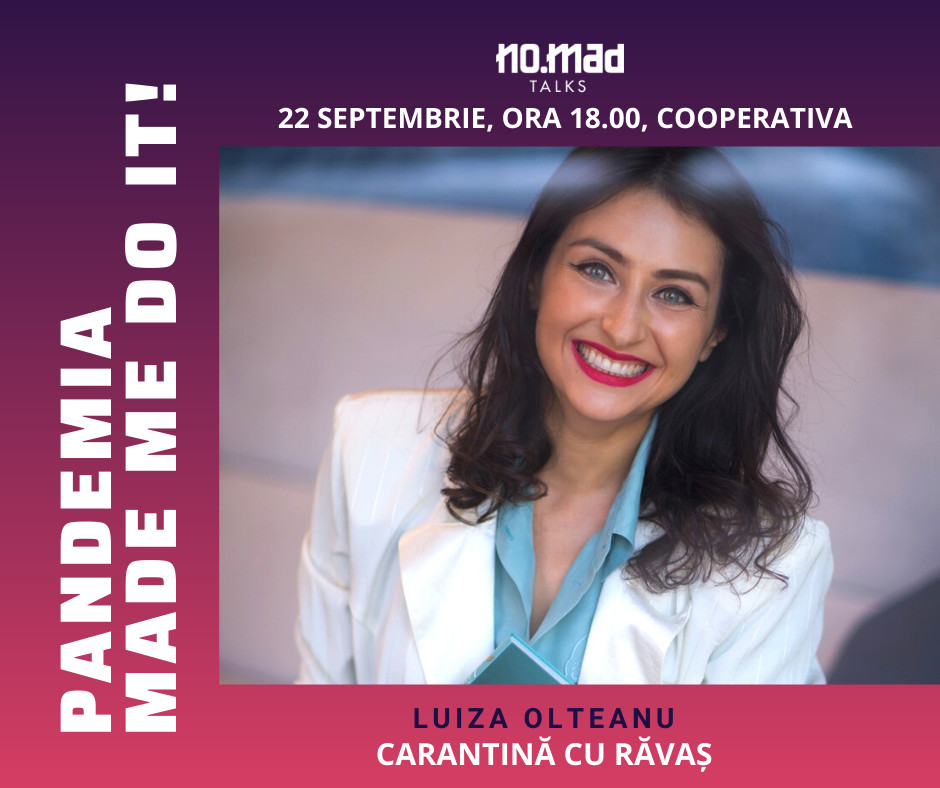 Cum s-au reinventat evenimentele și concertele aflăm de Bogdan Munteanu, de la Munteanu Recomandă iar Andrei Lasc, fondatorul Poevie și un mândru călător ne va povesti cum a văzut jumătatea plină a anului.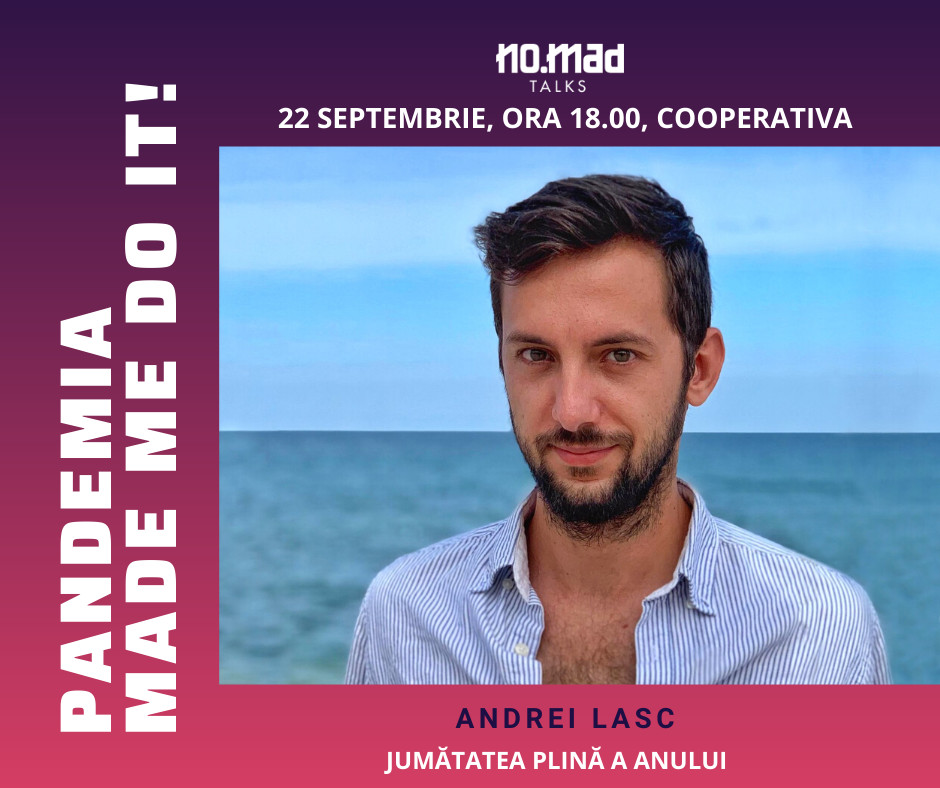 Evenimentul va avea loc în condiții de distanțare socială la CoOperativa iar biletele sunt disponibile pe Eventbook în pachete de 2 și 4 persoane, dar și locuri individuale.
Parteneri media: Radio Guerrilla, IQads, Start-up.ro, The Institute, Igloo Prwave, Iqool, Zile și Nopți, The Trends, Munteanu, Kreatoria, România Pozitivă, Feeder.