NO.MAD Talks, comunitatea freelancerilor, lansează Healthy Freelancer, un concept ce aduce la un loc atât pachete speciale, dar și discounturi pentru freelanceri și antreprenori, la servicii din zona de sănătate fizică, dar și emoțională. Primul parteneriat, cu clinica PriMed, cuprinde trei pachete de asigurări medicale accesibile care pot fi achiziționate direct de la clinică.
Starea de bine duce la productivitate
Pentru mulți freelanceri și antreprenori la început de drum, nu e ușor să își construiască și să își mențină un bun echilibru între activitatea profesională și viața personală. Când volumul de lucru e mare și greu de gestionat, pauzele se iau rar iar sindromul burnout-ului apare tot mai devreme și din ce în ce mai des. NO.MAD Talks și-a propus să susțină un stil de viață sănătos pentru comunitatea de freelanceri și antreprenori, facilitându-le accesul la servicii din zona de sănătate.
"Timp de doi ani de zile, NO.MAD Talks a demarat proiecte care să ajute freelancerii din România să-și dezvolte business-ul, să-și găsească clienți sau sprijin în comunitate.

Ni s-a părut normal ca acum, după peste 30 de evenimente organizate și 5.000 de oameni în comunitate, să ne îndreptăm atenția și către sănătatea lor atât fizică, cât și psihică. Începem cu trei pachete de asigurare medicală gândite special pentru freelanceri și antreprenori, după care vom continua să aducem lângă noi o clinică stomatologică, servicii de psihoterapie, un cabinet de masaj, o sală de fitness și spa-uri. Toți acești parteneri vor oferi reduceri sau pachete speciale gândite pentru nevoile membrilor comunității.

Healthy Freelancer este felul nostru a încuraja în continuare freelancerii să-și urmeze visul și, mai mult de atât, să înțeleagă că nu sunt singuri.", povestește Iunieta Sandu, fondator NO.MAD Talks.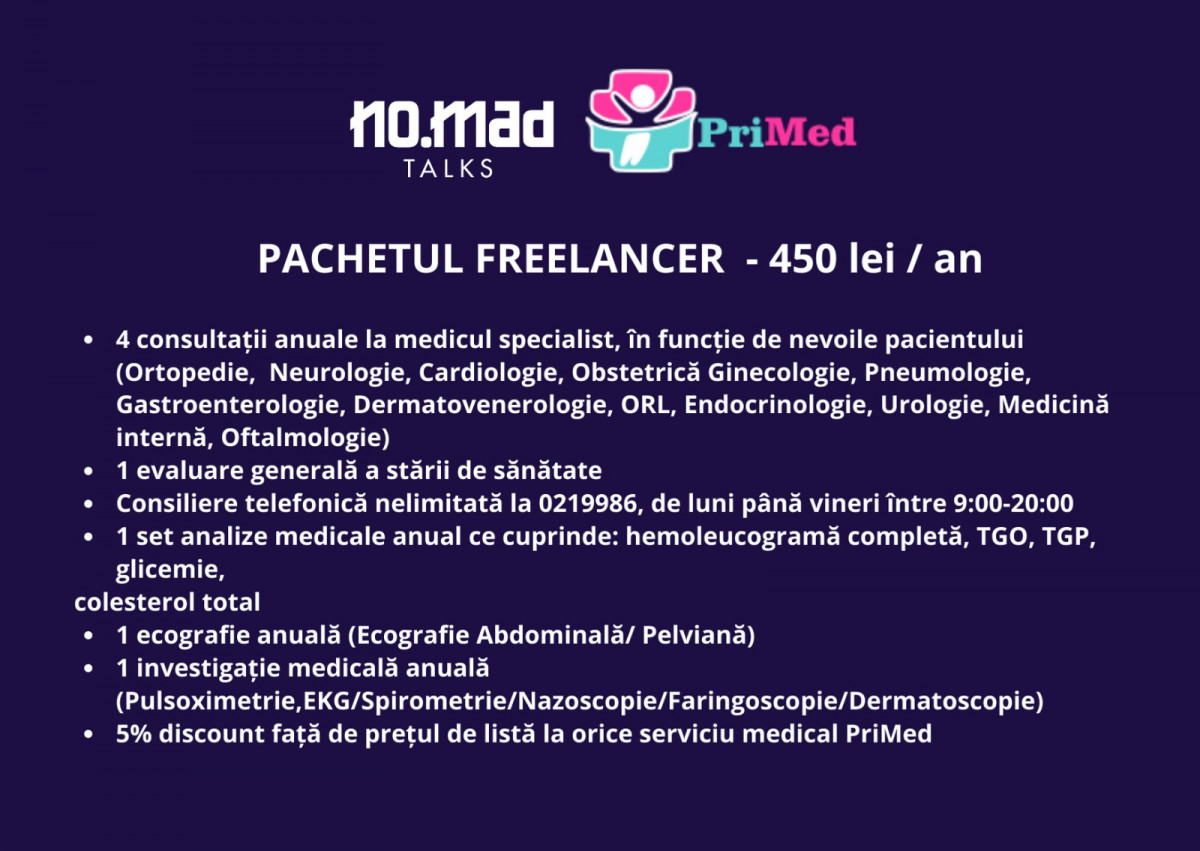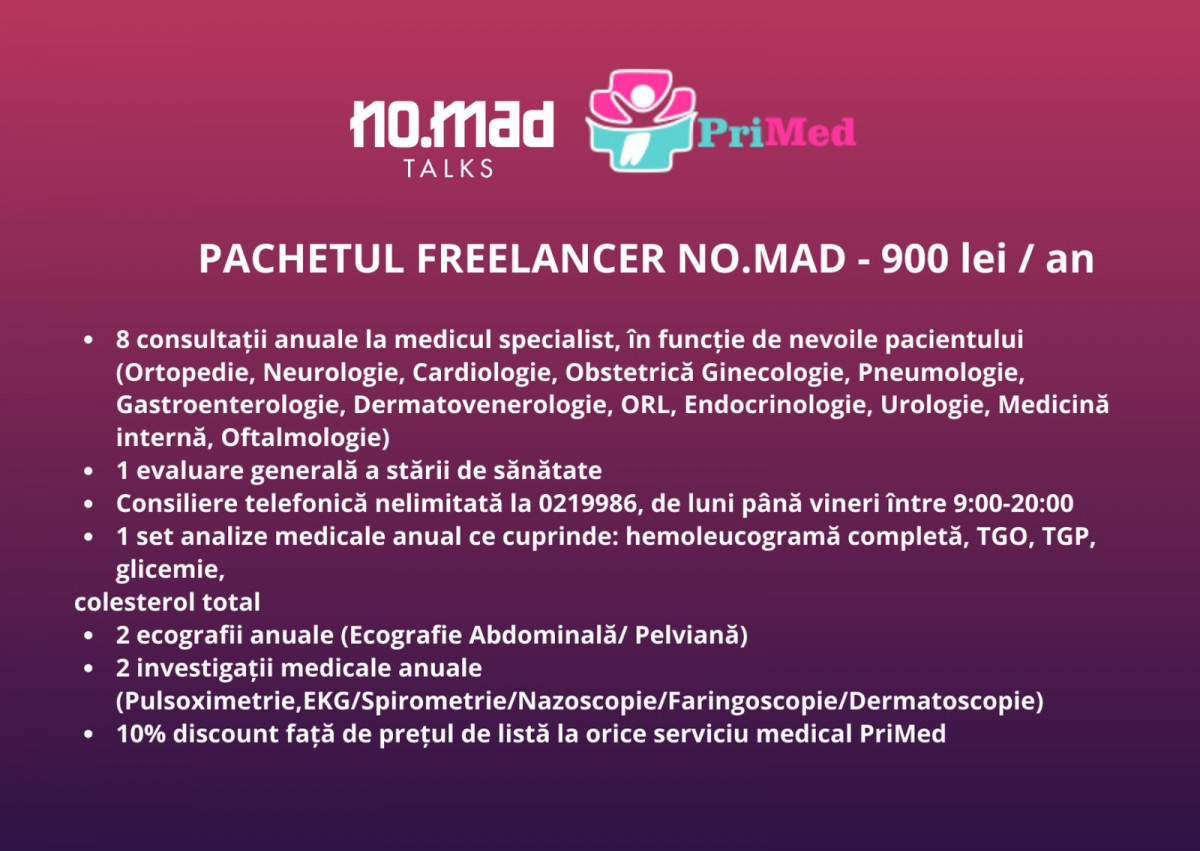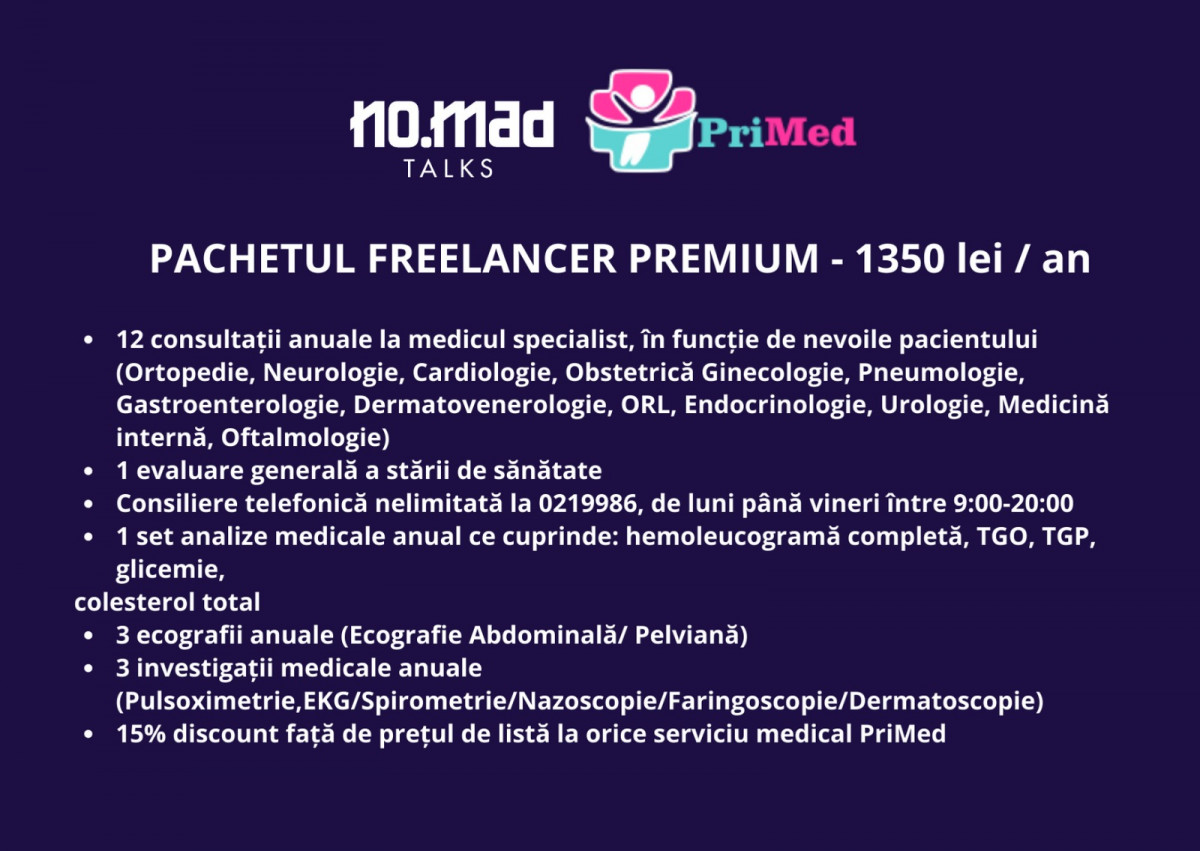 "Misiunea noastră este să venim în sprijinul pacienților cu echipamente și servicii de ultimă generație, dar și cu prețuri accesibile și cu cât mai multe gratuități, oferite cu ajutorul statului. Era natural să ne îndreptăm către comunități unde putem face diferența și pe care le putem susține și încuraja să aibă grijă de sănătatea lor în permanență, nu doar în cazul urgențelor. Iar, inspirați de profesiile digitale, suntem alături de pacienții noștri și prin consultații online", spune Oana Constantin, administrator al clinicii PriMed.
PriMed a gândit pentru comunitatea NO.MAD Talks trei pachete, Freelancer, Freelancer NO.MAD și Freelancer Premium, ce oferă consultații la medici specialiști, un set de analize medicale anuale, ecografii, investigații și consiliere telefonică pentru beneficiarii acestor asigurări. Detalii despre pachete aici iar acestea pot fi achiziționate contactând Clinica PriMed telefonic sau pe e-mail.
Pachetele de asigurări medicale, furnizate în parteneriat cu PriMed, sunt primele dintr-o serie de servicii de sănătate la prețuri speciale pe care NO.MAD Talks își propune să le pună la dispoziție comunității de freelanceri și antreprenori, urmând să mai fie lansate servicii de stomatologie, psihoterapie, masaj și wellbeing.
Parteneri media: Radio Guerrilla, IQads, Start-up.ro, The Institute, Igloo, PRwave, Iqool, Zile și Nopți, The Trends, Munteanu, Kreatoria, România Pozitivă, Feeder.