Când vine vorba de provocările întâlnite de freelanceri, fie că e vorba de lucrul de acasă, clienți prea puțini sau prea mulți, probleme emoționale, lipsa banilor sau a timpului, dorința de creștere sau de conectare, nu e ușor să le duci la prietenii angajați care se confruntă cu alt tip de contexte profesionale. Pentru a veni în sprijinul comunității, NO.MAD Talks a creat un eveniment de networking online, Brain Network, a cărui primă ediție va avea loc miercuri, pe 24 februarie, între 18:00 – 20:00, pe Zoom iar biletele, în număr limitat, sunt disponibile pe eventbook.ro.
Susținere, informații utile și feedback – pe scurt, o comunitate
Cu un număr mare de freelanceri și antreprenori  concentrați în jurul celorlalte demersuri ale NO.MAD Talks (evenimentele offline și online cu profesioniști, platforma de schimb de servicii între freelanceri și antreprenori Kind Market, newsletterul NO.MAD Newsroom și, mai ales, grupul de Facebook Freelanceri NO.MAD Talks), devenise necesar un concept de eveniment live, axat nu pe informații cât pe networking cu sens. Astfel, freelancerii care lucrează în aceleași nișe sau în unele complementare, să se poată cunoaște, parteneria și dezvolta proiecte mai complexe împreună.
Brain Network își propune să creeze un grup de suport care îi poate ajuta pe cei prezenți să pornească pe drumul freelancingului, să scaleze și să aibă acces la contacte utile și informații pe care să le folosească în business-ul de freelancer.
Despre provocări în nișele de freelancing, cu profesioniști în comunicare, ilustrație și fotografie
Prima ediție a Brain Network îi aduce împreună pe Iunieta Sandu, specialist în comunicare cu 10 ani de experiență și fondatoarea NO.MAD Talks, Alexia Udriște-Olteanu, ilustrator freelancer și Radu Tudoroiu, fotograf și antreprenor în domeniul fotografiei, care vor împărtăși din experiența lor pe nișele de comunicare, ilustrație și fotografie și vor povesti despre provocările specifice fiecărei industrii.
Evenimentul se va desfășura pe Zoom și, după o scurtă prezentare colectivă, participanții pot alege să se alăture unei camere moderată de Iunieta, Alexia sau Radu, în funcție de interese. Biletele sunt în număr limitat și sunt disponibile pe Eventbook.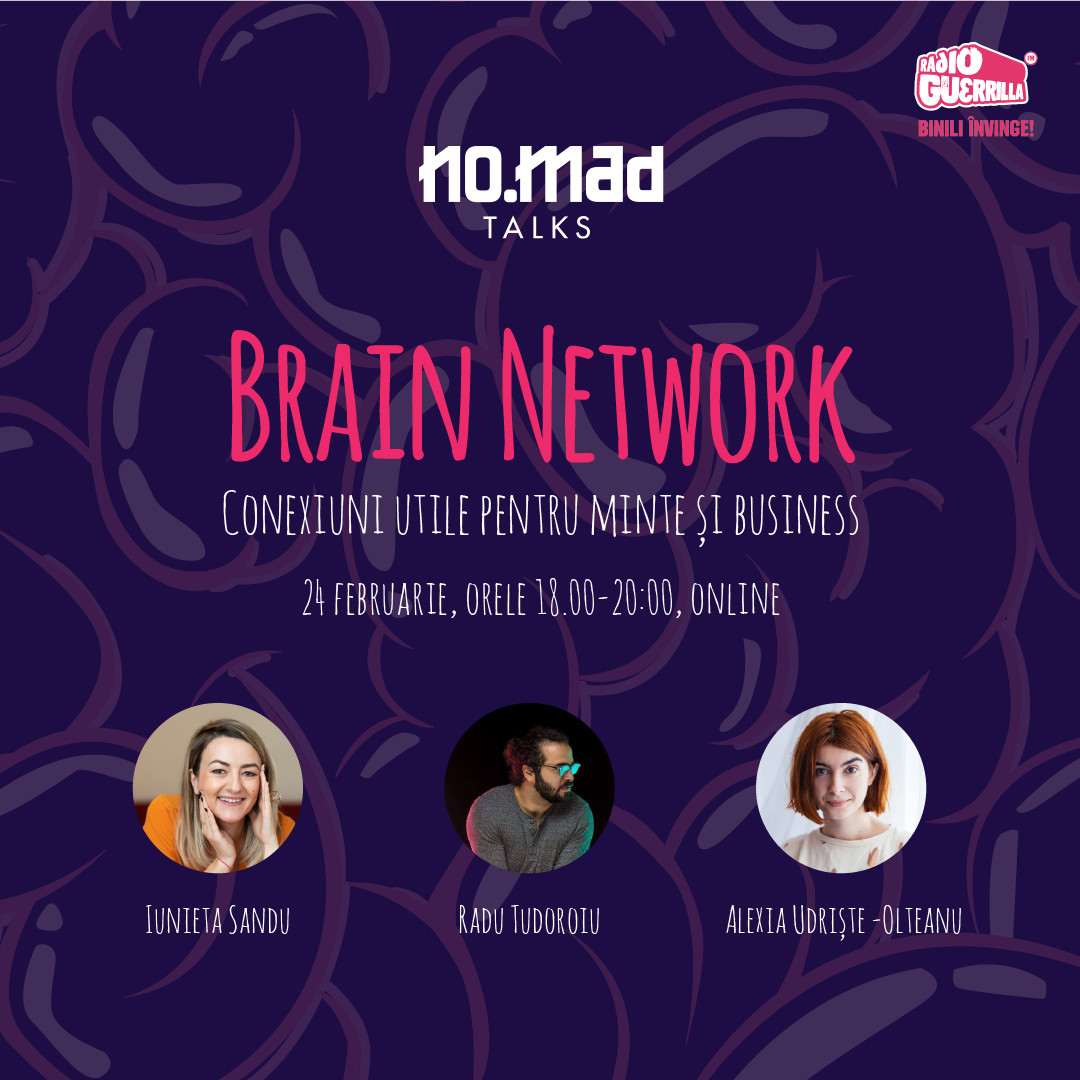 Parteneri media: Radio Guerrilla, Wall Street, 9AM, Spotmedia, Start-up.ro, IQads, Metropola TV, The Institute, PRwave, Iqool, Zile și Nopți, The Trends, Munteanu, Kreatoria, România Pozitivă.