Platforma culturală The Attic prezintă cea de-a doua ediție a festivalului Outernational Days, ce va avea loc în perioada 7-9 iulie 2017, în București.
Outernational Days 2 va aduce pe scena culturală a Bucureștiului o suită de ansamble, trupe și muzicieni din întreaga lume - Kenya, Niger, Turcia, Senegal, Liban, dar și Europa (Germania, Austria, Elveția și România) și Statele Unite ale Americii. Doug Shipton (UK), Florin Salam (RO), Mazen Kerbaj (LB), Ogoya Nengo (Kenya) și Rabih Beaini (LB) se numără printre noii artiști confirmați la Outernational Days 2.
Vineri, 7 iulie:
• Massicot (CH)
• Circuit Diagram feat. Derya Yildirim (DE / TR)
• Les Filles de Illighadad (Niger)
• IMPEX presents Shamanelism (RO)

The ARK Bucuresti: Red Bull Music Academy x Outernational #1 

• Seltene Erden (Çaykh & Esclé) (DE)
• Doug Shipton (UK)
• BABAU (IT)
• iNSANLAR (TR)
• Traxx (US)
Sâmbătă, 8 iulie:
• Panel discussion: 'Cultural Appropriation'
Speakers: Raed Yassin, Rose Satiko Gitirana Hikiji, Jan Rohlf, Derya Yildirim, Valeriu Nicolae. Hosted by: John Doran.
• Panel discussion: 'Manele in Romania – from cultural paradox to social meaning'
Speakers: Margaret Beissinger, Adi Schiop, Andrei Dinescu, Dan Bursuc. Hosted by Cristian Neagoe.
• Social Insects (Koch Hans & Gaudenz Badrutt) (CH)
• Görkem Şen pres. Yaybahar (TR)
• Praed (LB / CH)
• Mircea Florian presents FloriMan

The ARK Bucuresti: Red Bull Music Academy x Outernational #2 

• Kӣr (RS) 
• 'Everything Visible Is Empty' (presented by CTM Festival) – by Rabih Beaini (LB) [with Raed Yassin (LB), Mazen Kerbaj (LB), Diana Miron RO),Bogdana Dima (RO)]
• Toresch (DE)
• Vladimir Ivkovic (YU/DE)
• Khidja (RO) 
Duminică, 9 iulie
• Lecture: Mircea Florian: the ever fascinating world of the Jew's harp 
• Artist talk: Octavian Nemescu (hosted by Andrei Tanasescu)
• Sâmbăta Sonoră x Outernational: Mazen Kerbaj solo / PFA Orchestra
• Stefan Fraunberger (AT) 
• Ogoya Nengo & The Dodo Women's Group (Kenya)
• Mark Ernestus' Ndagga Rhythm Force (Senegal)
• Florin Salam (live with band) (RO)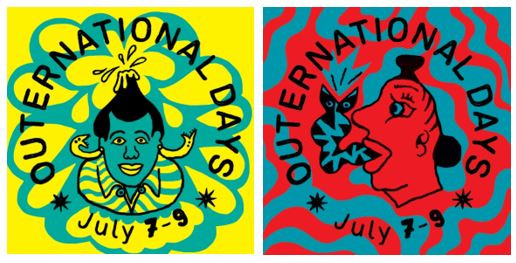 Pe lângă concerte, festivalul va prezenta o serie de DJ seturi tematice, discuții, instalații, ateliere, dezbateri, filme documentare și prezentări centrate în jurul conceptului Outernational.
Outernational se referă la genuri de muzică actuală, contemporană, specifice unor subculturi sau periferii din spațiul cultural ce nu se identifică în mod direct cu normele vestice / occidentale. Outernational se definește în opoziție cu International, având propriile forme de promovare și diseminare culturală, care funcționează și la nivel global, chiar dacă de cele mai multe ori vin din periferii, atât culturale, cât și geografice. Muzica asimilată ca fiind Outernational se regăsește pe tot parcusul Asiei Mijlocii, în Estul Asiei, Africa, Europa de Est, inclusiv în România.
Bilete la Outernational Days 2 sunt disponibile online.
Festivalul Outernational Days 2 este co-finanţat de Administraţia Fondului Cultural Naţional, în cadrul sesiunii de proiecte culturale I/2017, Aria Artele spectacolului – Muzică. "Proiectul nu reprezintă în mod necesar poziţia Administrației Fondului Cultural Național. AFCN nu este responsabilă de conținutul proiectului sau de modul în care rezultatele proiectului pot fi folosite. Acestea sunt în întregime responsabilitea beneficiarului finanțării."
*Susținut de către The Swiss Arts Council Pro Helvetia.