Ne-am adunat joi in Club Kadett pentru inca o lectie de comunicare, ghidata acum de Silvia Floares (New Business Manager, The Institute si Gala Societatii Civile) si Olga Berceanu (Account Executive, The Institute), care au vorbit despre managementul de eveniment. Silvia si Olga fac parte din echipa de 8 oameni de la The Institute, care organizeaza anual competitii de creativitate si eficienta dedicate marcom-ului - AdPrint, Romanian Effie Awards, ADC*RO Awards, Internetics - , la care se adauga Scoala ADC, Noaptea Agentiilor si proiectul editorial The Institute. Din dorinta de a largi publicul tinta, format pana in prezent din oameni din agentii, clienti si juniori care vor sa intre in industrie, incepand cu 2013 tot ei lanseaza si proiectul Romanian Design Week.
Pregatirea fiecarui proiect care se incheie cu o gala de premiere si cu o iesire la bere dureaza aproximativ trei luni si presupune parcurgerea a patru etape de baza: conturarea competitiei, unde se stabilesc structura, juriul si modalitatatea de inscriere a participantilor, branduirea competitiei astfel incat sa fie recunoscuta ca o autoritate in industrie, comunicare competitiei, care are rolul de a atrage inscrieri, de a promova partenerii si de a promova brandul de organizator, urmat de etapa de vanzari, spriin pentru partea de comunicare si competitie, echipa fiind responsabila cu atragerea partenerilor si a resurselor necesare pentru a avea loc proiectele.
Cercul nu se inchide aici - dupa finalizarea fiecarui proiect se trece la prezentarea de follow-up, care are un dublu rol: le arata partenerilor implicati ca lucrurile promise la inceput au si fost livrate, conditie de care depinde implicarea lor in proiectele urmatoare, si ajuta la vanzarea catre noi sponsori.
Intregul proces a fost ilustrat de Andrei Bortun (Owner, The Institute).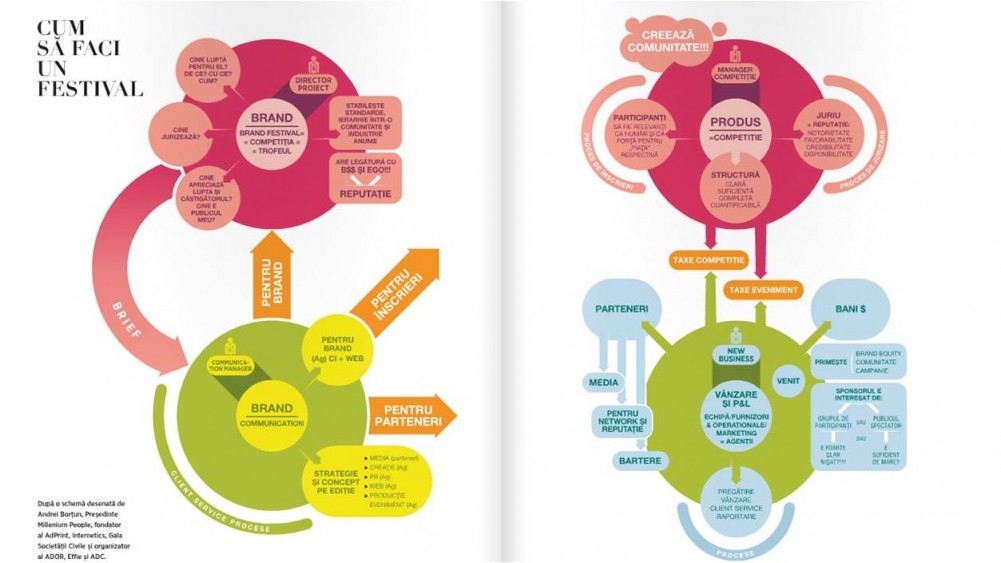 Daca, in cazul Effie Awards, The Institute e subcontractat de IAA si coordoneaza strict zona de inscrieri si organizare de eveniment, in cazul celorlalte proiecte trebuie gasita de fiecare data sustinere din partea unor sponsori, dat fiind ca veniturile obtinute din inscrieri nu acopera toate costurile legate de organizare, care variaza intre 5,000 euro pentru Noaptea Agentiilor si aproximativ 60,000 euro pentru o gala de premiere ca Internetics, incluzand aici costurile directe si indirecte.
"Lucrul in structuri sustinute de sponsorizari le e util celor care vor sa experimenteze si sa cunoasca specificul mai multor industrii, dar mai putin util celor care vor sa se specializeze pe un singur domeniu", le-a explicat Silvia cadetilor la ce sa se astepte daca se orienteaza spre astfel de proiecte.
Evenimentele companiei au fost sustinute punctual de branduri care se asociau unui anumit proiect, iar de un an incoace s-a alaturat un partener care sustine intreaga platforma de evenimente The Institute in 2013.
"Argumentul pentru sponsorizarea tuturor evenimentelor este ca la ele participa aceeasi comunitate, pe care brandurilor le e mai util sa o activeze de mai multe ori pe an decat sa o activeze punctual, in cadrul unui singur proiect", a explicat Silvia avantajul brandurilor care aleg o astfel de forma de sponsorizare. In ce priveste beneficiul organizatorului, acesta este evident: siguranta de a conta pe o suma de bani si de a putea planifica.
In cazul sponsorizarilor se pot face doua feluri de propuneri: branding in campania de comunicare, care presupune mai putin efort creativ dar necesitatea unei expuneri media mari, sau realizarea unor activari in timpul evenimentului.
In acelasi timp, acordarea unei sponsorizari responsabilizeaza organizatorul, care nu isi permite sa greseasca in fata unui client care asteapta ca totul sa mearga perfect. Aici intervin importanta de a alege moderatori care stiu sa improvizeze si sa se descurce cu audiente oricat de dificile, o echipa tehnica foarte buna care face ca totul sa mearga asa cum scrie in desfasurator si o organizare gandita pana in cele mai mici detalii.
Programul de talent scouting IQads Kadett este organizat de IQads. Cadetii sunt alesi in urma unui test de orientare si examinare online care verifica gradul in care personalitatea tinerilor se apropie de personalitatea ideala a principalelor meserii din industria de marketing si comunicare, testul fiind disponibil pe site-ului programului - www.IQadsKadett.ro.
Odata admisi in program, cadetii participa la o serie de training-uri si prezentari de case study-uri organizate special pentru ei in Clubul Kadett, aflat in sediul IQads. In plus, cadetii primesc invitatii la evenimente ale industriei, carti de specialitate, precum si sansa de a beneficia de stagii de practica in agentii si companii.