Curiosul, aventurierul, nonconformistul. De fapt, 3 in 1!
La Festa provoaca mintile deschise sa se alature si sa petreaca momente memorabile impreuna, in cadrul evenimentului de branded entertainment ADfel. Experimenteaza si tu "Courage a trois"!
In cadrul celei de-a opta editii ADfel, La Festa va demonstra ca este nevoie doar de putin spirit liber pentru a face ceva neconventional. In cabina "Courage a trois", participantii vor fi provocati sa-si deschida mintea, lasand prejudecatile si inhibitiile de o parte pentru a cunoaste oameni noi, intr-un mod cu totul surprinzator.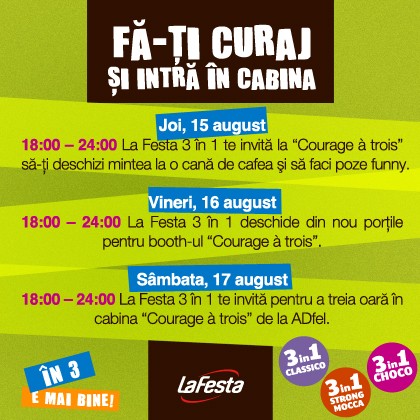 Pe parcursul a trei zile din saptamana ADfel, de Joi, 15 August, pana Sambata, 17 August, participantii vor gasi pe mesele de pe terasa Fabrica un QR Code care va deschide drumul spre distractie alaturi de inca doi oameni de pe terasa, alesi in mod aleatoriu.
Scanarea codului va duce participantii pe un landing page mobil, unde acestia se vor putea inregistra pentru a lua parte la aventura "Courage a trois". Odata ajunsi in cabina, cei 3 "necunoscuti" vor putea face poze traznite, dand nastere unei experiente de neuitat.
Atentie! Accesul permis exclusiv mintilor deschise!
Pentru mai multe detalii, intra pe pagina de Facebook La Festa Headz.
La Festa este unul dintre brandurile care vor aduce spiritul neconventionalului in cadrul ADfel. Evenimentul de branded entertainment este organizat de IQads si are loc pe terasa Fabrica (str. 11 Iunie, nr. 50, Bucuresti). Programul incepe in fiecare seara la ora 18.00, iar intrarea este libera. Pe Facebook.com/IQads si pe IQads.ro vor fi prezentate detalii despre programul fiecarei seri din cadrul evenimentului.
Puteti rasfoi suplimentul ADfel 2013, ca sa cititi despre activari neconventionale si sa aflati programul complet al evenimentului.
Partenerii media ai evenimentului sunt 24-FUN, Metropotam, Catavencii, Orasul Meu, 220.ro,Tataia, All Hollow, VICE, HipMag.ro, Times New Roman, Revista de Povestiri, Mixtopia, Realitatea.net, The Institute, SUB25, Money, BestJobs, The Chronicle si Radio Guerrilla. ADfel este organizat cu sprijinul Euromedia, Trade Media, 360Revolution, Carturesti, Elevate, MVcom si AdProduction.