La Festa 3 in 1 a provocat mintile deschise sa i se alature si a adus, pe parcursul a trei zile de ADfel, pretextul perfect pentru momente memorabile impreuna: o cabina in care va fotografiati direct in pat impreuna cu oricine voiati din terasa Fabrica. Courage a trois a fost pentru cei care au avut la purtator o doza de curaj si mintea deschisa. Si am avut o multime dintre ei la a opta editie ADfel.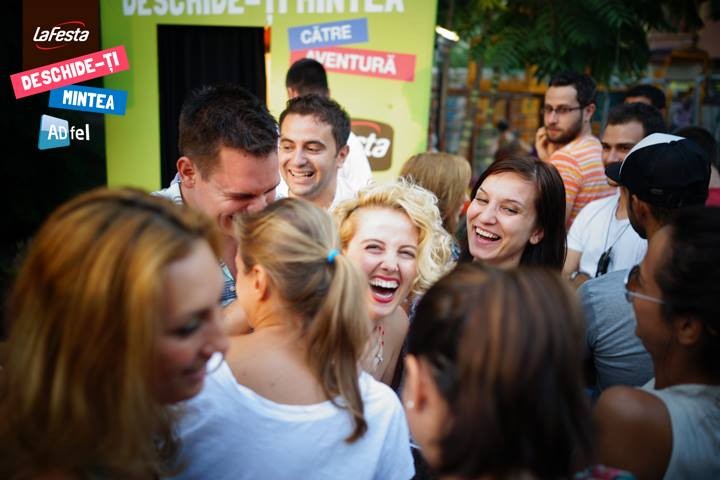 Pentru a le oferi curajosilor un mix de 3 in 1, La Festa a imbiat participantii la o mica aventura in (minim) trei. In cabina foto pe curajosi ii asteptau un pat, o patura si cateva mesaje indraznete care alcatuiau decorul unei scene pline de fantezie. Asa ca cei de la ADfel au lasat inhibitiile la o parte si au cunoscut oameni noi sau au reintalnit prieteni vechi, dar intr-un mod total surprinzator.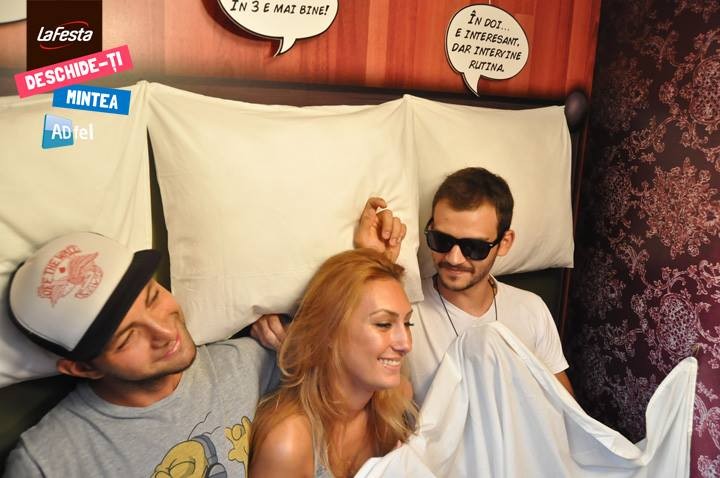 Iar pe cei care si-au intampinat prietenele si prietenii din terasa cu fotografiile incriminatoare, impreuna cu pliculetele de La Festa 3 in 1 primite, ii asteptam sa le arate si celor care nu au ajuns la ADfel. Ca sa poata imparti cu toti experienta din cabina Courage a trois, ii incurajam sa-si dea tag in pozele de pe pagina de Facebook La Festa Headz, unde am strans toate momentele din ziua 1, ziua 2 si ziua 3. Iar pe voi va invitam sa le vedeti expresiile, tot acolo.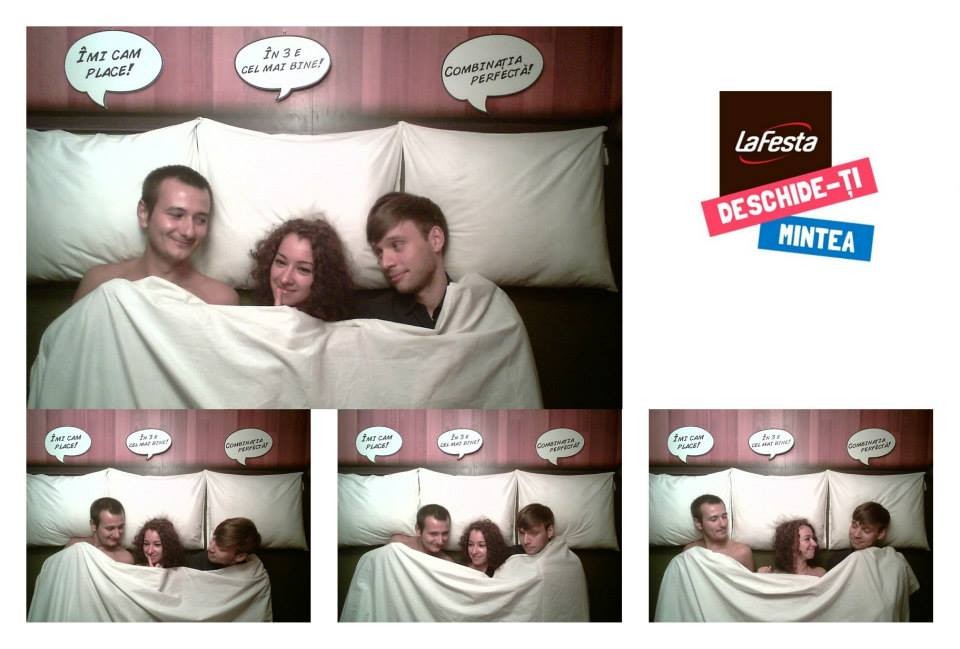 Activarea La Festa 3 in 1 a fost creata si implementata de Lowe & Partners. Echipele implicate in proiect sunt:
Lowe & Partners: Angearu Corina (Account Manager), Cristina Cenuse (BTL Director), Popescu Ruxandra (Junior Account Executive), Gogu Manuela (Creative Director), Elena Dospinescu (e-Thinker), Alina Nechita (Art Director), Andrei Munteanu (Copywriter), Dan Costea (Senior Art Director).
La Festa 3 in 1: Catalin Iagaru (Marketing Director), Raluca Matei (Junior Brand Manager).
ADfel: Marin Preda (Business Developer), Monica Dudau (Senior Project Manager), Cristi Avram (Senior Project Manager), Corina Pirva (Project Manager), Emil Truta (Junior Project Manager), Sonia Ardelean (Coordinating Editor), Anca Pantus (Editor), Ionut Maxim (Editor), Mihaela Craciunescu (Editor), Ioana Mihai (Project Manager), Diana Gandila (Audio Video Coordinator), Livia Plamadeala (Graphic Designer), Bogdan Grigore (Photographer).
La Festa 3 in 1 este unul dintre brandurile care au adus spiritul neconventionalului in cadrul ADfel, evenimentul de branded entertainment organizat anual de IQads. Pe Facebook.com/IQads si pe IQads.ro vor fi prezentate imagini si detalii despre fiecare activare in parte.
Partenerii media ai evenimentului sunt 24-FUN, Metropotam, Catavencii, Orasul Meu, 220.ro,Tataia, All Hollow, VICE, HipMag.ro, Times New Roman, Revista de Povestiri, Mixtopia, Realitatea.net, The Institute, SUB25, Money, BestJobs, The Chronicle si Radio Guerrilla. ADfel este organizat cu sprijinul Euromedia, Trade Media, 360Revolution, Carturesti, Elevate, MVcom si AdProduction.