Nu ai cum sa nu-l iubesti pe Clabucel, un personaj foarte popular la ADfel 2013. Pufos, vesnic zambitor si dispus sa stea la poze cu oricine si-a dorit o amintire fresh, Clabucel a atras toate privirile in zilele in care a fost prezent pe terasa de la Fabrica.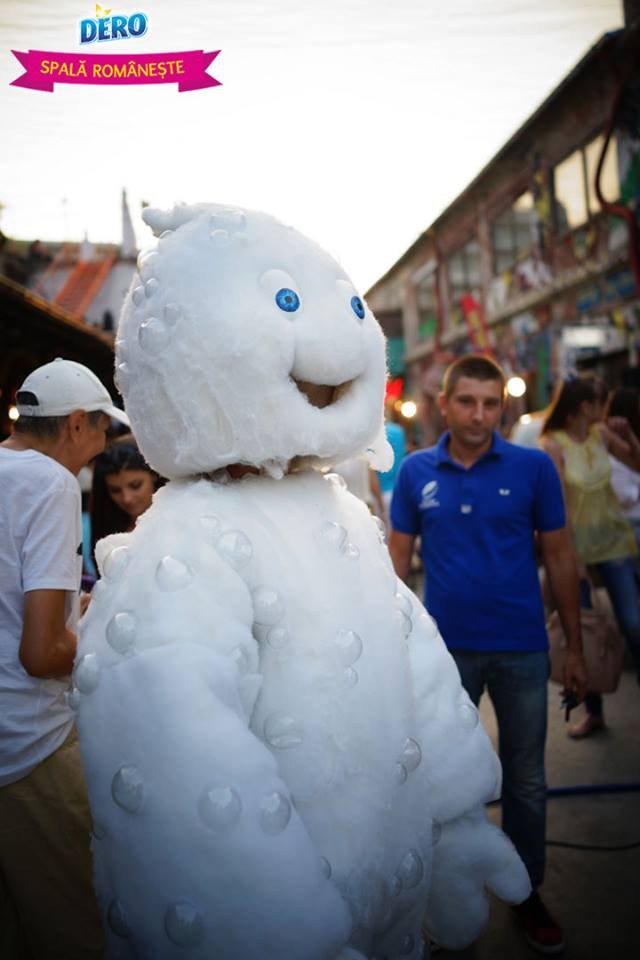 Clabucel a asteptat pe toata lumea chiar la intrarea in terasa intr-o mare de spuma, care a fost atractia celor mici, dar si a celor care si-au dorit un pic de balaceala. Oamenii s-au aruncat fara grija in pufosenie, pentru ca zanele de la Dero, ajutoarele lui Clabucel, au spalat cu spor tricourile ude in masinile de spalat si le-au pus la uscat pe sforile amplasate in zona Dero.
Dar fiti fara grija, nimeni nu a ramasa dezbracat, Clabucel a fost atent si-a impartit tricouri cu mesaje fresh celor care si-au lasat hainele la spalat. La final, fiecare a plecat acasa cu tricoul lui, dar si cu unul nou, de la Dero.
Clabucel a impartit multa dragoste si prospetime la ADfel, dar si multa spuma, care, ajutata de vant, a zburat pe deasupra terasei pana in spate. Nimeni nu a ramas neimprospatat de Dero si de Clabucel, iar tunul cu spuma a fost cel mai bland si prietenos tun facut vreodata.
Mai multe poze cu Dero si Clabucel gasiti in albumul dedicat de pe pagina de Facebook IQads (liber la tag).
Activarea Dero a fost creata si implementata de Mercury360 si Unilver. Echipele implicate in proiect sunt:
Din partea Mercury360: Ciprian Bof si Daniela Florescu.
Din partea Unilever: Adelina Marinescu, Oana Sbarlea, Iulia Boanca.
Din partea IQads: Marin Preda (Business Developer), Adriana Jescu (Sales Manager), Monica Dudau (Senior Project Manager), Cristi Avram (Senior Project Manager), Corina Pirva (Project Manager), Emil Truta (Junior Project Manager), Sonia Ardelean (Coordinating Editor), Anca Pantus (Editor), Ionut Maxim (Editor), Mihaela Craciunescu (Editor), Ioana Mihai (Project Manager), Diana Gandila (Audio Video Coordinator), Livia Plamadeala (Graphic Designer), Bogdan Grigore (Photographer).
DERO este unul dintre brandurile care au adus spiritul neconventionalului in cadrul ADfel. Evenimentul de branded entertainment este organizat de IQads si a avut loc pe terasa Fabrica (Str. 11 Iunie, nr. 50, Bucuresti, intre 12-18 august. Programul a inceput in fiecare seara la ora 18.00, iar intrarea a fost libera. Pe Facebook.com/IQads si pe IQads.ro vor fi prezentate detalii despre programul fiecarei seri din cadrul evenimentului.
Partenerii media ai evenimentului sunt 24-FUN, Metropotam, Catavencii, Orasul Meu, 220.ro,Tataia, All Hollow, VICE, HipMag.ro, Times New Roman, Revista de Povestiri, Mixtopia, Realitatea.net, The Institute, SUB25, Money, BestJobs, The Chronicle si Radio Guerrilla. ADfel este organizat cu sprijinul Euromedia, Trade Media, 360Revolution, Carturesti, Elevate, MVcom si AdProduction.