Odata cu lansarea grilei de programe pentru aceasta toamna Itsy Bitsy FM vine si cu noutati vizuale. Eroii Itsy si Bitsy au un nou look, modern, pe gustul copiilor si parintilor de astazi , adaptat identitatii de brand care vorbeste despre Bucurie in familie.
Schimbarea imaginii lui Itsy si a lui Bitsy a fost realizata cu sprijinul GO Studio, divizia de business a GMP Group, specializata in design grafic si branding, care a creat si identitatea noua de brand Itsy Bitsy, in urma cu un an.
"Am investigat diverse posibilitati grafice, dar ne-am bucurat cand ne-a venit ideea sa facem personaje modelate manual din fimo, inspirati fiind de animatiile de succes Shaun the Sheep sau Wallace & Gromit. Acum avem o gramada de posibilitati pentru a crea un univers viu si divers pentru eroii Itsy si Bitsy." declara Bogdan Stanciu (Head of design GO Studio).
Cu "haine" noi, Itsy si Bitsy isi asteapta prietenii zi de zi, de luni pana vineri intre orele 7:00 si 9:00 la ItsyBitsyNeata, singurul matinal pentru toata familia. Cu cei doi extraterestri, cei mici se bucura de trezire dimineata, iar parintii se pot ocupa veseli de pregatirile pentru gradinita sau scoala. In fiecare dimineata de septembrie Itsy si Bitsy ofera ascultatorilor un ghiozdan plin cu rechizite.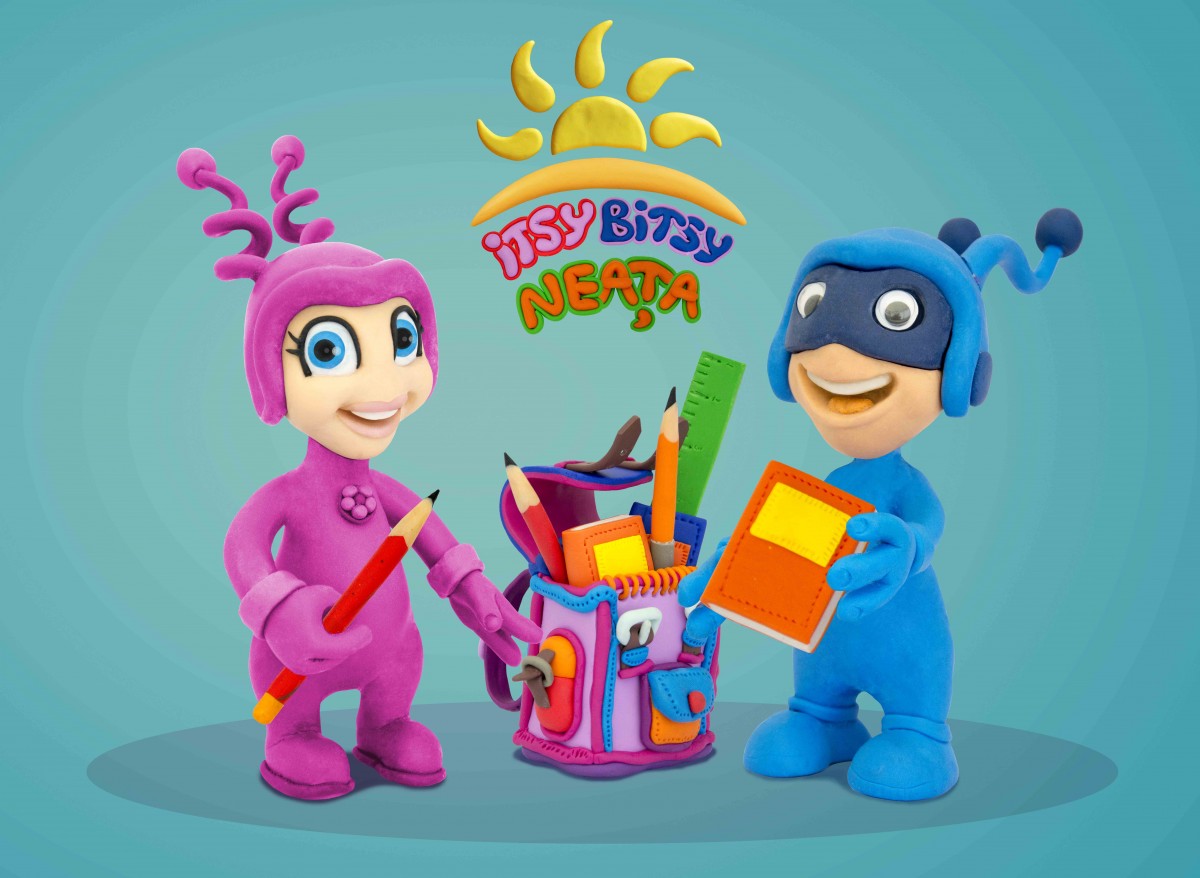 Avand programe adaptate publicului, multe emisiuni noi, muzica cea mai optimista si realizatori pasionati, Itsy Bitsy FM isi asteapta ascultatorii parinti si copii pe frecventele din toata tara si pe itsybitsy.ro, locul unde toate nevoile lor de distractie, relaxare si informare sunt satisfacute.
Brandul ITSY BITSY include singurul post de radio din Romania pentru parinti si copii, ateliere pentru parinti si copii si evenimente pentru timpul liber in familie. Itsy Bitsy FM emite in prezent in Bucuresti si in peste jumatate din teritoriul Romaniei.
Go Studio este divizia de business a GMP Group, specializata in servicii de design grafic si branding, infiintata in 2010. Experienta de succes a Go Studio este confirmata de brandurile din portofoliu.