Visual Playground s-a împrietenit cu cea mai frumoasă conferință din Europa de Est, The Power of Storytelling, și organizează două sesiuni de discuții și schimb de know-how cu două ilustratoare americane care vin în această toamnă în România: Wendy MacNaughton și Carson Ellis.
PROGRAM ȘI ÎNSCRIERI
Cele două talk-uri vor avea loc în mansarda Simbio (Negustori nr. 26) în zile diferite, după cum urmează:
◦ Miercuri, 12 octombrie, între 11:00 și 14:00 - Meeting Wendy MacNaughton
◦ Joi, 13 octombrie, între 11:00 și 14:00 – Meeting Carson Ellis
Accesul se va face pe bază de înscriere, în limita celor 15 locuri disponibile pentru fiecare talk. Pentru înscriere, este necesară completarea formularului online în perioada 22 septembrie – 7 octombrie.
În urma evaluării aplicațiilor de către organizatorii școlii, participanții admiși vor fi contactați pentru confirmarea locurilor ocupate. Pentru înscrieri nu este percepută nicio taxă, însă cei care se vor regăsi pe lista participanților selectați vor achita o taxă ulterioară în valoare de 100 de lei pentru sesiunea individuală la care au aplicat sau 170 de lei pentru accesul la ambele talk-uri.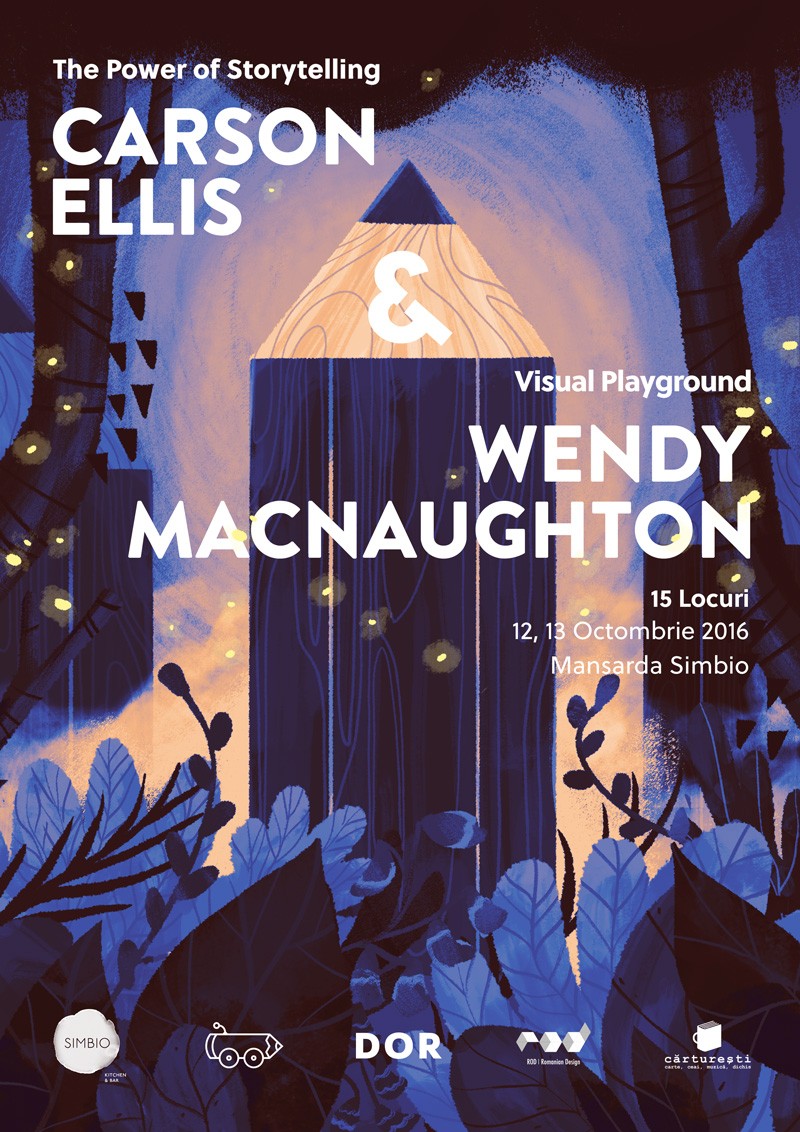 SPEAKERI
Wendy Macnaughton, ilustratoare și jurnalist grafic, revine în România pentru a șasea ediție The Power of Storytelling, după ce anul trecut a cucerit publicul conferinței cu povestea ilustrațiilor inspirate din viațile de zi cu zi ale oamenilor și comunităților care nu sunt în atenția reflectoarelor.
Lucrările ei au apărut în publicații precum New York Times, Pop-Up Magazine, GOOD Magazine și Wall Street Journal, iar două dintre cărțile pe care le-a ilustrat recent în colaborare cu partenera ei, Caroline Paul, au fost publicate și în limba română: Pisica Pierdută: O poveste adevărată despre iubire, disperare și tehnologie GPS (Editura Vellant, 2015) și Îndrăzneața. Escapade pentru o viață de aventuri epice (Black Button Books, 2016)
Pentru întâlnirea de miercuri, 12 octombrie, Wendy își propune să discute deschis cu ilustratorii locali atât despre experiențe creative cu care pot empatiza artiști din orice colț al lumii, dar, mai ales, despre un subiect care este destul de timid atins pe scena freelancerilor români: o conversație despre practicile de business din domeniu și despre importanța branding-ului personal, care să-i inspire atât pe cei la început de carieră, cât și pe artiștii consacrați.
Carson Ellis, ilustratoare și scriitoare de cărți pentru copii, vine pentru prima dată în România, la The Power of Storytelling. Carson semnează ilustrațiile de pe coperțile albumelor trupei indie folk rock The Decemberists (soțul ei, Colin Meloy, este vocalistul și compozitorul trupei și unul dintre invitații de anul acesta ai conferinței), iar printre cele mai recente cărți ilustrate de ea se numără bestseller-ul New York Times Home (Acasă), pe care-l semnează și în calitate de autor, şi Cronicile Wildwood, o trilogie scrisă de Colin Meloy.
Tehnicile de lucru pe care le preferă sunt de obicei tradiționale, îi place cum arată lucrurile desenate de mână și, atunci când ilustrează, încearcă să uite regulile învățate în facultate și să deseneze ca atunci când era copil.
Pe 13 octombrie, în mansarda Simbio, Carson va împărtăși ilustratorilor locali o serie de insight-uri despre munca în industria de carte pentru copii, aducând în discuție atât aspecte specifice cât și guideline-uri generale, universal aplicabile.