Michael O'Leary, CEO-ul Ryanair, companie aeriană irlandeză, este destinatarul unei scrisori deschise, semnată de Societatea civilă românească, prin care companiei i se cere încetarea relațiilor comerciale cu "unul dintre cele mai înșelătoare posturi TV din România". Autorii scrisorii, care au ales să rămână anonimi, cer companiei irlandeze să nu mai folosească contextul politic actual din România pentru a-și promova propriile interese comerciale. Mai mult, scrisoarea solicită respect din partea companiei față de lupta actuală a poporului român pentru democrație, dreptate și statul constituțional.
Pentru versiunea în limba engleză a acestui articol, click aici.
Conținutul complet al scrisorii semnate de Winter Rising:
OPEN LETTER FROM THE CIVIL SOCIETY OF ROMANIA
TO MICHAEL O'LEARY, CEO OF RYANAIR

In the name of the hundreds of thousands of souls who have been defending the constitutional state from the corrupt interests of the political class, in the freezing cold, for the 9th night in a row, and of the past generations who fought our revolution and died for the nation's ideals, freeing us from the communist regime, Romania summons her children to her flag and strikes for her freedom.
​
Having endured years of chaos where there should have been leaders, theft where there should have been prosperity, manipulation where there should have been rightful information, she now seizes that moment, a moment to be governed with the right intentions, honorably and in pursuance of the law, relying on her own strength and on that of its people, she strikes hopeful towards victory.
​
We declare the right of the Romanian people to the ownership of Romania, and to the unfettered control of our destinies, to be sovereign and indefeasible. The long usurpation of that right by greedy statesmen, deceiving media outlets, and double-dealing company owners has not extinguished this right, nor it can ever be extinguished except by the destruction of the Romanian people.
​
The Irish Republic guarantees religious and civil liberty, equal rights, and equal opportunities of all its citizens, and declares its resolve to pursue the happiness and prosperity of the whole nation and of all its parts. The Romanian civil society therefore believes that any Irish-held company should bestow the same treatment of respect and opportunity to the citizens of the countries where it prospers in business.
​
Any attempt to hijack the honest fight for justice of the Romanian people and use it to promote a company's corporate interests while funneling money to one of the most deceitful Romanian media outlets, run by a convicted corrupt mogul, is therefore deeply condemned, and regarded with disapproval by the Romanian civic society.
​
We ask you to terminate your alliance to the coward, inhuman, and liars. In this supreme hour, we ask you to prove yourself respectful of the sacrifice of the Romanian people, who continue to fight for democracy, justice, and the constitutional state.
​
@WinterRisionRo
Scrisoarea adresată lui Michael O'Leary este inspirată de Proclamarea Republicii (Easter Proclamation), un document aparținând Voluntarilor Irlandezi și Armata Cetățenească Irlandeză din timpul Rebeliunii de Paști (Easter Rising) din Irlanda, în 1916, prin care se proclama independența Irlandei față de Regatul Unit.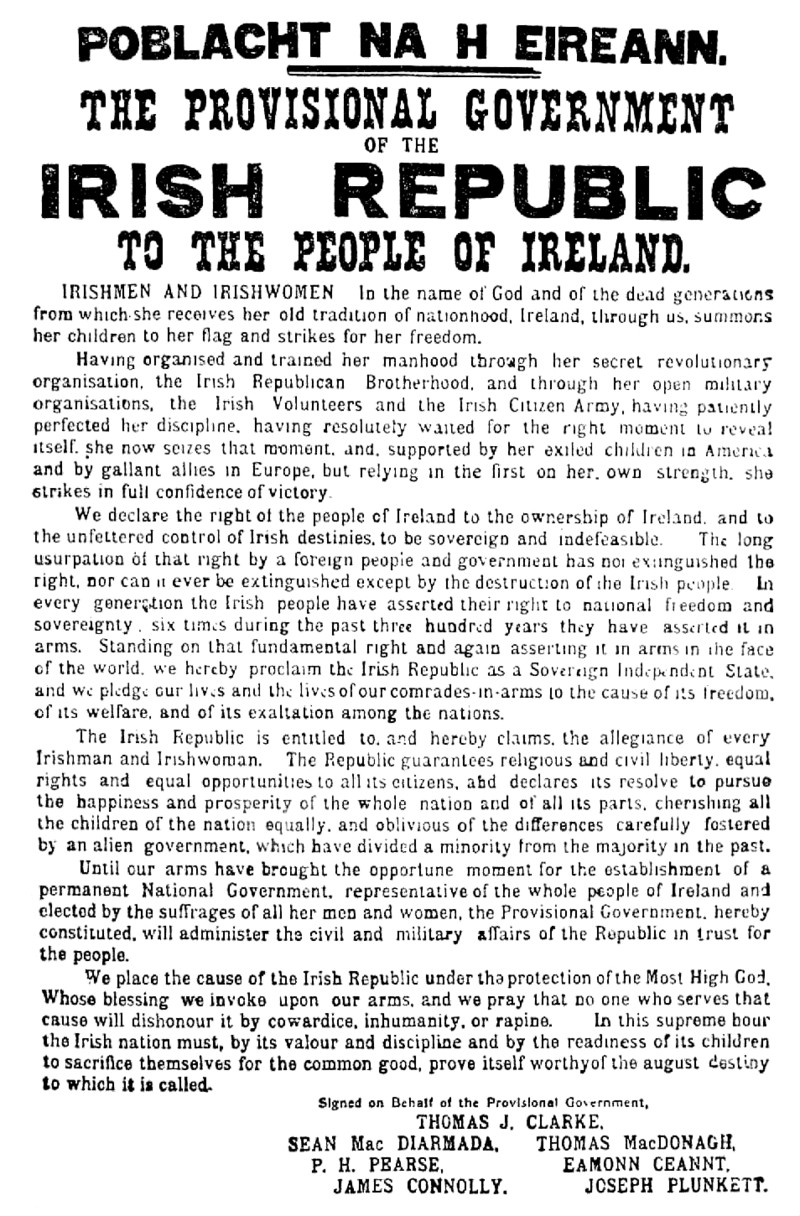 Proclamarea Republicii (Easter Proclamation) din 1916
Protestul exprimat prin această scrisoare deschisă urmează campaniei de real-time marketing, derulată de Ryanair pe 3 februarie 2017, prin care compania alătura o referire la protestele în curs din România unui mesaj comercial. În aceeași perioadă, Ryanair derula o campanie de publicitate pe Antena 3, post de televiziune acuzat de prezentarea intenționată a unor informații false și partizane în timpul protestelor împotriva Ordonanței de Urgență 13/2017 prin care se decriminalizau o serie infracțiuni privind anumite tipuri de corupție.
Postul TV a fost amendat recent de Consiliul Național al Audiovizualului (CNA) pentru acuzații ce nu au fost susținute prin dovezi aduse unor persoane și instituții. CNA, garantul interesului public și unică autoritate de reglementare în domeniul comunicării audiovizuale din România, a primit o serie de reclamații împotriva informării false în timpul emisiunilor Antena 3 din timpul protestelor; instituția nu a comunicat încă o decizie oficială în privința acestora.
Antena 3 face parte din trustul Intact media Group, fondat de Dan Voiculescu, politician și om de afaceri român închis în prezent în Penitenciarul Rahova pentru o condamnare de zece ani în dosarul privatizării frauduloase a Institutului de Cercetări Alimentare. Criticii Antena 3 susțin că Dan Voiculescu ar fi urmat să beneficieze de schimbările inițiale aduse Codului Penal și Codului de Procedură Penală prin OUG 13/2017, fiind eligibil pentru grațiere și eliberare din închisoare înaintea termenului impus de instanța de judecată prin decizia finală de condamndare. Legea grațierii a fost ulterior înlăturată din textul inițial al ordonanței de urgență, fiind transformată într-un proiect de lege, trimis Parlamentului, unde va fi analizat, dezbătut și votat, conform procedurii standard a Parlamentului.
Românii protestează în Piața Victoriei împotriva OUG 13/2017, ordonanța de urgență a Guvernului aprobată în noaptea de 31 ianuarie 2017 prin care se decriminalizau o serie de infracțiuni privind anumite tipuri de corupție, ca abuzul în serviciu și neglijența în serviciu. Protestul, început pe 18 ianuarie 2017, continuă la ora actuală. Aproximativ 500.000 de persoane au ieșit în stradă pe 5 februarie 2017, ziua în care s-a înregistrat cel mai mare număr de participanți până acum.
Pentru versiunea în limba engleză a acestui articol, click aici.
-------
Acest articol face parte din seria editoriala "Etica in publicitate"