Povesteam, vineri, ca nu e de ajuns de trista moartea, ea mai trebuie comentata si de politicienii romani pe internet. Unele morti, insa, starnesc si reactii cuviincios amuzante. 
De exemplu, sfarsitul lui Ingvar Kamprad, fondatorul Ikea, care a murit la 91 de ani. Ingvar a fondat Ikea la 17 ani si a condus-o pana in 2013, cand s-a retras din consiliul director si  l-a lasat in locul lui, pe fiul sau.
In 1976 a scris un manifest, "The Testament of a Furniture Dealer", care continea principiile sub care a fondat compania. Printre acestea:
Simplicity is a virtue

Doing it a different way

Taking responsibility – a privilege

Most things still remain to be done. A glorious future! (Bear in mind that time is your most important resource. You can do so much in 10 minutes. Ten minutes, once gone, are gone for good. You can never get them back).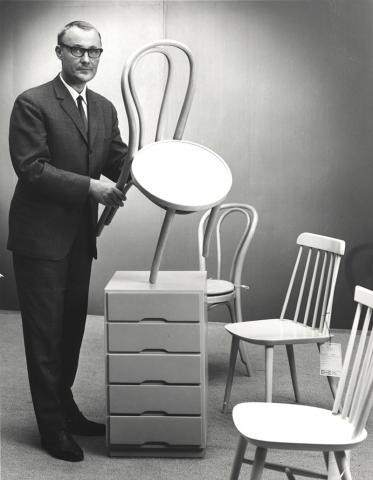 Politicieni si oameni obisnuiti si-au luat la revedere pe Twitter si pe Facebook, povestind detalii mai putin stiute din lunga si neobisnuita viata a lui Ingvar.  Compania a anuntat moartea fondatorului ei pe Facebook:
Unii au amintit si de legatura lui cu nazistii, legatura pe care fondatorul Ikea a recunoscut-o, spunand ca o regreta profund.
Una dintre cele mai share-uite reactii, insa, a fost o caricatura (oarecum previzibila):
A avut o varianta asemanatoare si in Romania:
Si, daca ne luam dupa reclamele companiei si tonul lor, de multe ori auto-ironic, sau povestile despre viata fondatorului ei, am putea sa spunem ca Ingvar ar fi apreciat gluma.