Bucharest Technology Week anunță primii speakeri pentru cea de-a treia ediție, programată între 14-20 mai, în Capitală. Twitter, Microsoft, iNostix by Deloitte, Air France KLM sunt primele companii ai căror lideri au confirmat prezența la summiturile de business din cadrul Bucharest Technology Week 2018.
În 4 zile din săptămâna tehnologiei, între 15-18 mai, la Athénée Palace Hilton, sunt așteptați peste 50 de speakeri internaționali și locali, iar primii confirmații sunt:
Sergei Bykov - Principal Software Engineering Manager - Microsoft
Dmitri Soshnikov - Academic Developer Evangelist  - Microsoft
Josh Silverman - Design Operations - Twitter
Bruno Bossola - Java Champion, Co-founder - io
Luk Smeyers - Co-Founder & Practice Leader at iNostix by Deloitte
Dierk Koenig - Professor for Computer Science & Java Champion, Fellow at Canoo Engineering AG
Ben Whitter - Founder of the World Employee Experience Institute
Matthias Dobbelaere-Welvaert - Founder of theJurists Europe (deJuristen)
Yanislav Malahov - Founder æternity & The Godfather of Ethereum
Tom Haak - Director at HR Trend Institute
Guido Helmerhorst - Innovation Technology and Learning Lead- Air France KLM
Alex Thissen - Cloud architect -  Xpirit
Roland Guijt - Microsoft MVP, Pluralsight author, trainer, consultant
Hendrik Ebbers - Java Champion -Software Engineer Canoo
Raffaele Rialdi - Chief Software Architect & Consultant - Microsoft MVP
Dan Cuellar - founder Appium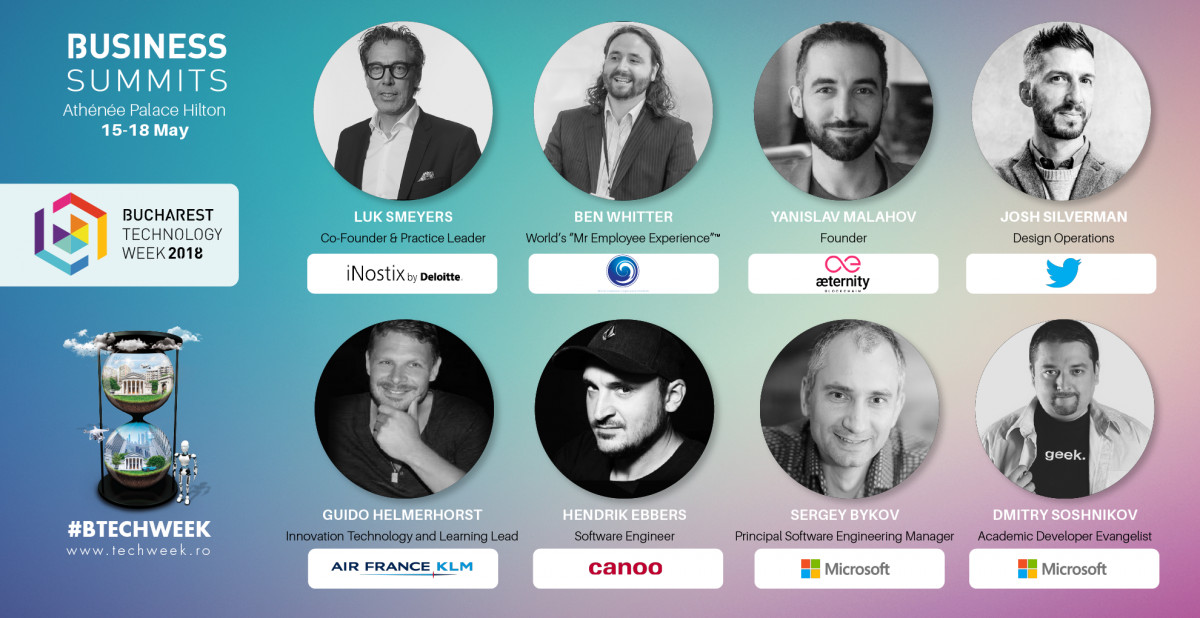 Business Summiturile propun topicuri dintre cele mai actuale și mai dezbătute în marile comunități de specialiști din domenii precum HR, Fintech, Java și .NET.
"Prioritățile noastre în privința summiturilor de business sunt să selectăm cele mai hot topicuri în materie de tehnologie în business și să găsim cei mai buni speakeri care să le expună într-o manieră interactivă, dar mai ales practică.

Credem foarte mult în puterea feedbackului și ne-am dorit să punem în aplicare tot ceea ce participanții primelor ediții ne-au sugerat. Astfel că am urmărit să găsim o serie de profesioniști de top, care să fie dispuși să primească informații valide despre mediul de business din România și să le transmită participanților nevoia imediată de a implementa noile tehnologii.

Asadar, un important aspect în organizarea conferințelor de business este să le oferim speakerilor un nivel înalt de înțelegere a provocărilor pe care le întampină profesionistii români. Adăugând factorul-cheie și anume vasta lor experiență în companii internaționale de renume, reușim să le aducem participanților la conferințe  informații extrem de valoroase, relevante și specifice pentru tipul lor de activitate", a explicat Cătălina Manea, project manager Bucharest Technology Week.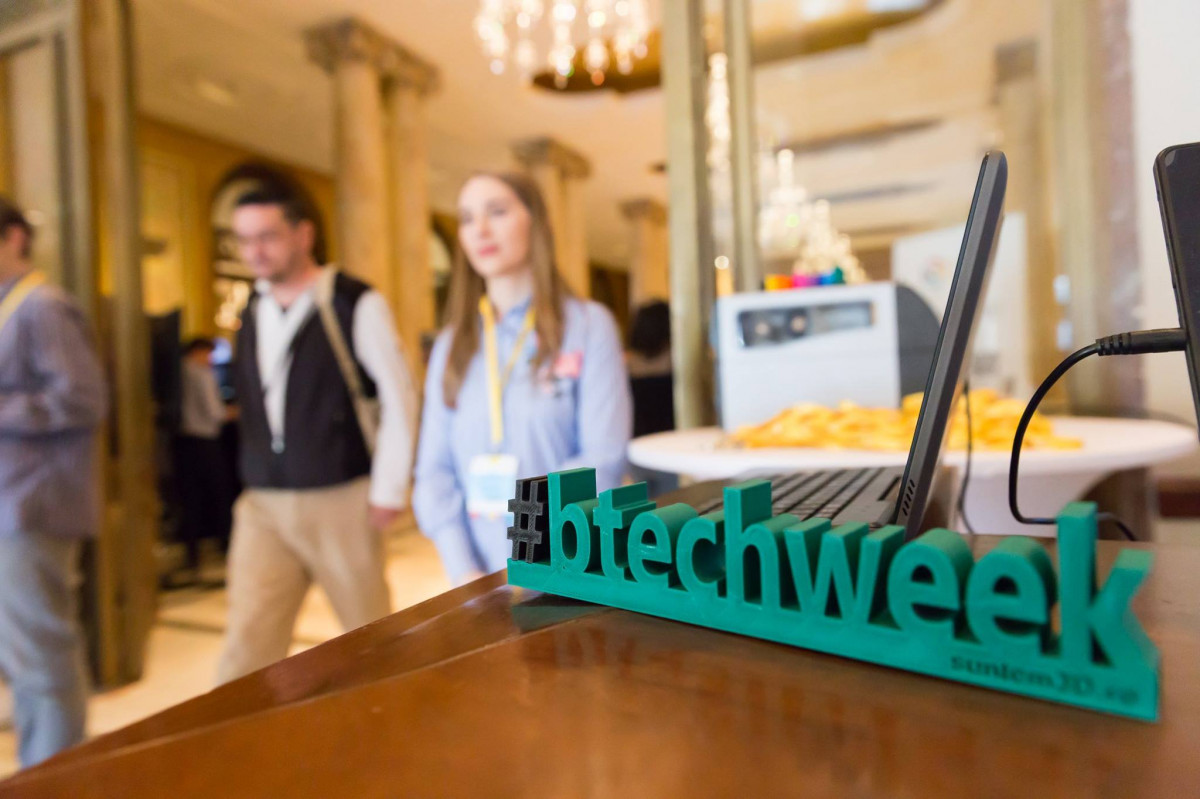 Astfel, întâlniri interesante se anunță la: "Experiența Angajaților", sesiune  susținută de Ben Whitter, cunoscut drept World's "Mr Employee Experience"™, dar și "Inteligență Artificială și Machine Learning", cu Dmitry Soshnikov, Microsoft Evangelist cu o solidă reputație internațională. De asemenea, Dierk Koenig, profesor de informatică la Universitatea de Științe Aplicate și Arte din Elveția, dar și  fellow @Canoo, a cărei misiune este să "să-i facă fericiți pe utilizatori", va vorbi despre "Polyglott Java, o platformă pentru multe paradigme".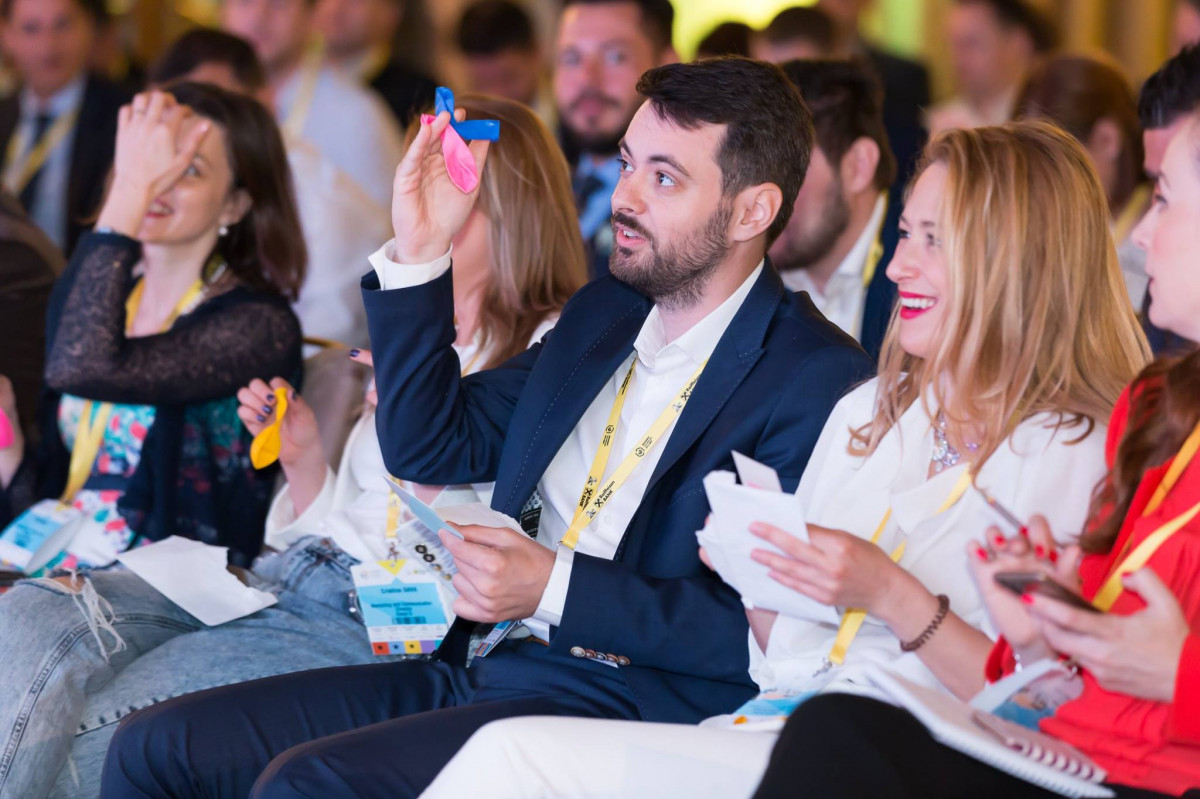 Accesul la conferințe se face prin înregistrarea online, pe site. Până în 3 aprilie, biletele sunt în perioada Early Bird, care oferă o reducere de 80 euro față de prețul final.
Raiffeisen Bank este partenerul principal Bucharest Technology Week 2018
Summiturile de business din cadrul Bucharest Technology Week sunt susținute de:
IQOS  - Innovation Summit Partner
UiPath  -  .Net Summit  Partner
Sponsorii evenimentului sunt: Deloitte România, AirMotion, Admiral Markets, Luxoft, Crossover Romania, InCrys
Networking & Coffee Partner: L'OR
Partenerul digital al evenimentului este Bright Agency