Inteligența artificială folosită pentru prima oară în cadrul expoziției.
One Night Gallery dedică prima ediție de anul acesta Anei Bănică și introduce în cadrul evenimentului o nouă componentă - transferul de stil artistic, prima tehnică de inteligență artificială folosită live în expoziția imersivă de new media art. Evenimentul va avea loc sâmbătă, 30 martie, de la ora 20, la Casa Monteoru (Calea Victoriei, nr. 115). Intrarea este liberă.
Ana Bănică, designer și artist vizual, este îndrăgostită de culorile vii și contrastele puternice pe care le obține în guașă, prin forme pline, bine definite.
Creaturi mitologice, animale sălbatice, pisici și păsări mari și mici – împreună fac parte din jungla imaginată de Ana, care pentru o seară va pune stăpânire pe Casa Monteoru, monument istoric înălțat la sfârșitul secolului XIX.
Camerele înalte, grădina ascunsă și detaliile în stil eclectic vor fi suport pentru noi medii de expresie prin care lucrările Anei Bănică vor fi transpuse.
Folosind noua aplicație dARe by Samsung, disponibilă gratuit în Google Play și App Store, personajele din ilustrațiile analog vor prinde viață în realitate augmentată.
Invitații vor putea cerceta jungla colorată, înconjurați de video proiecții semnate de Aural Eye și instalații interactive de H3. O plimbare pe aleea din Globalworth District, o cursă cu Uber Green în mijlocul naturii, o întâlnire în realitate virtuală cu centarui, păsări și girafe sau o vizită subacvatică sunt doar câteva dintre experiențele pe care vizitatorii le pot descoperi la eveniment.
Pe lângă toate acestea, prima ediție din 2019 vine cu o nouă componentă care îmbină arta și tehnologia – în premieră în România, transferul de stil artistic va fi folosit live, prin intermediul unei soluții dezvoltate in-house, care permite folosirea în timp real a inteligenței artificiale (IA) pentru generarea unor noi imagini și filmări, cu stiluri învățate anterior de sistem, prin analizarea mai multor lucrări ale Anei Bănică.
Această tehnică se bazează pe deep learning și rețele neuronale – un software capabil să învețe singur din exemple. După analiza lucrărilor Anei Bănică, IA distinge și memorează trăsături mai mult sau mai puțin evidente care țin de stilul artistic al lucrării: culori, forme, tușe, accente.  Aceste trăsături vor fi folosite pentru prelucrarea alor imagini, în care IA va redesena stilul deja învățat.
Astfel, la eveniment, vizitatorii vor putea să își facă fotografii și să se filmeze în timp ce sunt transpuși din punct de vedere stilistic în una dintre lucrările Anei Bănică. Cei curioși pot scana afișul evenimentului cu aplicația dARe by Samsung pentru un preview al rezultatului obținut de IA prin scanarea lucrărilor Anei Bănică.
Vernisajul va fi urmat de un after party care va amplifica experiența multisenzorială prin VRTW Artists. După eveniment, parte din expoziție va fi expusă în Globalworth District, într-o galerie interactivă de două săptămâni.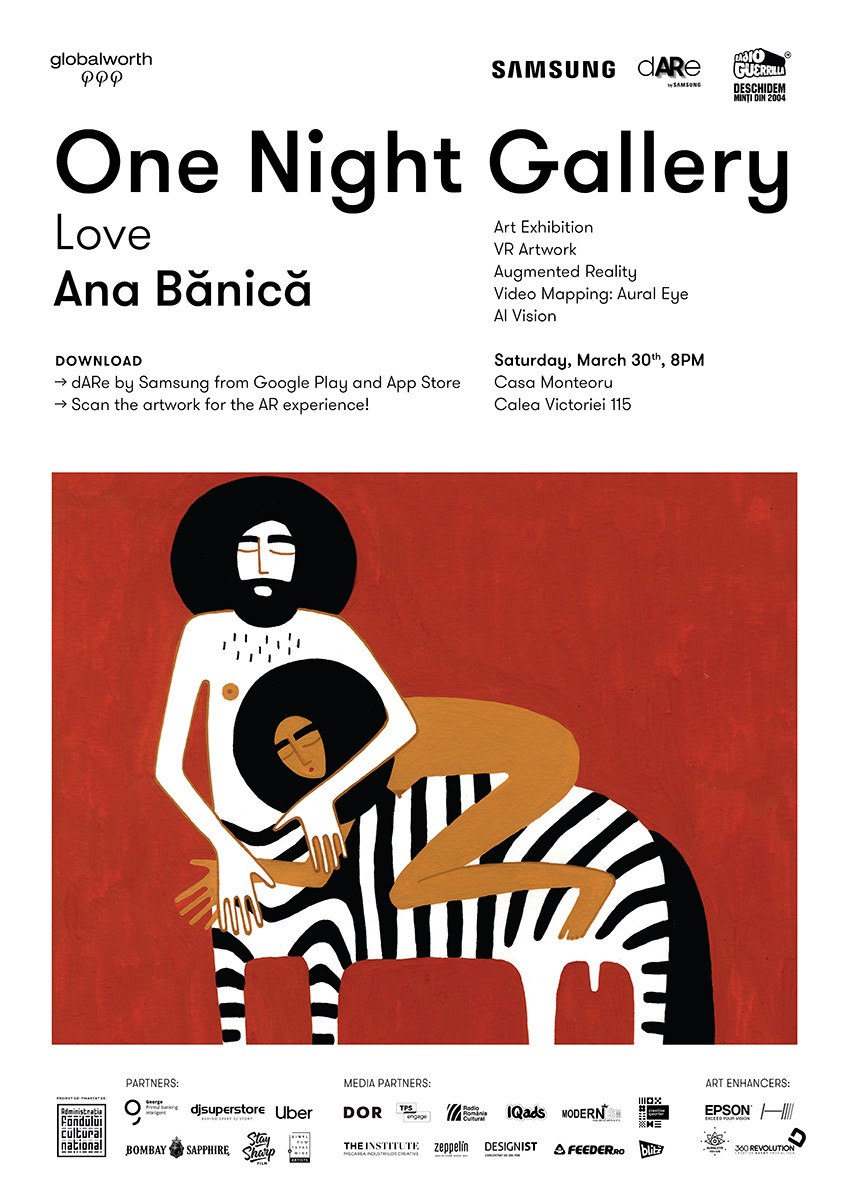 Un proiect co-finanțat de Administrația Fondului Cultural Național.
Partenerii One Night Gallery sunt: Samsung & dARe by Samsung, Globalworth, George. Primul Banking Inteligent.,  Tastemakers, Stay Sharp, 360 Revolution, Aural Eye, H3, Bombay Sapphire, VRTW Artists, TPS Engage, DJ Super Store, Radio Guerrilla, IQads, Zeppelin, Modernism.ro, Decât o Revistă, The Institute, Designist, Feeder.ro, Radio România Cultural, Blitz TV.
Locațiile partenere One Night Gallery sunt: M60, Beans & Dots, Apollo 111, The Institute, Control, Simbio, Teatrul Odeon, Modul Cărturești, The Plot, Flying Pig, Energiea, J'ai Bistro, Globalworth Campus, Globalworth Tower, Globalworth Plaza, clădirea Gara Herastrău, BOC, Green Court.