George, primul banking inteligent, pune la bataie, prin concurs, 4 burse pentru tinerii designeri la specializarile The Alternative School.
Recunoasteti, o competitie care sa va puna imaginatia la treaba e o solutie buna pentru evadarea din letargia de pandemie, mai ales ca miza e dubla: acces la niste speakeri foarte tari, in contextul scolii si daca sunteti cei mai buni – calificare in competitia digitala de la YoungLions Design, via Cannes Lions.
Toate astea se intampla in mai putin de 2 luni. Suna bine, nu-i asa?
Asa ca daca lucrezi in comunicare, ai pana in 30 de ani, esti pasionat de design, gandire creativa si vrei conectare cu mediul international, cauta-ti un coechipier si aplica, pana pe 6 aprilie, cu o rezolvare la brieful George. (La finalul articolului sunt de regasit, in detaliu, toti pasii aplicatiei, dar pana atunci merita sa descoperi ce experiente te-asteapta daca te califici.)
Uite cine jurizeaza
Andrei Besliu – Group Creative Director - Cohn & Jansen, Katerina Todorovski – Senior Brand Manager George, Adrian Saveanu – Brand Manager George, Alexandru Ilie – Jr. Brand Manager George, Filip Gonzacenco – Senior Art Director la Publicis Paris, veteran al Scolii, fost Young Lion si Teodora Migdalovici – fondatoarea The Alternative School sunt cei care vor evalua candidaturile pentru bursa.
Ei vor reintra in scena si la evaluarile de semestru, alaturi de alte nume relevante din creativitatea globala, selectate din randurile speakerilor la scoala.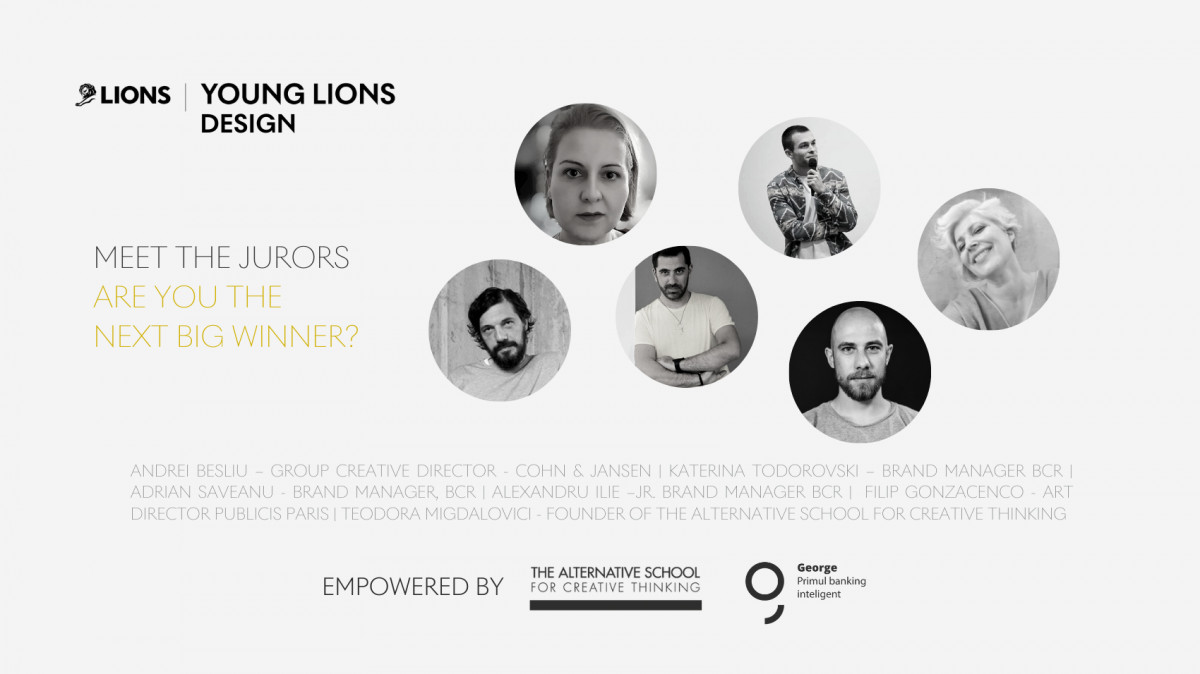 Lumea buna a designului mondial vorbeste la The Alternative School
Alaturi de voci locale, speakeri cu povesti profesionale fascinante din Franta, Germania, Qatar, Rusia, Singapore, UK, UAE fosti jurati si detinatori de distinctii la D&AD, Red Dot, Penta Awards sau Cannes Lions, vor sustine, din 13 aprilie, pentru mai bine de 6 saptamini, cursuri de nisa, oferind participantilor mentorship, acces la studii de caz relevante si ghidaj in rezolvarea brief-urilor de semestru.
Ana Curbelo – Ilustrator si GIFer, UK, Andrei Besliu – Cohn & Jansen, Anca Ifrim – Heist Industries, Bianca Dumitrascu – type & graphic designer @biancadumitrascu.com, Basma Hamdy – VCU Qatar, Guan Hin Tay, BBDO Singapore, Davor Bruketa – Bruketa Zinic, Croatia, Jamie Ellul – Soupple Studio, UK, Jane Struk –Depot, Moscow, Filip Gonzacenco – Publicis Paris, Malik Benamara – CD, Hamburg, Vidya Manmohan – V4Good, Emirate, Uwe Melichar, Melichar Bros - Germania, Teodora Migdalovici fondatoarea scolii, sunt doar o parte dintre speakerii semestrului.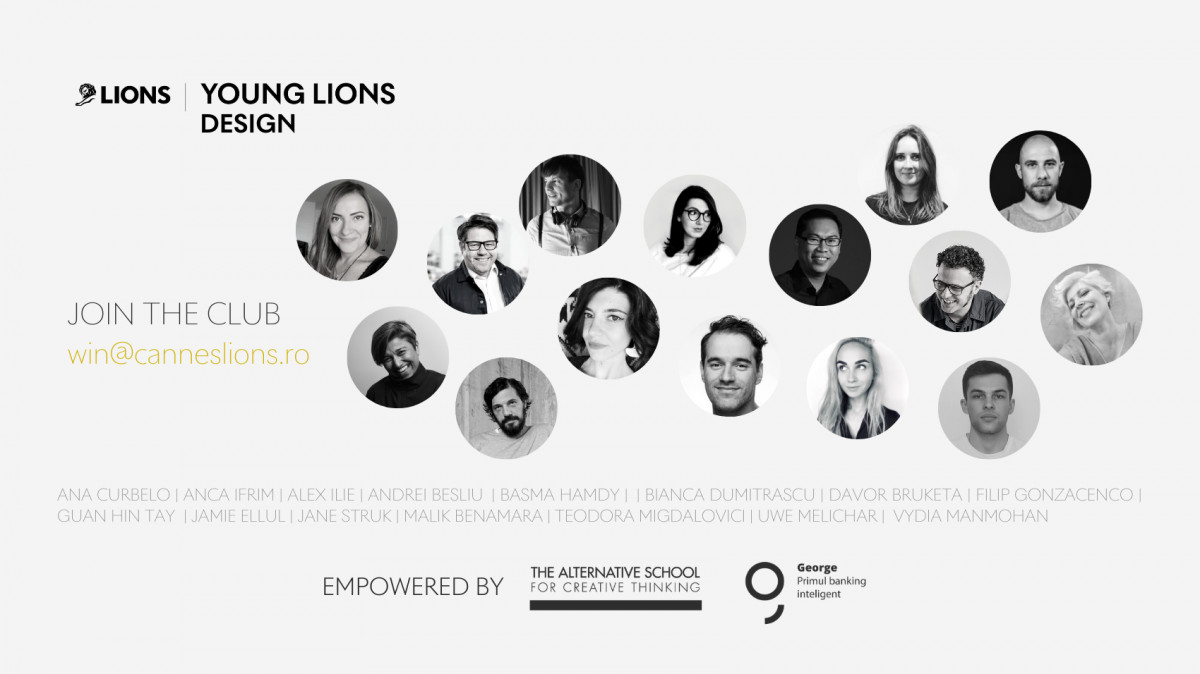 Ca in fiecare an, trainingurile sunt dublate de competitii pe modelul unor olimpiade creative, intr-un mediu prietenos, unde ai de invatat – sau de furat meserie, de la caz la caz – nu doar de la profi, ci si de la colegii de generatie, unii mai inspirati si mai talentati decat altii. (Si daca nu ne crezi pe cuvant, intreaba-i pe veteranii celorlalte 16 editii cum stau lucrurile, ca sa te lamuresti -)
Cand si cum @ TheAlternativeSchool
Recomandate de George, primul banking inteligent, cursurile The Alternative School vor avea loc on line, martea, joia (7 la 9 PM) si sambata (11-1.30) in Aprilie si inceput de Mai. Echipa ce va reprezenta Romania la YoungLionsDesign intra in competitia digitala pe 31 Mai, rezolvand in 24 de ore un brief dat de o organizatie de caritate (creare de logo + povestea brand-ului). Lucrarile competitorilor din toata lumea vor fi analizate live de juriul Cannes Lions. Si cine stie, poate ca e fix randul tau sa aduci acasa o medalie. Nu de alta, dar exista niste antecedente memorabile si ele merita aduse la zi de noua generatie de creativi.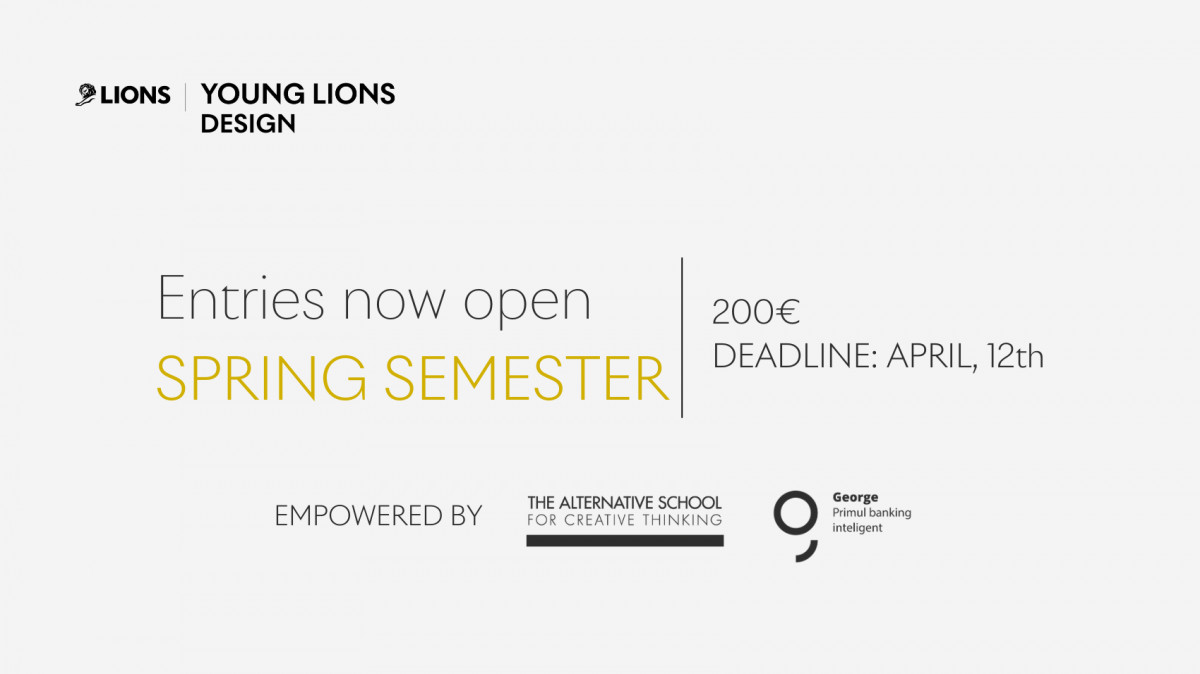 Despre performanta in educatie creativa
Gold la Design & Cyber, Bronz la Print, Gold la Storytelling Academy, Honorable Merit la Young Marketers, de 3 ori gold la Roger Hatchuel sunt cateva dintre distinctiile castigate de fostii studenti ai The Alternative School in competitii internationale de creativitate. Cum ziceam, poate ca ti-a venit randul sa iesi din multime, asa ca, fie inscrie-te la scoala contra cost (200 E de persoana sau 300 E/ echipa), fie salveaza-ti resursele, hai cu aplicatia si castiga una dintre cele 4 burse disponibile acum. Oricum ai lua-o, nu mai ai scuze pentru procrastinat prin scrollat.
Brieful George pentru bursca The Alternative School
Uite ce-i de facut:
1. CREATIVE PERSONA PE FACEBOOK
Construieste impreuna cu coechipierul tau un profil de creative persona, pe Facebook, tot acolo unde veti posta si solutia briefului. Profilul trebuie sa contina un logo, slogan si scurta descriere (150 cuvinte povestea brand-ului, 150 de cuvinte despre cum va evolua acesta).
Imaginati-va ca detineti un studio de design. Cum se numeste, cum arata identitatea lui, care-i sunt aspiratiile si diferentiatorii?
Profilul poate fi creat de o echipa (doi creativi - formula recomandata) sau poate fi un demers individual.
2. REZOLVATI BRIEF-UL BURSEI
Uploadati solutia brief-ului intr-un album dedicat, pe profilul de Creative Persona de pe Facebook.
3. 6 APRILIE, DEADLINE-UL APLICATIEI
Trimiteti link-ul profilului si rezolvarii catre win@canneslions.ro pana pe data de 6 Aprilie.
4. 8-11 APRILIE: ANUNTAREA CASTIGATORILOR
Juratii vor evalua atit profilul de creative persona, cat si modul in care e rezolvat brieful si vor face media. Rezultatele clasamentului se anunta intre 8 – 11 aprilie. Spor si inspiratie, abia asteptam sa vedem aplicatiile.
Despre George
George este primul banking inteligent din Romania si se adreseaza tinerilor profesionisti din segmentul 18-35, cu studii superioare, venituri peste medie, deopotriva barbati si femei, toti cunoscatori ai mediului digital.
Iubeste arta, tehnologia, inovatia, designul si face parte din toate conversatiile importante ale momentului.
The Alternative School for Creative Thinking & Cannes Lions
De peste 16 ani, The Alternative School for Creative Thinking descopera, educa, formeaza, recruteaza și ofera mentorat tinerilor talentati, conectandu-i cu mediile internationale. Aflata la a 67 editie in 2021, Cannes Lions este cea mai influenta platforma de networking, studiu si competitie dedicata comunitatii de marketeri si creativi, la nivel global.