IQool spune START recrutărilor și te așteaptă în echipa voluntarilor responsabili și creativi! Începând cu data de 8 octombrie și până pe 20 octombrie te poți alătura și tu echipei IQool pentru a obține singurul pașaport de student ștampilat cu cele mai cool experiențe din studenție.
IQool pune la dispoziția studenților din București, Cluj și Timișoara 4 departamente în care își pot dezvolta abilitățile în domeniul comunicării, și nu numai. Dacă ești pasionat de scris, organizare de evenimente și tehnologie sau pur și simplu îți place să fii la curent cu toate noutățile despre teatru, festivaluri, cultură, evenimente sau oportunități de carieră, IQool este locul în care vei găsi departamentul perfect în care poți să dai frâu liber imaginației și să-ți transformi ideile în realitate. Cele 4 departamente în care poți aplica pentru o studenție cu experiențe unice sunt umătoarele:
Departamentul de PR și Social Media:
organizezi workshop-uri și multe alte evenimente în care poți deveni chiar tu Project Manager

participi la o gamă largă de evenimente în calitate de reprezentant al organizației (concerte, festivaluri, lansări de carte, spectacole de teatru, etc)

înveți să inițiezi un parteneriat media, stabilești termenii de colaborare și asiguri comunicarea între organizație și partenerul media

pui în aplicare tehnicile de redactare a unui comunicat de presă, învățate la facultate

te familierizezi cu platforma Wordpress
Departamentul de Redacție:
redactarea articolelor pe teme la alegere
descoperi cum să redactezi în WordPress, dar și cum să optimizezi articolele din punct de vedere SEO
înveți cum să construiești întrebări pentru un interviu
ai libertatea de a transforma o idee într-un mesaj 
Departamentul de IT:
înveți să lucrezi cu tehnologii pe front-end sau pe back-end
te familiarizezi cu WordPress, una dintre cele mai populare platforme web
înveți să lucrezi cu platforma Google AdWords
descoperi tainele optimizării SEO
găsești soluții pentru problemele tehnice ale website-ului
înveți să configurezi un server de hosting
Departamentul de Grafică:
mânuiești PhotoShop și Illustrator
realizezi clipuri video cu ajutorul programelor After Effects, Sony Vegas și multe altele
realizezi afișe pentru evenimentele marca IQool și îți mărești portofoliul de lucru
te ocupi de vizualurile pentru rețelele sociale ale website-ului (Facebook și Instagram)
Cum obții singurul pașaport de student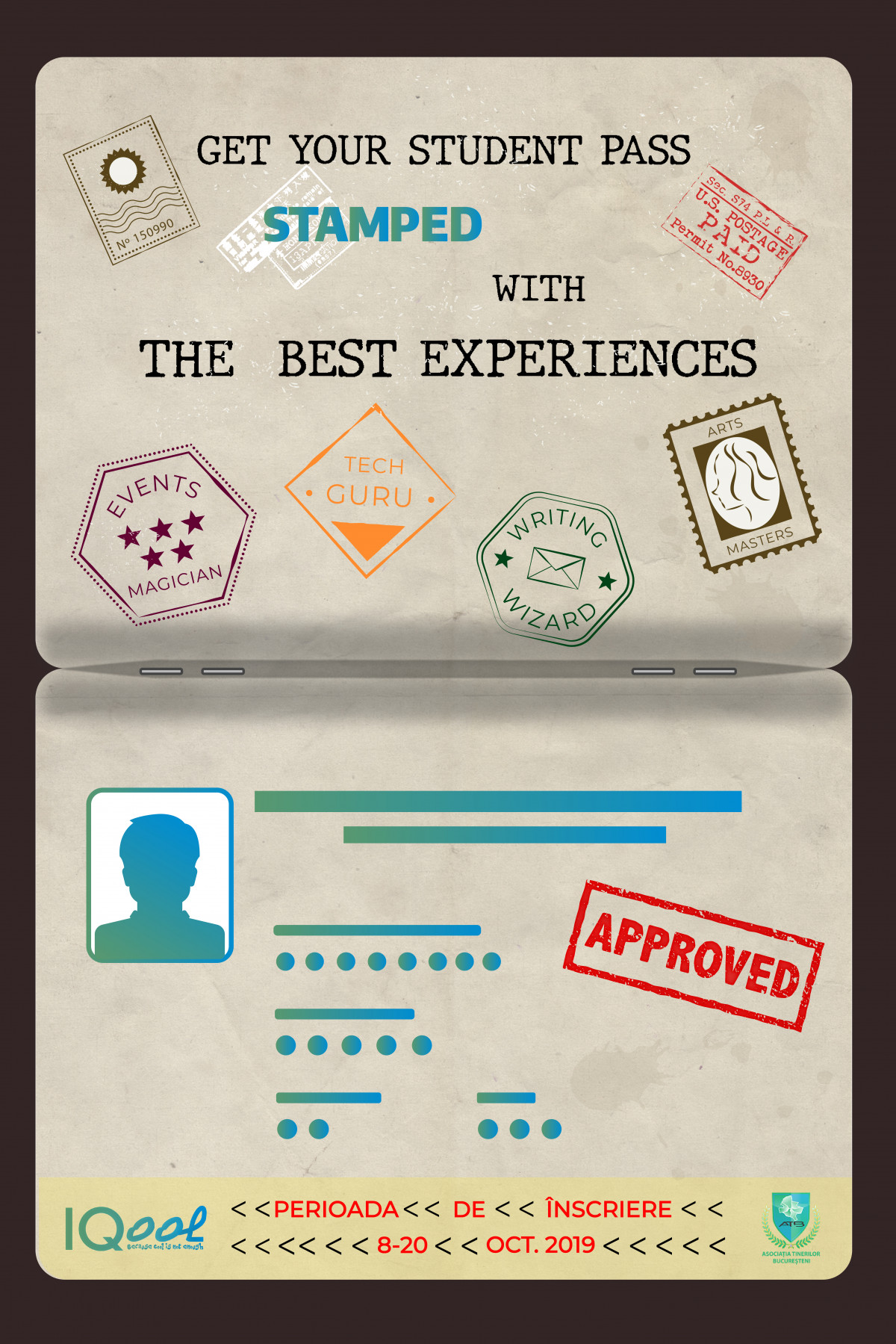 Te-ai decis în ce departament vrei să acumulezi cele mai faine experiențe din studenție? Dacă încă ești indecis, poți aplica pentru orice departament, cu posibilitatea de a te transfera într-un alt departament odată cu finalizarea perioadei de probă. Completează formularul, iar apoi te vei întâlni cu echipa IQool în cadrul unui interviu. Echipa IQool abia așteaptă să te cunoscă și să descoperiți împreună noi experiențe. Get your student pass stamped with the best experiences!
Obține pașaportul de student din partea IQool și creează-ți cele mai cool experiențe din studenție!