Premiat la Sundance Film Festival, DOK.fest Munchen, Festivalul Internațional de Film Documentar de la Salonic și la Cracovia Film Festival, "Acasă"/ "Acasă, My Home", documentarul de debut al lui Radu Ciorniciuc, va avea premiera națională în cadrul Festivalului Internațional de Film Transilvania (31 iulie - 9 august, Cluj-Napoca).
Filmul produs de Manifest Film, în co-producție cu HBO Europe, urmărește cu empatie povestea unei familii care luptă pentru acceptare și propria definiție a libertății.
Timp de patru ani, regizorul Radu Ciorniciuc a documentat marea aventură prin care a trecut familia Enache: de la o viață în completă armonie cu natura, în sălbăticia din Delta Văcărești, până când acest spațiu a devenit Parcul Natural Văcărești - primul parc natural urban din România - la traiul plin de provocări din marea junglă urbană a capitalei. Pe măsură ce membrii familiei fac eforturi să se conformeze regulilor civilizației moderne, încercând să păstreze în același timp legătura cu natura și armonia dintre ei, apar întrebări legate de locul lor în lume și felul în care poate arăta viitorul pentru fiecare.
"Liric și provocator, "Acasă" aduce un suflu nou și intim asupra unor subiecte care ne macină de sute de ani: conformismul, plăcerile și provocările naturii versus confortul și distracțiile modernității, lucrurile esențiale care stau la baza unei vieți bune. Și face asta cu o concizie lăudabilă. Etern și punctual, specific și în același timp cu rezonanță universală, acest portret al lumii în care sărăcia, relocarea și dinamicile sociale joacă roluri importante, va emoționa cu siguranță festivaluri și audiențe internaționale.", Sheri Linden (THE HOLLYWOOD REPORTER).
"M-am identificat în mare măsură cu sentimentul de familie pe care îl vedeam, cu felul în care membrii familiei Enache își purtau de grijă unii altora, cu nivelul acela de intimitate pe care nu-l poți găsi decât în spațiul tău intim, spațiu pe care, ca jurnalist tânăr și ambițios, îl pierzi, pentru că tot ce faci devine un soi de bun public. Abia aștept întâlnirea cu publicul românesc, la premiera ce va avea loc la TIFF, un festival la care mi-am dorit, de multă, vreme, să particip." , spune regizorul Radu Ciorniciuc. 
"Acasă" a fost recompensat cu Premiul Special al Juriului pentru Imagine în competiția World Cinema Documentary la Sundance Film Festival, Marele Premiu la DOK.fest Munchen (VIKTOR Main Competition), Premiul Special al Juriului la Thessaloniki Documentary Festival și Marele Premiu (Golden Horn for the Best Director) la Festivalul Internațional de Film de la Cracovia, intrând automat în cursa pentru o nominalizare la Oscar, în categoria "Cel mai bun film documentar".
Filmul "Acasă" va putea fi urmărit, în premieră națională, în cadrul Zilelor Filmului Românesc, la cea de-a 19-a ediție a Festivalului Internațional de Film Transilvania (31 iulie - 9 august) după următorul program:
Joi, 

6 august,

de la 23:45 - Club Transilvania (Bd 1 Decembrie 1918, nr. 41)

Duminică,

9 august

, de la 21:30 - UBB (Universitatea Babeș-Bolyai, Str. Mihail Kogălniceanu, nr. 1)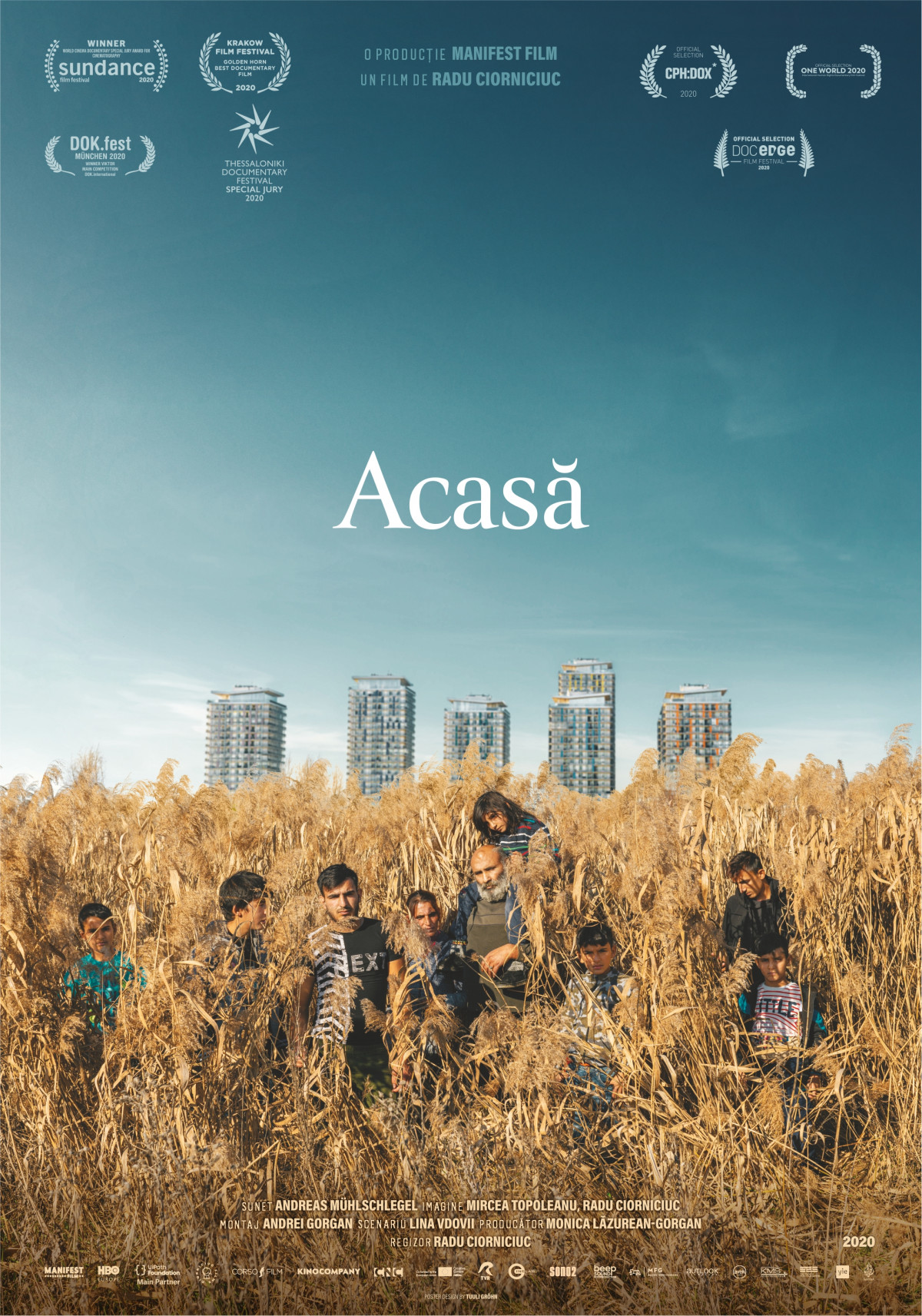 Documentarul "Acasă/ My Home", regizat de Radu Ciorniciuc, este produs de Monica Lăzurean-Gorgan, prin casa de producție Manifest Film, în co-producție cu HBO Europe, Corso Film (Germania), Kino Company (Finlanda). Filmul va fi lansat pe marile ecrane și ulterior pe HBO GO în cursul acestui an.
Partener principal: UiPath Foundation.
Filmul a fost realizat cu sprijinul Centrului Național al Cinematografiei, Televiziunii Române, Creative Europe, Cinelabs (România), Beep Studio (Cehia) și este reprezentat internațional de distribuitorul Autlook Filmsales.
Radu Ciorniciuc este reporter special și regizor de film. Este unul dintre co-fondatorii Casei Jurnalistului, a realizat reportaje pentru The Guardian, Al-Jazeera, Channel 4 News, ZDF și a fost premiat național și internațional la Premiile Superscrieri (Superscrierea anului 2014), Royal Television Society UK (2014), Amnesty International UK (2014) și Harold Wincott Award for Business Economic and Financial Journalism (2016).
Parteneri media: AaRC.ro, Cinemap, Cultura la dubă, Elle, Films in Frame, Greenpeace România, Institutul de Marketing, IQads, Mindcraft Stories, Munteanu, Observatorul Cultural, Spotmedia, The Institute, Urban, Vice, Ziarul Metropolis, Zile și Nopți.